From Castlebar - County Mayo -


Angling News
Angling News Ballina - 24 Aug 2014
By Markus Müller
31, Aug 2014 - 11:02



Salmon Fishing

River Moy

Anglers reported a rather slow week on the River Moy. Water levels and angling effort were low and, as a consequence, only 139 salmon were recorded for the week. However, anglers who ventured out and put a little effort into it were rewarded with some fine catches.

On the Ridge Pool, German fly angler, Rudolf Schweissthal, had a nice 6 ponder, while Peter Walls' (NI) fly-caught grilse weighed 5.5 lbs. Despite difficult conditions, Mount Falcon reported 12 fish for the Jim Harte party of four. The UK anglers fished over 3 days and landed most of their fish on bubble & fly, best at 7.5 lbs. Also on Mt. Falcon, German angling journalist, Bernd Taller, had one grilse on bubble & fly, while Borut Jerse, Slovenia, caught and released a fine grilse on a single handed fly rod on the Wall Pool.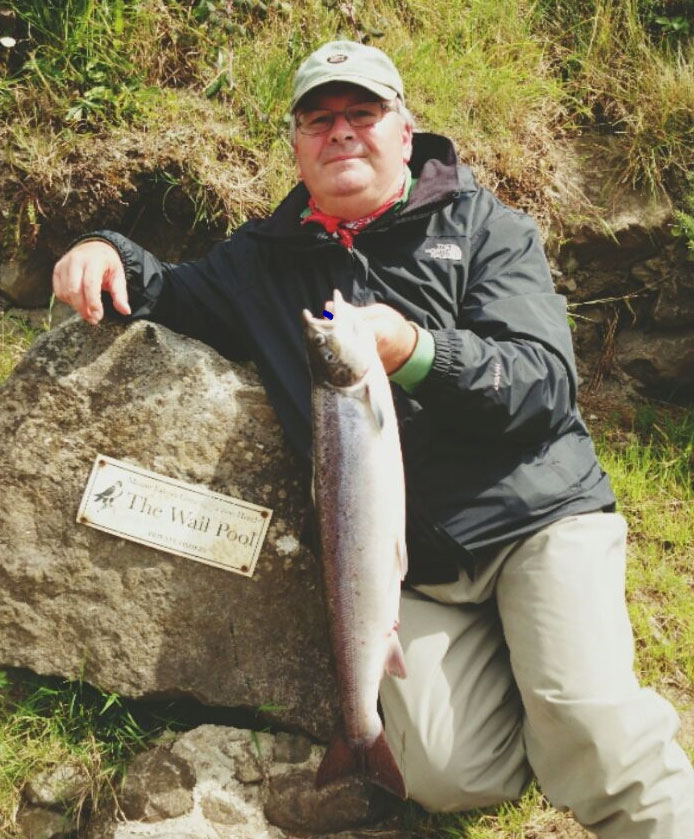 German angling journalist, Bernd Taller, with his bubble & fly grilse from Mt. Falcon's Wall Pool.
Regular visitor, Stewart Longhurst, Germany & UK, enjoyed a great week's fishing on the Foxford Fishery where he caught 5 salmon on fly. Stuart was guided by professional angling guide, Paddy McDonnell (bluecharm@eircom.net), and sportingly released 4 of his 5 grilse.
Paul Killen, Northern Ireland, was successful on the Foxford Salmon Anglers' water where he caught a fine 8 pounder on the worm.  The Foxford Salmon Anglers had their Perpetual Cup Fishing Competition during the week. The event was won by Jim Mc Conomy, Northern Ireland, with two salmon weighing 5.2 lbs. & 4.8 lbs.  Lester Cassidy, Dublin, came second with a fish of 3 lbs.
Burrishoole Fishery
Angling was slow again this week on the Burrishoole Fishery with only six salmon caught (5 ranched and one wild salmon). The lucky anglers were Michael and Sean Smith from the UK.   There were also 5 sea trout caught &released during the week. Most successful flies included Octopus, Green Peter and Bibio.
To book fishing on the Burrishoole Fishery contact Pat Hughes at +353 (0)87 2377078.
Ballisodare Fishery
With a total of 71 salmon caught, the Ballisodare Fishery saw a pretty good week. The majority of the fish were caught on the worm and fly (many released) and also an odd fish on the prawn.
Tuesday 19th August was the best day of the week with 27 fish caught (15 released). Amongst the successful anglers were Patrick O'Connor with 3 fish on the prawn (two released), Anthony Mulvey with two grilse on worm and Albert Berry who also had two fish on worm. Most fish ranged between 4 lbs. and 6 lbs.
Juvenile anglers, Jack and Danny McQuaid, had a very good day's fishing on Wednesday 20th August catching two fish each on the worm averaging 4.5 lbs.
However, the best fish of the week was landed by Anthony McCann on Saturday weighing 11 lbs. and was taken on worm.
There are still a lot of fish coming in on the tides with some big fish showing.
For Bookings please contact Dermot Glennon on +353 (0)086 2515064 or email ballisodarefc@eircom.net
Trout Fishing
Lough Conn
Harry Feeney, Foxford Lodge (www.thefoxfordlodge.ie), reported two very nice trout for one of his guests. German lady angler, Tanja Karthaus, spent a week in the Foxford region together with her partner Michael. For a couple of days they tried their luck on Lough Conn and were rewarded with two fine brown trout weighing 2.5 lbs. and about 1.5 lbs.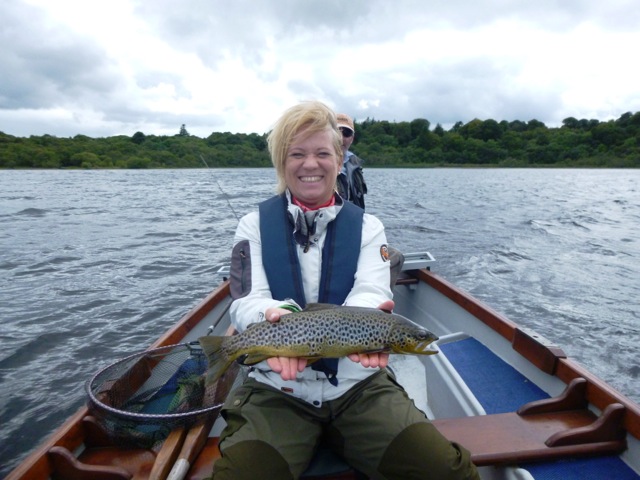 A very happy Tanja Karthaus from Germany with one of her lovely Lough Conn brownies.



Pike Fishing
During the week, German TV journalist, Frank Meissner, visited North Mayo to try some flyfishing for pike. He was joined by German countrymen, Bernd and Sebastian Taller. The three anglers were successfully guided by local guide, Kenny Sloan, who took them out on a nearby pike water. Soon after the group had set out, Frank had his first Irish pike on fly followed by a good few more later in the day. The group changed methods in the afternoon and managed to catch four more pike spinning and dead baiting from the shore. Unfortunately, they didn't land a trophy pike of one metre plus, but had many fish up to 85cm and are very keen to visit Mayo again next year targeting a big one.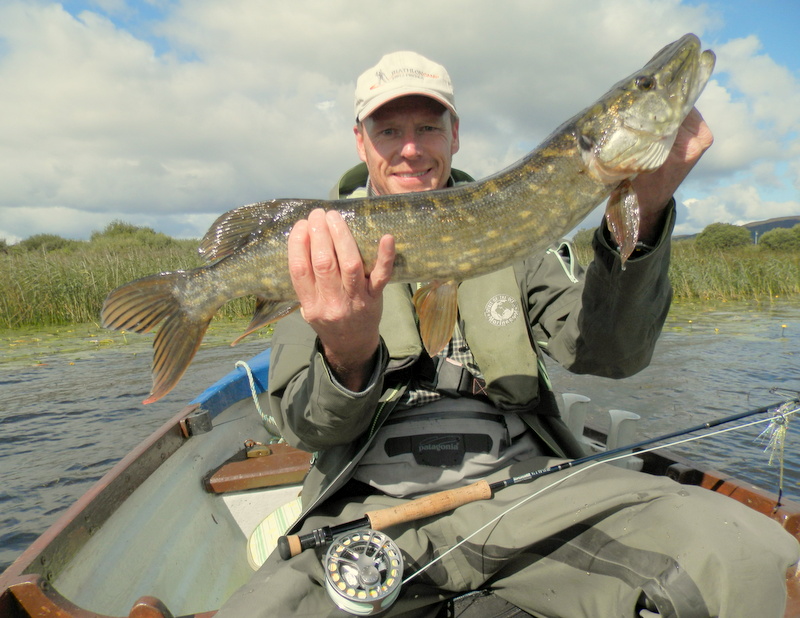 Frank Meissner, Germany, with his first Irish fly-caught pike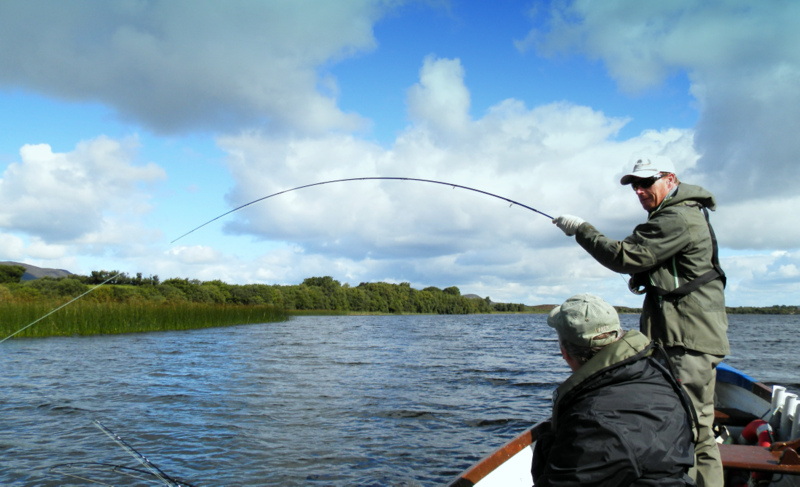 Excellent sport on the fly: hard fighting Mayo pike!







To book a day's guiding or boat hire contact Kenny Sloan on +353 (0)949256501 or +353 (0)87 9670310.



© Copyright 2014 by Castlebar - County Mayo -