From Castlebar - County Mayo -


Angling News
Angling News from Galway and Ballina 1 May 2015
By Kevin Crowley & Markus Mueller
1, May 2015 - 09:27



Salmon Angling

River Moy

For the second week in a row salmon were reported caught throughout the Moy system.

On the Ridge Pool, John Howley had the first of the season; a 7.5 lbs. salmon caught spinning. Further upstream, Rob Shepard landed a twelve pounder on Armstrong's, while John Marshall caught an 11 lbs. fish on Gannon's.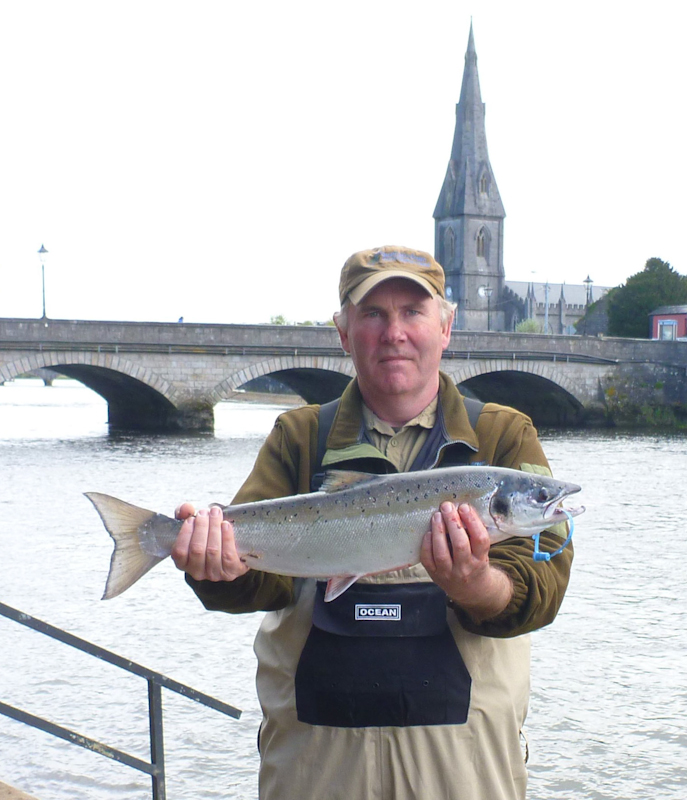 John Howley with the first Ridge Pool salmon of the 2015 season
On The Cloongee Fishery, Thierry Coulm had a fish of 8 lbs. on spinner. The East Mayo water produced an 8 pound salmon for German angler, Walter Posselt on worm, while his countryman, Andre Babik took a fine springer on fly weighing 11.5 lbs. Also on East Mayo, fly angler, Ronnie McMorris, Northern Ireland, had a 9 lbs. fish.
Prospects for the Moy system are looking good for the coming days with water levels in the middle and upper reaches remaining ideal for fly fishing.
Carrowmore Lake
As in previous weeks, Carrowmore Lake stands up to its reputation as one of Ireland's prime spring salmon fisheries. Despite the changing weather throughout the week, the fishery produced a total of 11 salmon, 4 of which were released.
Amongst the successful anglers were Eddie Corry, Clare, who caught & released a cracking 12 lbs. salmon and Clive Long who boated fish of 9 lbs. and 10 lbs. John Coyne, Dublin, spent a memorable day on Carrowmore catching the first salmon on a fly dressed by himself. John's 73cm salmon took a size 8 Black Pennell and was carefully released.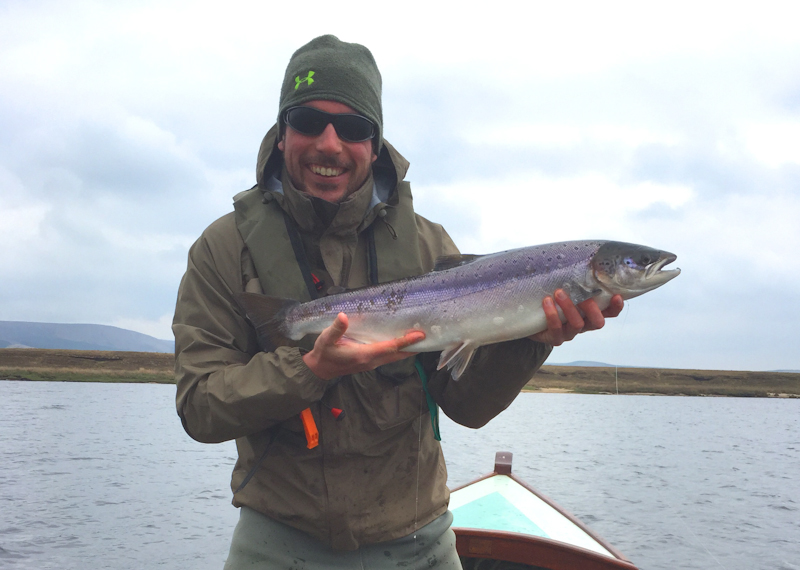 John Coyne, Dublin, with a fine Carrowmore Springer
Other successful flies for the week were Clan Chief, Claret Dabbler, Bibio, and various Shrimp patterns.
Please note that Carrowmore Lake is a Brown Tag Fishery this year! For fishing on Carrowmore Lake contact Seamus Henry on +353 (0)97 83487 or visit www.bangorerrisangling.com

Trout Fishing
Lough Conn & Lough Cullin
Declan Cook reports from Loughs Conn & Cullin:
It has been a slow week for trout angling on Loughs Conn & Cullin as bright, hot, calm conditions were superseded by a sudden return to winter weather. Despite the backdrop of Nephin Mountain with a snowy cap, the first of the Mayfly are now hatching on Lough Cullin. These brave forerunners are, hopefully, a harbinger of good angling in the coming weeks and their timely arrival precedes two major trout angling events scheduled to take place on the lake over the forthcoming bank holiday weekend. Up to 100 anglers will be arriving to the Foxford-Pontoon area from Monaghan and Dublin to compete in the Albert Berry and Dublin Trout Anglers' Cup.
Last week, a few anglers ventured out on North Conn where Ian Wise and Johnny Warren from Crossmolina enjoyed moderate fishing. They recorded 3 - 4 trout a day over 5 days averaging 1.25 lbs., mostly on dry Olives in Bog Bay. They reported numerous rises and refusals as well with trout spooking at the glint of leader in the bright sunshine. They also returned a lot of 11 to 12 inch trout.
Jack Corcoran, Crossmolina, had 3 trout for 5.5 lbs on Buzzers also in the Bog Bay area, while Harry McCafferty, Ballina, had some trout all around 1.25 lbs. on Olives Dabblers mostly in Cloghans Bay. Local angler, Stephen Browne boated 4 trout on Buzzers off Brackwansha Shore, two of which were over 2 lbs.
Brendan Breslin, Knockmore, caught 3 trout on Sunday last to Sooty Olive patterns in Carrowgarve Bay and Peter Roach, Cloghans, had 4 trout last Friday in Cloghans Bay on wet patterns.
Jason and Mark from Barton-Smith Angling in Sligo averaged 3 -4 trout each a day over a few sunny days on dry Olives. They also reported losing a salmon around islands near Bog Bay.
Best flies for the week included dry and wet Olive patterns, Yellow Mayfly, Green Peter and Chilli Bumble.
Lough Arrow
Conditions on Lough Arrow were fairly difficult during the week. Cold and bright days early in the week changed to wet and windy conditions towards the weekend with strong north westerly winds making trout fishing difficult.
However, Peter Dunne, Drumshanbo, reported 4 fish all between 2 and 3 lbs., while Thomas Walsh, Castlebaldwin, caught 2 trout weighing 2.5 and 3 lbs. respectively. Peter Moran, Derry, had a nice four pounder and local angler, Paul Maxwell, was also successful catching a 2.75 lbs. fish. General wet fly patterns worked best for anglers.

Sea Angling
Donal Kelly sent in his first report of the season and reported god fishing from Killala Bay.

A party of anglers from Foxford, Co. Mayo, teamed up with Donal on Friday 24th April for a day's fishing out in Killala Bay. The weather was overcast with a slight mist and patches of fog. Several drifts were carried out during the day and with seas being calm it made for a very enjoyable day for the anglers. The skipper was well prepared bringing along a good supply of bait as mackerel were exceptionally scarce.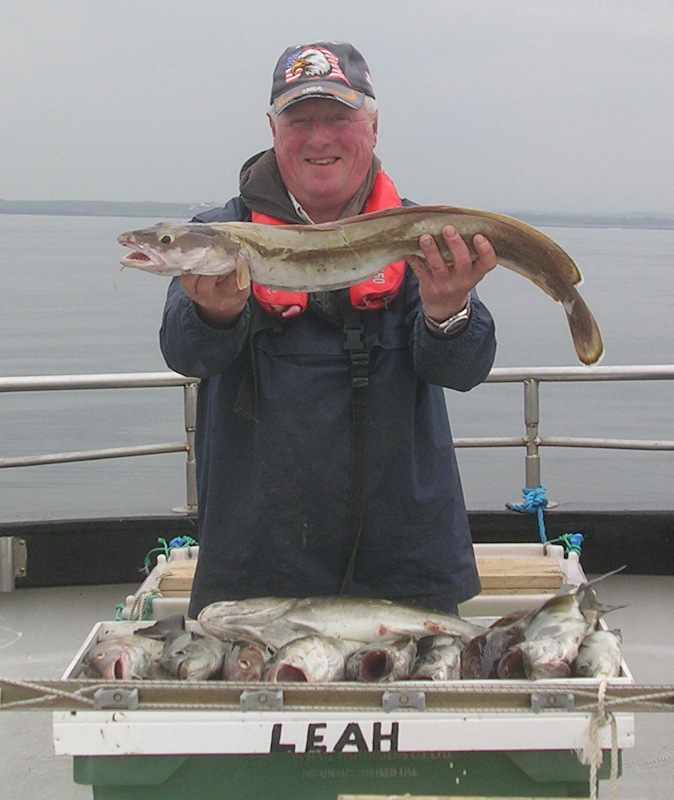 A happy skipper, Donal Kelly!



The first drift well out in the bay produced some fine pollack, best up to 8 lbs. After a while, the action slowed down with the odd pouting being caught and it seemed that the fish were not on the feed yet. However, as the day progressed things started to improve with some fine cod being caught, best up to 7 lbs.; this was along with pollack and ling.

The party returned home to harbour around 6pm with a fine catch of fish with many small ones being returned alive to the sea.

To book a day's fishing in Killala Bay contact Donal Kennedy on +353 (0)0868174509 or visit http://www.dkennedyangling.net/

---

Lough Mask
Ronan Cusack has plenty of good news from Lough Mask again this week, despite the drastic change in the weather conditions. The gentle warm breeze we hoped for in order to fish buzzers and dries, was not to be. Instead strong winds coupled with single figure temperatures battered our shorelines over the past few days, making angling extremely difficult.

Four Cork anglers, Tom Sweeney, Mick Hegarty, Stephen Campbell and Tom Dennehy enjoyed some fantastic wet-fly fishing during their stay in Clonbur with trout up to 3.5lbs. Noel Fay Kildare, fished with Ballinrobe angler Kevin Sheridan on Sunday last and they had 6 good fish (best fish 2lbs, all returned). Local Mask anglers Matty Lally and Denis Kelleher also fished on Sunday and they had 7 trout for their day (best 1.75lbs). Ronan Cusack fished buzzers for a half day on Wednesday and landed 4 trout (best fish 4lbs, all returned). Sean Maloney, Ballinrobe had 4 on Saturday and a further 3 on Sunday pulling wets (best fish 1.75lbs). Tourmakeady angler Eddie Gibbons and Tom Ormond from Meath, had 4 on Saturday (best fish 1.75lbs). Eddie fished again on Sunday with Michael Shovlin and they finished with 8 good fish (best fish 1.75lbs). Father and son team Martin and David Connors had 4 nice fish on Sunday with 2 exceeding 3lbs.

Weather conditions are to improve towards the weekend with a rise in air temperatures, which is good news all round.
Ronan also guides on Mask and can be contacted at cusackronan@gmail.com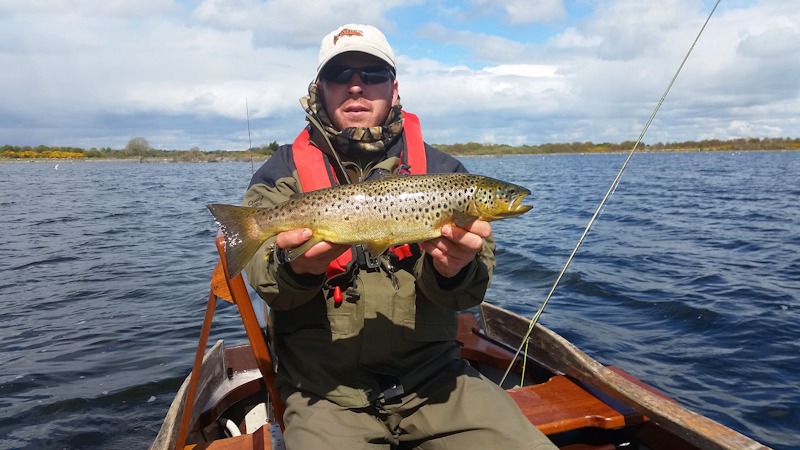 David Connors from Ballinrobe with a nice Mask trout, April 2015.
Lough Corrib
Frank Reilly reports that anglers throughout the Corrib are reporting good hatches of olives and Campto buzzer, with reports of early mayfly in the Corr na Mona area. Caolan Mc Donnell, Cong landed 3 trout in one day dapping mayflies. Tom Somerville, Corr na Mona, also dapping mayflies landed 3 good trout for one day. Peter Curran, Corr na Mona fished for 3 days and landed 10 trout on mayfly patterns. Jimmie Molloy, Cong fished for 1 day and landed 4 trout to wet fly. The Corr na Mona 2015 catch and release pairs competition for Galway Hospice was held on Sunday 26th April, with 58 anglers landing 106 trout over 30cm. 1st was Jerry Dixon and Jonny Faherty from Oughterard with 13 trout recorded. 2nd was Stephen Campbell and Tom Dennehy, Killarney with 7 trout recorded. 3rd was Tom Doc Sullivan Corr na Mona and Davie Breen kenmare, with 6 trout recorded. The largest fish recorded was 58cm caught by Tom Doc Sullivan.
The Greenfields area fished well over the weekend to wet fly, buzzer and dry olives. Frank Guilfoyle and son Frank from Ennis fished for 2 days and landed 5 trout up to 2.5 lbs on wet fly and dry olives. Pappy Cotter, Ennis fished for one day and landed 3 trout. Galway West Garda Angling Club held a competition on Friday 24th, with 10 anglers landing 10 trout. 1st was Peter Mc Guinness with 2 trout for 2.31kgs. 2nd was Mick Bradley with 2 trout for 1.64kgs and 3rd was Sean Travers, with 2 trout for 1.53kgs.
Angling in the Oughterard area over the last week was reported to be quiet, although some good catches were recorded. Kevin Molloy and Harold O'Toole fished for 2 days and landed 14 trout. The Raysuger party, from France, trolling for 3 days landed 18 trout for 30lbs. Well-known French singer and Connemara visitor Pierre Perret went trolling for 1.5 days landed 3 great trout at 13lbs, 7lbs and 6.5 lbs.
Larry Mc Carthy of Corrib Angling Services (www.corribangling.com) reported good fishing over the last week on light buzzers and dry olives in tough conditions. Tim Rowley and John Walmersley from Cumbria were very happy with 13 great trout over 6 days, with John landing personal best of 4lb 8oz safely returned to fight another day.
Frank Conroy and friend Ross from the UK fished for 3 days and landed 6 trout with 2 trout over 3lbs.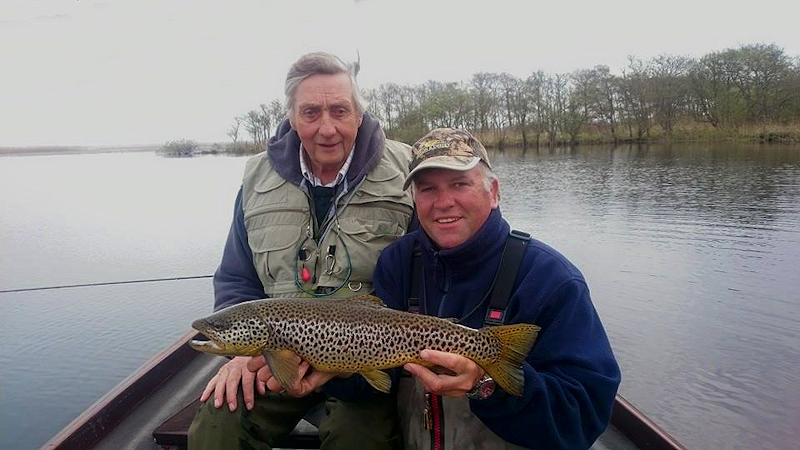 Tim Rowley with a fine 4lbs 2oz Corrib trout, with angling guide Larry McCarthy (holding fish).




Mike Holian was also in touch to report plenty of olives in the Salthouse Bay area, but the trout were proving hard to tempt, with buzzer hatches starting as well. Ian Kelly, Mullingar, had a nice trout of 5 lbs on buzzer on Friday evening. Ian returned on Sunday with Kevin Martin, also from Mullingar, and had 3 trout for 9 lbs on buzzer patterns. Richard Hunter & John Kiernan, Wicklow, had 4 trout on buzzers over the weekend, best 4 lbs. Simon Ryan, Cong, had a nice salmon of 8 lbs while trolling for trout with a Lane minnow. I hope to have more reports from Mike over the coming weeks, and he can be contacted for boat hire, accommodation and guiding at 087 2130416 or online at www.bayviewangling.com

Galway Fishery
Spring fishing has begun to improve in Galway, with 7 fish landed for the week, and a remarkable number of fish hooked and lost - sharper hooks needed lads! David McMurtry had a fine 10lbs 11oz fish on spinner, followedby J. Ryan taking a lovely 10-pounder on fly. There were 3 fish landed on Monday, including fish of 9lbs for Sean O'Toole and J. Stevenson, both taken on shrimp, and a 6lbs fish for Gerry Hartigan, also on shrimp. J. Hetherington landed an 8lbs fish on shrimp, while D. Mulligan had a fine 11lbs springer yesterday, again on shrimp.


With 2 gates open, the river is in perfect spring order, and increasing numbers of fish are showing in the river on a daily basis. Fishing prospects for the next few weeks look very good if water levels hold steady.







© Copyright 2015 by Castlebar - County Mayo -