From Castlebar - County Mayo -


Angling News
Angling News from the West - 2 July 2014
By Kevin Crowley
7, Jul 2014 - 12:11


WRBD Galway Angling Report 2 July 2014
Galway Fishery
Angling conditions in Galway are perfect at the moment, with low water levels favouring the fly, and plenty of grilse coming in, with numbers increasing by the day. There were 86 fish reported for the week, with many of these taken on fly.
Ned Cusack showed he still has it at 95 years young, landing 2 nice grilse on the shrimp. Local angler Dave Lenihan also proved his skill, landing 5 grilse to 6lbs on fly, while long-time visitor from Kildare, Sean McManmon landed 3 to 5lbs on fly. German visitor Werner Meckle had 4 fish to 5lbs on fly, and Athenry man Declan Tuffy had 2 fish to 5.5lbs for his evening fishing the fly. Tom Harrington from Limerick also had 2 to 5.5lbs on fly, while father and daughter Jim and Sarah Doody, from Dublin, had a fine morning on Sunday, landing 2 grilse each on shrimp, all around 5lbs.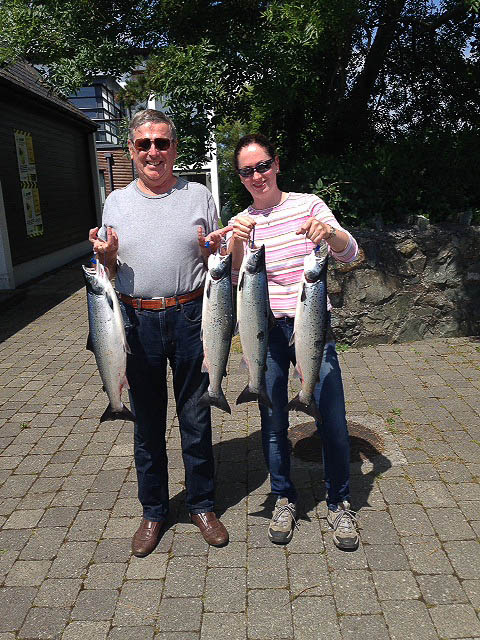 Father and daughter Jim and Sarah Doody from Dublin, with their catch of grilse from the Galway Fishery on 29 June 2014.



The Murphy family kept it in the family alright, with 10-year-old Sean landing his first ever salmon, and dad Eugene also taking a fish, while the following day uncle Adrian and granddad Fintan both had a grilse each!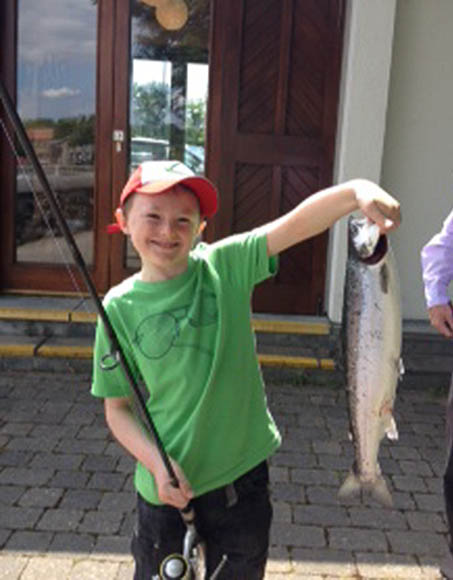 Young Sean Murphy, aged 10, from Galway, with his first salmon, taken on the Galway Fishery on Sunday June 29th. Sean is from a fishing family, with dad Eugene, uncle Adrian and grandad Fintan all regular visitors to the fishery.



Laois man Frank O'Hara landed 2 grilse to 5.5lbs on fly, while Seamus Dolan from Dublin had 2 fish to 6lbs on shrimp. Dublin angler Paul Wymes landed 2 grilse to 6.5lbs on fly, while fellow Dub Michael Brown had 2 fish to 6lbs on shrimp, and local angler Phil Donoghue had  a nice session on the fly yesterday, catching and releasing 3 nice grilse.
With grilse numbers increasing every day, and stable water levels and good weather, fishing prospects in Galway for the coming weeks are excellent.
Once again low water levels have prevailed upstream, but fish are running even in low water, and again this week I have success to report for a young angler - Patrick McGrath from Mountbellew, who had never caught a salmon before, landed his first salmon on Monday off the Clare River. Not satisfied with that, he went on to land 2 more fish up to 7lbs, and was clearly delighted with getting off the mark. Well done Patrick!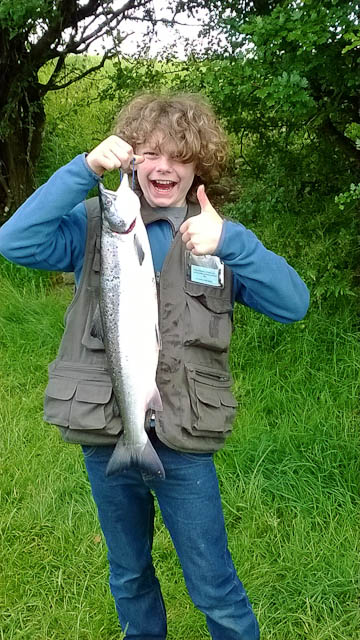 Patrick McGrath, 12, from Mountbellew, who caught his first salmon on the Clare River on Monday June 30, quickly followed by two more! Patrick was clearly delighted with his catch!
Erriff Fishery
Fishery manager Jim Stafford reports that apart from a few light showers, the rain the river needed never came over the week - there were some torrential downpours in places but no water fell in the Erriff valley. Water levels were at rock bottom for the entire week.  However despite the low water, sea trout continued to run up the fish pass in very good numbers with over 800 recorded for the month.  There were also a scattering of salmon moving up from Beat 9 into the lower beats. The few rods that braved the conditions had good sport. It was a time to dispense with the traditional salmon patterns and switch to the smaller lightly dressed sea trout flies.
Annie and Hugh Woodsend, UK, fishing the Erriff for the first time had 10 sea trout up to 2.5lbs taken on various small flies including Teal & Silver, Black Gnat and a Butcher. Knocht Roland, Switzerland caught a grilse on a Hare's Ear in the Falls Pool on Beat 9 and also some beautifully spotted Brown Trout on Moher Lake. Ken Mills, UK, landed a sea-liced grilse in the Bridge Pool on a lightly dressed Hairy Mary.
It was a super sea trout fishing week for low water expert Raphael Amat from France - Raphael topped his record sea trout catch of 52 last season, and recorded a catch of 75 sea trout up to 2.5lbs! In addition Raphael also caught 2 sea-liced grilse - all 77 fish were sportingly released again.  This is certainly a new record catch for the river in recent years and would compete favourably with that of Dr. Francis Briggs' sea trout catches in the late 70s.  The most successful patterns were Stoats Tail, Black Pennell, Black Shrimp, and tiny Cascades - all flies were tied by Raphael himself and all very lightly dressed.
At the time of writing the report anglers are booking flights and preparing to travel - and with the weather forecast  for rain on Friday prospects for salmon fishing are looking much better.
To book fishing or accommodation, contact Jim at 095 42252, or check www.aasleaghlodge.ie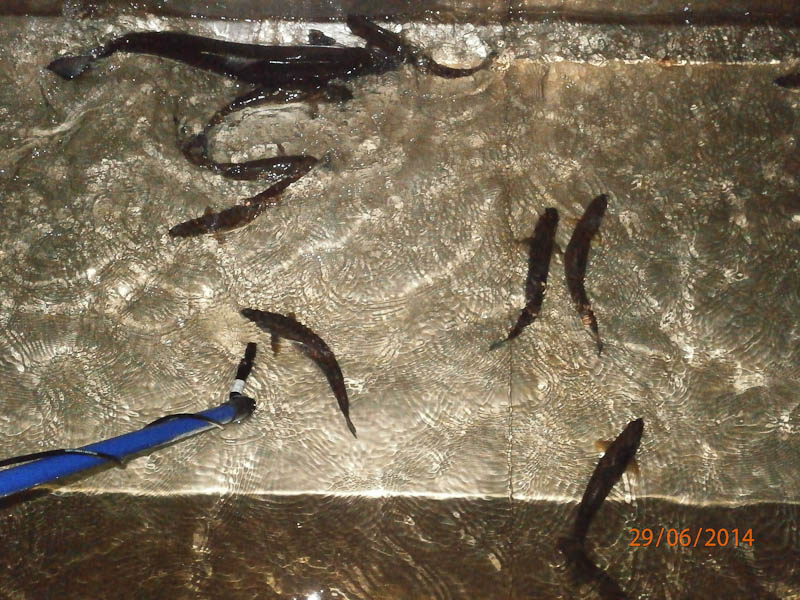 The fish trap at Aasleagh Falls allows all upstream migrating salmon and sea trout on the Erriff to be counted, before being allowed on upstream. The blue probe contains a hydrophone to check for sea trout fitted with acoustic tags as part of a tracking programme.



Lough Corrib

Frank Reilly reports that again the fine calm fine weather prevented many anglers from taking to the water.  Wednesday saw a break in the weather and Noel Kerins, Cloghans, Offaly and Paddy Currans, Clonfert landed 7 trout for 11lbs while dapping in the Oughterard area.  John Burn and Peter Fahey, Limerick, fished the Greenfields area on Wednesday and Thursday and landed 6 trout for 10lbs, all sportingly returned, on dry fly.  The Federation Cup catch-and-release competition was held on Sunday the 29th, with 63 anglers landing 12 trout in calm sunny conditions.   1st was Fergal Cormican with 3 trout for 133cm.  2nd was Peadar  Gavin with 1 trout for 51cm, and 3rd was Carin Casey with 1 trout for 50cm. Anglers reported seeing mayflies, sedges and perch fry over the week.

In these high temperatures anglers and the general public are asked to notify their local IFI officer or the hot line on 1890 347424 if they notice fish in distress due to drought or low oxygen in rivers.




 



© Copyright 2014 by Castlebar - County Mayo -