Lough Mask
Ronan Cusack reports from Lough Mask: Now that the World Cup is behind us and the days are getting shorter, anglers are trying to get out on the lake as much as possible before the season ends. Mask was busy over the weekend with plenty of activity in both the deep and shallows. On Saturday last, Ronan Cusack fished with regular visitor to Mask, Pete Deighton from the UK. The lads fished a combination of wets and dries and finished with 5 fish over 13 inches, and returned several undersize (best fish 2lbs, all returned). The deep fished extremely well, with a lot more of the better fish up for a look. Ronan and Adrian Gorman fished again on Sunday and they had another 4 over the limit, and again many undersize fish returned.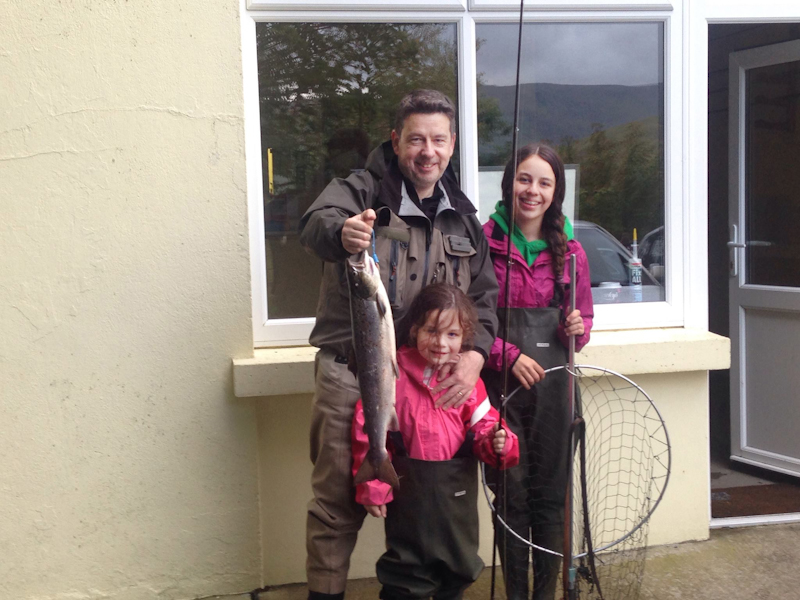 Stephen Jones with a nice 4.5lbs Erriff grilse August 2015, making his girls proud!
Peter Byrne of Lough Carra Anglers organized the annual fund raising competition for the Carra Mask Water Protection Group on Sunday. This was supported by 56 anglers from all around and run on a catch and release basis. The overall winner was Oisin Reilly, son of the well-known Frank Reilly from Glencorrib. Oisin had a fine total of 239cm. Eddie Harte and Paul Colreavy from Sligo fished the deep on Sunday and they had 9 fish over the limit (best fish 1.5lbs, all returned). Tom Sweeney from Macroom had 2 good fish on Wednesday in the shallows (best fish 4lbs). Johnny Moroney and Peter Byrne had 5 on Sunday, again in the deep (best fish 1.5lbs, all returned).
Inland Fisheries Ireland would like to take this opportunity once again to remind anglers that fisheries officers are continually carrying out checks and patrols around Corrib, Mask and Carra lakes to ensure that local bye-laws and regulations are being adhered to. Anglers should be mindful that since 2008 it is illegal to be in possession of any trout under 33cm (13 inches) and that there is a daily bag limit of 4 brown trout per angler per day. Also a 4 trout limit is what it says - "a limit and not a target". So please keep conservation in mind and practice catch and release. All undersized trout must be handled with great care using a wet hand and returned to the water as quickly as possible. Also bear in mind, at this time of year, the majority of female trout have developed spawn and should be given the opportunity to do what nature intended.
The forecast for the coming days is for more unsettled weather so good times ahead for anglers.
Ronan also guides on Mask and can be contacted at cusackronan@gmail.com

Erriff Fishery
Fishery manager Osgur Grieve reports on fishing from the 18th to the 25th. This week produced 4 grilse. On the evening of the 20th Gerry Fitzpatrick caught a nice 5lbs grilse on a Willie Gunn variant from the Falls Pool. On the evening of the 21st Stephen Jones caught 2 grilse weighing 4.25lbs and 4lbs, 1 of which he released. He was using a Curry's Red Shrimp and a Cascade variant. On the 24th Jonathan Roberts caught a 3.5lbs grilse from the Bridge Pool. Well done to all the anglers involved. The fish were showing themselves a lot this week but anglers found it hard to entice them. Hopefully the fish will co-operate more in the coming week with the rain that is forecast.
To book fishing or accommodation on the Erriff, contact Aasleagh Lodge at 095 42382 or check out www.aasleaghlodge.ie

Lough Inagh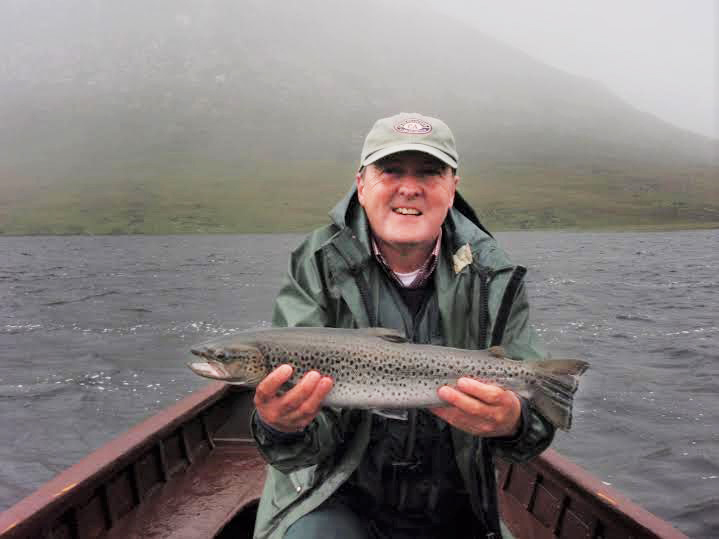 Dan O'Donovan from Cork with a fine 4lbs sea trout from Lough Inagh.

Fishery manager Colin Folan was in touch with a belated update on fishing at Lough Inagh. After a fairly slow two weeks, Lough Inagh is starting to fish a good bit better for sea trout and brown trout, with a fair number of fresh sea trout entering. The weather has also changed for the better for angling. Water levels are rising and hopefully more silver will appear. William Hamilton (Dublin) landed 3 salmon to 7lbs, 20 sea trout and 20 browns for his week on Inagh. Eugene Nolan and Sean Finnerty fished Inagh for a day and boated 10 sea trout and numerous browns to 1.5lbs. The Cornamona Anglers (x10) made their annual pilgrimage to Inagh and recorded 15 sea trout and 50 brown trout. Best flies at present are Silver Daddies, Dabblers and Green Peters. We are looking forward to a fruitful September. Pictured below are Dan O Donovan (Cork) with a 4lbs Sea Trout and Colin Folan (Galway) with a 4.5lbs brown. Bookings and enquiries to hotel reception 095 34706.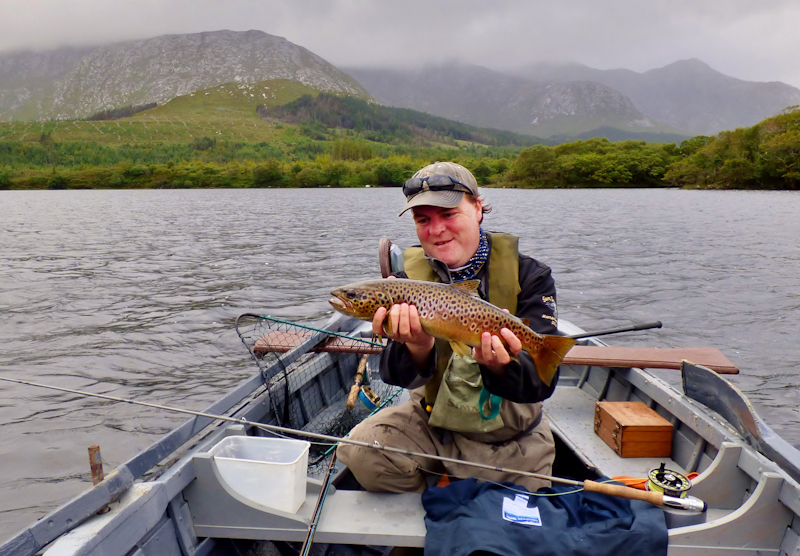 Colin Folan with a fine 4.5lbs brown trout from Lough Inagh.
Sea Angling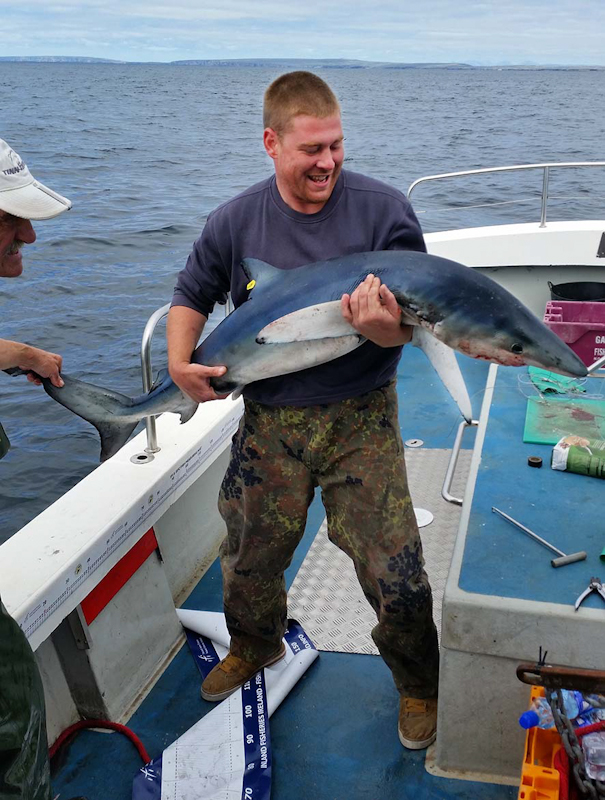 A nice blue shark caught aboard the Brazen Hussy in Galway Bay.

Charter skipper John Fleming was in touch again to report more good shark fishing in Galway Bay. They had a number of blues on their latest trip up to a fine 170cm. All the fish were tagged and released again. John skippers the Brazen Hussy and is looking forward to more skark trips over the coming weeks, with seats available on most trips. For more information contact John at 087 7571320.







---
Salmon & Sea Trout Angling
River Moy & Moy Estuary
The Moy system had a reported catch of only 113 salmon for the week. Angling effort was very low and high water levels impacted on the fishing for most of the week.
However, anglers that were persistent enough were rewarded with some nice catches of fresh-run salmon. One of the lucky anglers was Markus Kaaser from Austria who had a 5 lbs. grilse on fly on the Foxford Fishery. Galway man, Peter Kelly, was one of the few anglers scoring further upriver. Peter caught 2 fish (4 lbs. & 6 lbs.) on bubble & fly on the East Mayo Anglers water.
The Moy Estuary produced a few sea trout during the week. Judd Ruane, skipper of the Pegasus, reported good fishing for some of his clients. Thirteen year old Peter Heffernan from London was particularly happy catching his first ever sea trout.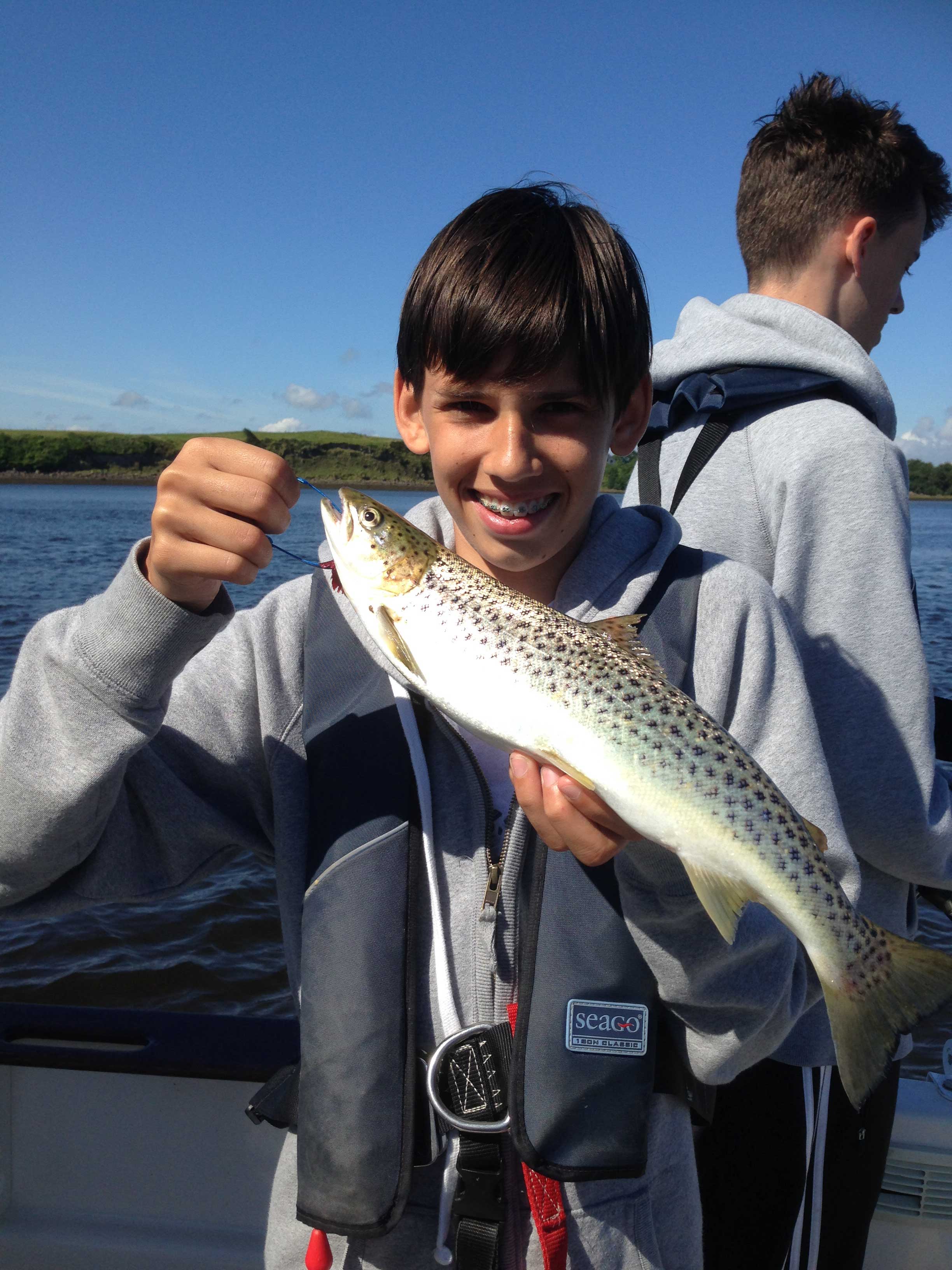 13 year old Peter Heffernan with his first ever sea trout.
Ballisodare
Fishing has been quite slow at Ballisodare for the past two weeks. However, there are still fresh fish entering the system every day but fluctuating water levels resulted in difficult conditions on most days.
Approximately 15 salmon were caught during the week with all but one of them coming to the worm. Denis Crawley managed the only fish on the fly, a fairly fresh salmon of about 5 lbs. caught just below the bridge in Ballisodare.
For information and bookings please check www.ballisodarefishingclub.ie.
Sea Angling
Donal Kennedy, skipper of the Leah, reported some good fishing for a group of anglers from Cavan. On Saturday 22nd August the party left Killala Harbour with weather conditions almost perfect.
Well out in the bay the first drift produced plenty of mackerel plus some whiting. The next drift over rougher ground saw some fine pollack up to 10 lbs. Then one of the rods bent double with a fine spurdog being landed followed by more spurs which gave plenty of sport for the anglers. After a while, the skipper decided to move to another place, again over rough ground, which was a wise decision as some good ling and cod were caught.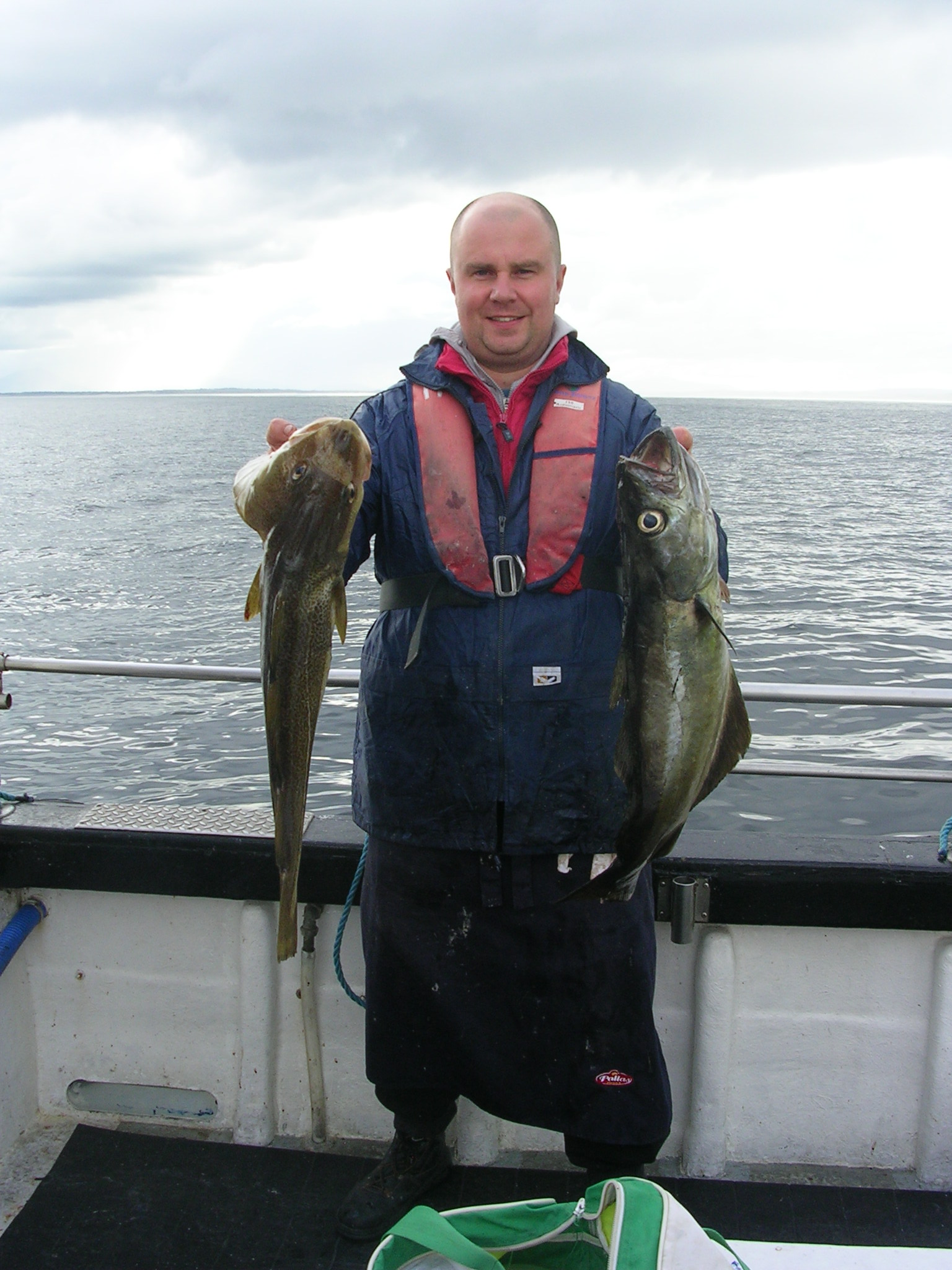 Fine cod and Pollack from Killala Bay
To book a day's fishing in Killala Bay contact Donal Kennedy on +353 (0)0868174509 or visit www.dkennedyangling.net.