From Castlebar - County Mayo -


Angling News
Angling News from the West - 5 Oct 2016
By Kevin Crowley
7, Oct 2016 - 22:15



With October and misty mornings comes the end of the game fishing season, and trout and salmon anglers everywhere will be reflecting on the season past and the fishing to be experienced next season. It was a season of mixed fortunes for most, with some excellent fishing interrupted by bad weather and tough conditions at times, but for most the only regret will be not getting out enough. If it is true that "a man's allotted lifespan will not include the time spent fishing" then there is no excuse for not resolving to fish even more next year...


I missed the end of the season myself with a flyfishing show in the UK, but I did manage to get a couple of hours on a lovely river in Cumbria and meet a couple of grayling. What a pity these beautiful fish never made it to Ireland after the Ice Age!

Erriff Fishery
Fishery manager Osgur Grieve reports that the final 5 days of the angling season produced 1 grilse and 5 sea trout. "We had good water conditions with heights varying from 1m to 1.4m and water clarity generally clear for this period. The last day of the season produced a grilse of 4lbs for Pat Murray on Beat 2. Also on the last day regular young angler Jack Mannion released 2 sea trout of 0.5lbs on a Badger and lost a grilse from the Gauge Pool on a Collie Dog tube of his own tying. He will no doubt be tying a few more for next season!


Olivier Denisot released a fine sea trout of 2lbs from the Coronation Pool on a Peter Ross and Martin Witort released a 0.5lbs sea trout from the Colonel's Pool. Visiting angler Christoph Bravin released a 1lb sea trout from Joyce's Sands on Beat 5 using a Silver Stoat's Tail.


Finally we would like to thank all our anglers for coming to Aasleagh lodge and Erriff fishery in 2016 and look forward to seeing them all again in 2017.

For 2018 bookings please call (095) 42208 or check www.errifffishery.ie

Lough Corrib
Declan Gibbons says that as anglers made their last casts on Lough Corrib for the last week of the season it was a week of mixed fortunes with variable weather conditions and rising lake levels. Starting off in the Cornamona area Tom Doc Sullivan (087-6113933) guided Leonard Geoghegan and John O'Reilly from Tullamore and Edenderry on Tuesday last, landing
3 trout on wet fly - best fish 2lbs. Tom himself fished on Wednesday last and had 2 fish with the best fish 3lbs. Peter Curran fished on Friday last and had 1 fish for his day's fishing for 3lbs. Staying in the Cornamona area John Somerville and his mother Kathy Mannion enjoyed a good day's fishing on Friday to end off the 2106 season, landing 3 trout to the boat with the best fish caught by John weighing 3.6lbs on a Gorgeous George using a di 3 line; Kathy caught her fish on a Green Peter Muddler pattern. All 3 fish were sportingly released back into Lough Corrib for spawning over the winter months ahead.

In the Oughterard area Gerry Molloy (087-9190673) reports that visiting UK angler Phillip enjoyed a week's fishing mixed with touring Connemara and landed 6 fish for his efforts trolling and wet fly fishing with the best fish being 4.75lbs and all 6 fish were sportingly released. Also in the Oughterard area Eamon Molloy had 1 trout of 3lbs to round off his season, and Harold O'Toole and Kevin Molloy had a fish each to round off their seasons fishing with the two fish around the 1.75lbs mark.


Also in the Oughterard area Deirdre Forde at Camillaun Lodge says "the final week of September saw out the last of the trout season on Lough Corrib with honeymooners Leonie and Bjorn Koehler from Germany having a fantastic day on Lough Corrib. They caught a beautiful 3lbs trout, a very large pike and 14 perch! All returned except the trout, which I am glad to say was a male and I cooked it for their dinner- Lake to plate in 6 hours!"


 

Larry McCarthy from Corrib View Lodge (www.corribangling.com) says the weather has been anything but kind for the last week of the season. Wet and windy but we still managed a few trout at Corrib View Lodge. On Tuesday evening Larry and Frank fished together and had 3 nice trout to dry sedge patterns. On Wednesday Larry caught and returned 2 nice trout to 2lbs on wet fly. Finally on Friday the whole gang from Corrib View had a great fry up and last cast with staff and angling friends. No fish reported but lots of stories of good lumps lost.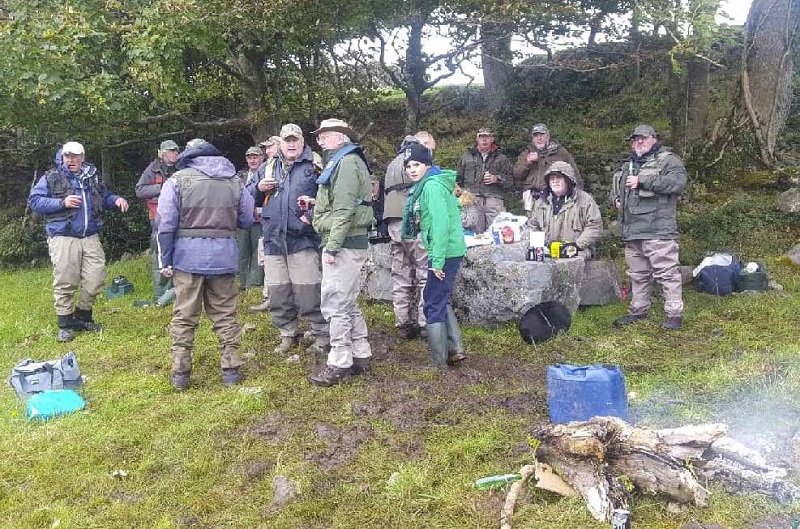 The Corrib View Lodge staff and friends enjoying lunch on the last day of the 2016 season on Corrib.
That rounds off the season on Corrib and Mask. Many thanks from me to the many regular contributors to reports, but particularly to my colleagues Declan Gibbons and Ronan Cusack, without whom these reports would be a lot sparser.
Lough Inagh
Fishery manager Colin Folan reports on a decent season for 2016. Very little rain early in the season did not help the early run of grilse and sea trout. However on June 20 it started to rain. It never really stopped from then on. For most of the time the lake was very high and serious flooding took place. In fairness Lough Inagh did not fare too bad this year, with 68 salmon to 14lbs. 431 sea trout to 5lbs and 556 brown trout to 9lbs. The annual end of season competition took place on September 30. Fourteen anglers took part and this year's winner was Robert Kelly from Dublin with a combined catch of a 4lbs salmon, 2 sea trout to 2lbs and a brown trout of 1lb. Second place went to Richard Maguire with 5 brown trout and 3 sea trout, and in third spot was Hugh Maguire with 2 sea trout and 3 brown trout. Lough Inagh Lodge and Fishery would like to thank all its customers and friends for their support and don't forget to return your completed Salmon licences.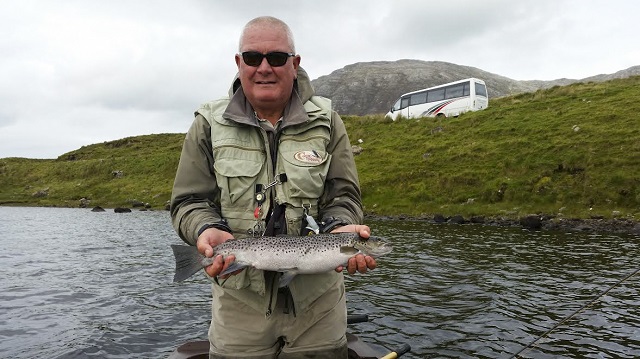 Padraic Fahy with the best Lough Inagh sea trout of 2016, a beautiful fish of approx. 5lbs.
Westport Skate Festival
The annual Westport Skate Festival, hosted by Vinny Keogh and his family from the Helm in Westport Quay, was held over the weekend, with over 100 anglers taking part in what is by now, an unmissable event for many. The event is held on a catch-and-release basis, with points per fish, but the main prize and the one all the competitors seek is that for the largest skate caught. The Common Skate (not so common) is a trophy fish that provides a stern test of an angler's skill and endurance. When a skate is caught during the festival, the boat skipper measures it with a piece of string, which is cut and placed in an envelope. At the finale of the festival, on Sunday night, Vinny opens the envelopes and each string is measured, so the winner is not known until the very end.

This year, the lucky angler with the biggest skate was Dave Bennett, from the UK, where many of the competitors come from every year for the festival. He beat Dublin angler Phil Skinner into second place (I'm sure Phil didn't mind too much after the Dubs win over Mayo!) and in third place was David McDermott from Mullingar. Many thanks to John O'Connor for the photos.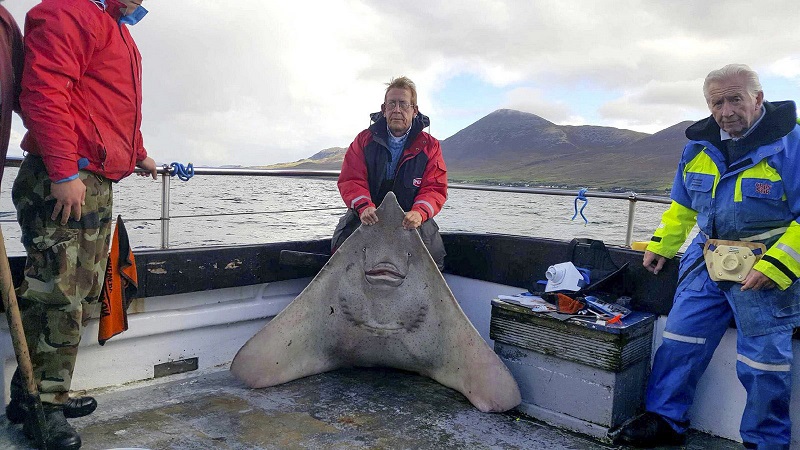 Visiting UK angler Dave Bennett, who caught this fine skate that won him the 2016 Westport Skate Festival. Photo credit: John O'Connor.














© Copyright 2016 by Castlebar - County Mayo -