Western River Basin District
IFI Ballina
Angling report - w/e 8th May 2016
Markus Muller
Salmon Angling
River Moy
With approximately 100 salmon reported, the River Moy had its best week of the season, so far.
On Coolcronan, Garry Keavaney had a 9 lbs. fish on prawn, while Padraig O'Boyle landed a ten pounder spinning on Gannon's. The Foxford Fishery recorded its first salmon of the season. Dr. Richard Wallace from the UK was the lucky angler who caught the 5 lbs. fish on a worm.
Anglers who fished around Foxford and on the Cloongee Fishery also did well. Thierry Libs from Brittany, Geoffrey Wiles & Paul Gough, UK, all had fish between 6 lbs. and 9.5 lbs. spinning. Thierry Libs also scored on the outflow of Lough Cullin where he had a fine 4 lbs. brown trout on bubble & fly.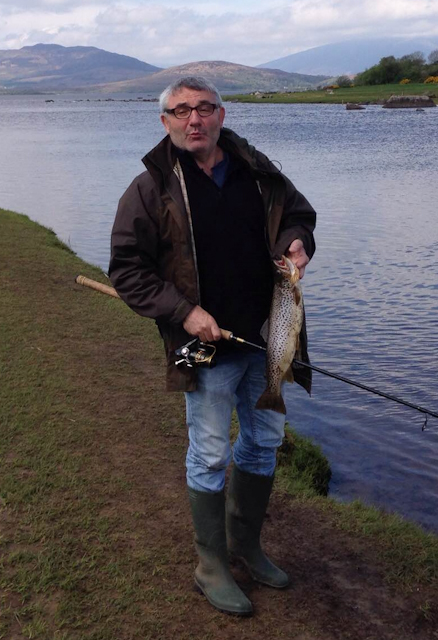 Thierry Libs with his brown trout from the Lake River
For many anglers the East Mayo Anglers water proved to be productive. French visitor, Pascal Waldner, landed a fine 14 lbs. springer while spinning. However, flyanglers Thomas Merkel, Germany, and Russ Owens, Wales, also scored on East Mayo with fish of 11 lbs. and 10 lbs. respectively.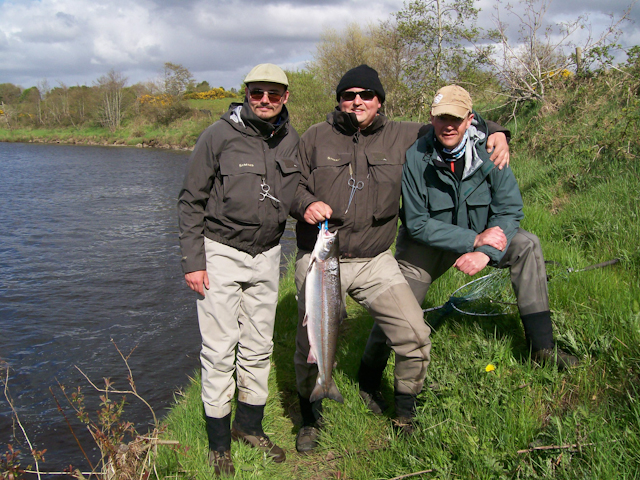 Thomas Merkel (middle) with his 11 lbs. fly-caught salmon from the EMAA water.

Carrowmore Lake
After a break of 10 days, Carrowmore Lake started to fish again towards the weekend. Over two days, a total of 7 salmon were caught, with 4 of them being released. Successful anglers included Tom Harrington, Tim Freuchie and Eamon O Nualain. The fish ranged between 5 lbs. and 7 lbs. and came to the usual patterns such as Dabblers, Green Peter and various Bumbles. The present calmer and more settled weather should provide good angling conditions for the coming days.
Please note that Carrowmore Lake is a Brown Tag Fishery this year! For fishing on Carrowmore Lake contact Seamus Henry on +353 (0)97 83487 or visit www.bangorerrisangling.com.
Lough Beltra
Lough Beltra continued to produce a number of fine spring salmon during the week. Didier Letourmy had a 7 lbs. fish at the mouth of the Glenisland River on a Jaffa, while Eamon Kennedy caught an elven pounder at Morrison's Point on an Oisin Shrimp. David Patton was also successful at the Glenisland River mouth catching a fresh run 6 lbs. fish on a Shrimp pattern. The best fish of the week, however, was caught by David Hawley at the Forestry. David's cracking fifteen pounder took a Jonah Lomu and was followed by another salmon of 9 lbs. which was released.
To book fishing on Lough Beltra East please visit www.loughbeltra.com.
Ballisodare Fishery
Luke O'Connell reports
Another good week was had at the Ballisodare Fishery. Thirty-four salmon were reported with a good number of fish released. The average weight ranged between 7 lbs. and 8 lbs. The worm and the fly proved equally successful with smaller flies and lighter tubes working best. Particularly successful were Green Butt Copper Body Cascade patterns and Black & Yellow tubes with a silver body.
The week kicked off with 5 fish caught on Monday weighing between 5 lbs. and 8.5 lbs. On Tuesday the fish went slightly off the take. However, J.B. Chenaux managed a lovely 9 lbs. salmon on the fly at Harrissons. Midweek, the fishing picked up again with many nice salmon being landed. Successful anglers included Stuart Adams (8 lbs.), Murdoch McKenzie (5 lbs. & 7.5 lbs.) and Richard Anniss (9 lbs.). The best fish of the week was caught by Bernard Harte on Wednesday, a fine 10.5 lbs. on fly. Over the weekend, heavy rain set in and, as a consequence, water levels were on the rise during Saturday. Despite the tougher conditions some anglers did well including Michael Breslin who had a ten pounder on a Cascade upriver.
For information and bookings please check www.ballisodarefishingclub.ie

Trout Angling
Lough Arrow
Anglers reported only sporadic hatches of mayfly but yet there was some good wet fly action on Lough Arrow during the week.
Francie White and Francis McSharry had 11 fish to the boat (7 returned) on Sunday last averaging 1.75 lbs. Clare anglers, Sean Corry and Pat Eyres, caught 4 trout (2 released) all around 1.5 lbs., while Arthur Wall had 2 fish of 1.5 lbs. and 2 lbs. Roger Maxwell also reported a trout of 2 lbs.
Lough Arrow Fish Preservation Association & District Angling Club will hold its annual Mayfly Competition on Sunday 22nd May.
---
IFI Galway Angling Report 11 May 2016
Kevin Crowley

Galway Fishery
A quieter week this week, as rain forecast for Saturday resulted in the OPW opening 4 sluice gates on the weir on Friday, and it has remained at that level since. There were 7 salmon recorded for the week, all caught on spinner or shrimp, with conditions made difficult for fly anglers in the high water.
Brian O'Rourke scored twice during the week, recording a 10lbs fish on shrimp, and a cracking 12.5lbs springer on spinner. Brian came back to his car after landing his big fish to see a flat tyre, and as he remarked "The Lord giveth, and the Lord taketh away!"
John Ryan enjoyed his visit that was interrupted by a nice grilse of 5lbs, taken on shrimp, and Eoin Trill landed 2 fish during the week as well, both grilse of 5lbs and both taken on shrimp.
The weather is a bit more settled this week, and I would anticipate water levels will drop a bit over the next week, which should give fly anglers more of a chance. Fresh fish are showing in the river all the time, with some early grilse among them, so prospects for the coming weeks remain pretty good.
Lough Corrib
Declan Gibbons reports on a week of difficult conditions and unpredictable fishing. Some days were miserable, particularly Saturday, but saw big hatches of olives and good fishing, while some better days saw very poor hatches and difficult fishing.
In the Oughterard area on Sunday 147 anglers took part in the International May Fly Competition held as part of the Mayfly Fesival that has become an important fixture on the calendar in Oughterard.
The competition was run on a 14 inch limit which saw 54 anglers catch 92 trout for 121lbs.
First place went to Waterford man Donal Hayes who won the Tommy Tuck Perpetual Cup with 4 trout for 9.61lbs. 2nd place went to local man Kevin Molloy with 3 trout for 7.36lbs, and 3rd place went to another Oughterard man, Pat Healy with 4 trout for 6.43lbs
The team category was won by Team Ireland, made up by Donal Hayes, Pat Healy, Willie Molloy and Darragh Faherty, and they took home the Naughton Cup for their efforts. Second in the team category was Team Australia which comprised Kevin Molloy, Harold O Toole, Tom Kelly and Seamus Kelly.
The Michael John "Elvis" Joyce trophy for heaviest fish was won by Eamonn Molloy, with a trout of 1.78kgs. The Ladies Prize was won by Lorna Lambert, while the Junior Prize was won by Tom Fox.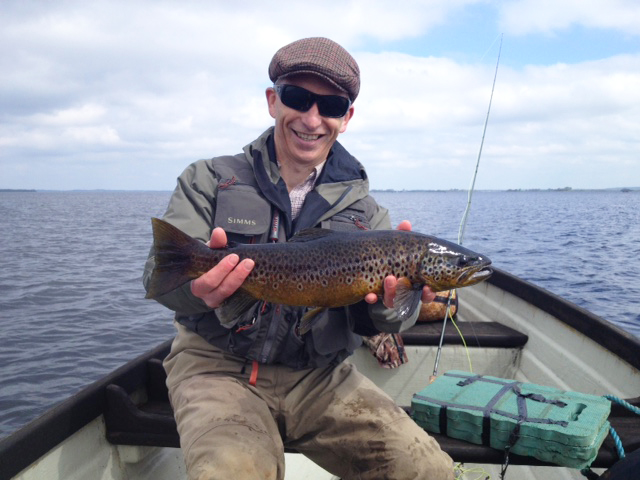 3 lb brown trout caught between Inishcosh and Portacarron by Dr Liam Glynn, GP Ballyvaughan , Co Clare, in the International Mayfly competition, Oughterard 8/05/2016. The fish came to a bright Stimulater variant fished wet, on a floating line. Photo courtesy Dr. John McCormack.
John Hart & Donal Forrest from Cork, fishing out of Healy's Corrib Wave guesthouse in Oughterard (www.corribwave.com ; tel. 091 552147) landed 5 trout for 8.5lbs. Also staying at Healys for a day's fishing was visiting Belfast angler Harry Harrigan, who had 4 trout on wet flies.
On Tuesday last the Flaming Reels Fishing Club (Cork City Fire Brigade) enjoyed a days' fishing from Gerry Molloy's Angling Centre (www.loughcorriboughterard.com), with 6 rods catching 9 trout ranging in size from 1lb to 3.2lbs, mostly caught on Yellow Dabblers, Claret Dabblers and the Red Spinner wet fly.
Basil Shields of Ardnasillagh Lodge (086-0869758) reports a big improvement in fishing in the last week, with the visiting Balbriggan duo of Peter Mccann and John Gallagher catching 7 fish for 2 days on wetfly, with the best fish being 7.5lbs! Visiting English anglers Trevor Hesseltine and George Gurks had 7 fish for 2 days on buzzer. Shannon angler John Fitzgerald had 12 fish for 2 days on buzzer. Peter Boyle from Cavan had 11 trout for 1 days fishing on buzzer, best fish 3.5lbs
Also fishing out of Ardnasillagh Lodge was well known Irish horse trainer Kevin Prendergast and John Martin Smith of the Curragh, Kildare, landing 7 trout on buzzer for their day's fishing, with the best fish being 3.25lbs. Kevin caught 6 out of the 7 fish at 84 years young!
Kevin Molloy Of Baurisheen Bay Boat Hire and Guiding (087-9604170) reported brothers Liam and Padraig Dennehy had 3 trout on wetfly on Thursday last, with the best fish being 3lbs, while on Friday Padraig had a great fish weighing between 5 and 6lbs. Kevin himself fished on Friday catching 3 on wets and on Saturday catching 4 on wets, all on wet mayfly patterns.
Guests staying at Camillaun Lodge (www.camillaun.com; tel. 091 552678) also enjoyed some good fishing, particularly Kieran Smyth from Cavan had 4 trout for 6lbs in one day on Sunday the 7th May, mostly on Sooty Olive and Olive Dabbler patterns. Elena Torrero also enjoyed her visit, landing some nice trout.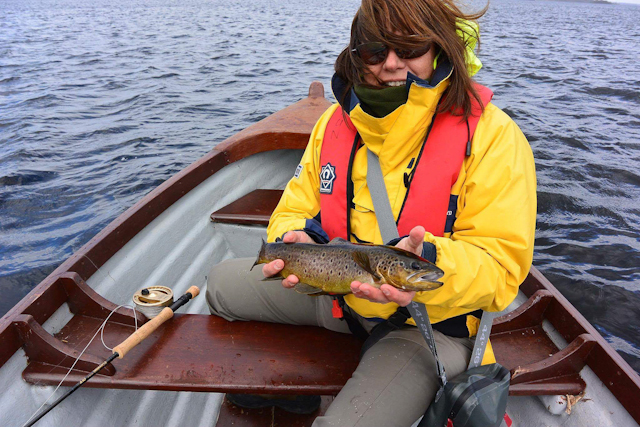 Maria Elena Torrero with a nice Corrib trout.
Larry McCarthy of Corrib View Lodge (www.corribangling.com; tel. 093 31718) also reports a dramatic improvement in fishing over the last week with some great catches for guests. Gareth Jones and his friend Tony Cartwright had a hard but very rewarding week with fish every day to dry olives and buzzer. Some of the days were notable including Thursday, when Gareth had 8 trout with one over 4lbs and a beauty of 6lb 8oz. On Saturday they had 10 trout to 4lb on olives. Jeremy O'Brien also had good fishing for his week with fish every day to olives including several over 3lbs. With warmer weather promised mayfly will be on the agenda for next week.
Finally well done to all the junior anglers who competed in the Junior Mayfly competition held as part of the International Mayfly Festival, in Fahertys Angling Centre, Oughterard. Congratulations to Emily Tuck who was this year's winner with a fine haul of 10 fish. Conor and Sean McDonald came joint second with 7 fish each, and James Lowry and Cian Yelverton came joint third with 3 fish. The Oughterard club are doing great work encouraging junior anglers and it's a credit to the club to see so much interest in angling in the local youngsters.
Lough Mask
Ronan Cusack had plenty to report from Mask this week, as the first signs of mayfly begin to appear. The weather over the past 7 days has been appalling, with east winds and low temperatures, making fly hatches very unpredictable.
The Irish Trout Fly Fishing Association held the 83rd National Championships on Lough Mask on Saturday last, which saw 128 anglers from across the country compete for 10 places, to represent Ireland on our national team in the UK next year. This year's National Champion was organising chairman, Seamus Kelly (Ballina/Cloghans), who finally lifted the trophy after many years of trying. The rule on the day was for the first fish to be kept and 1lb allowed for every fish over 33cm after that. Seamus had a total of 7 trout for 7.506lbs.
The following 9 qualifiers were Mark Clelland (Straid), Noel Shiels (Silverstream), Aidan Heffernan (Ballina/Cloghans), Arden Pollock (Agivey), Eoin Dunne (Dublin Trout), Paul McArdle (Monaghan), Patrick O'Loughlin (Ennis), Fabien Tronche (Owenabue) and DJ Byrne (Brosna).
Kevin Egan and Ronan Cusack fished on Sunday last and they had 7 trout on wets and buzzer (best fish 4lbs, all returned). Declan Gibbons had a day with Oliver Dillon and Seamus Brogan from Sligo last Friday and they had 3 fish on wets (best fish 1.75lbs)
Cian Murtagh from Cavan was joined by 4 friends for a 3 day break on Mask last week and they had approximately 33 trout on wet-flies (best fish 2.75bs). John Murry, Nigel Greene and Patsy Treacy had 5 good trout on small wets on Sunday (best fish 3lbs, all returned). Michael Vahey guided for a day for James Doyle and Eoin Dunne on Friday last and they had 6 trout pulling wets (best fish 1.5lbs, all returned).
Much milder conditions this week should improve water temperatures and fly hatches significantly, and the next few weeks should provide excellent sport on Mask.
Erriff Fishery
Fishery manager Osgur Grieve was in touch today to say there has been another salmon caught by Urs Liebundgut on Friday 6th; it weighed 5lbs and was caught on a Delphi Collie. Margaret Edwards was very unlucky on Friday to lose a salmon in the Broken Bridge Pool on Beat 6. On Monday 0905/16 Bill Edwards from the US also lost a salmon from the Broken Bridge Pool.
There are plenty of rods available on the Erriff at the moment - to book fishing or accommodation contact the staff at Aasleagh Lodge on +353 95 42208, or check out their new and impressive website at www.errifffishery.ie .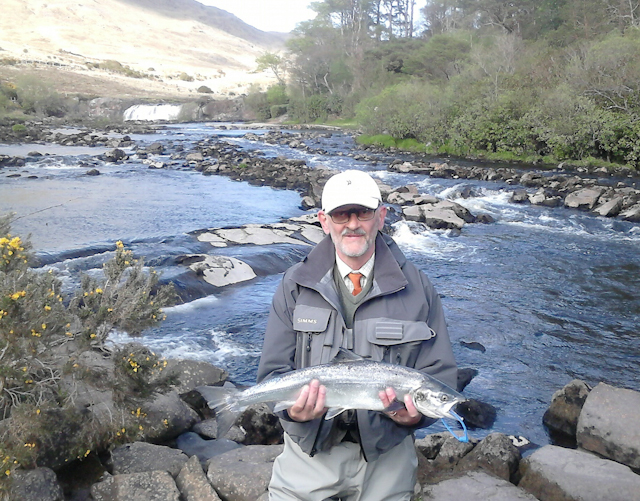 Urs Liebundgut with a nice 5lbs Erriff grilse caught on 6th May 2016