Western River Basin District
IFI Ballina
Angling report - w/e 31st July 2016
Salmon & Sea Trout Angling
River Moy
Fishing on the River Moy slowed down somewhat during the week, while fluctuating water levels resulted in more difficult conditions. However, the Moy system produced a reported catch of 266 fish for the week bringing the yearly total to 4,681.
On the Ridge Pool, flyanglers Ivan and Ian McClatchy from Northern Ireland had two grilse each best at 5 lbs. Peter Wadding, UK, was also successful on the Ridge Pool catching two grilse while spinning. German regular, Lars Friebertshäuser had two fish on the fly on the Cathedral Beat, while Jesus Ugarte, Spain, also landed two on fly. Derek Doyle, Dublin, and Philip Cobham, UK, scored on the Moy Fishery's Spring Wells Beat where they had a grilse each; both fish were caught on fly.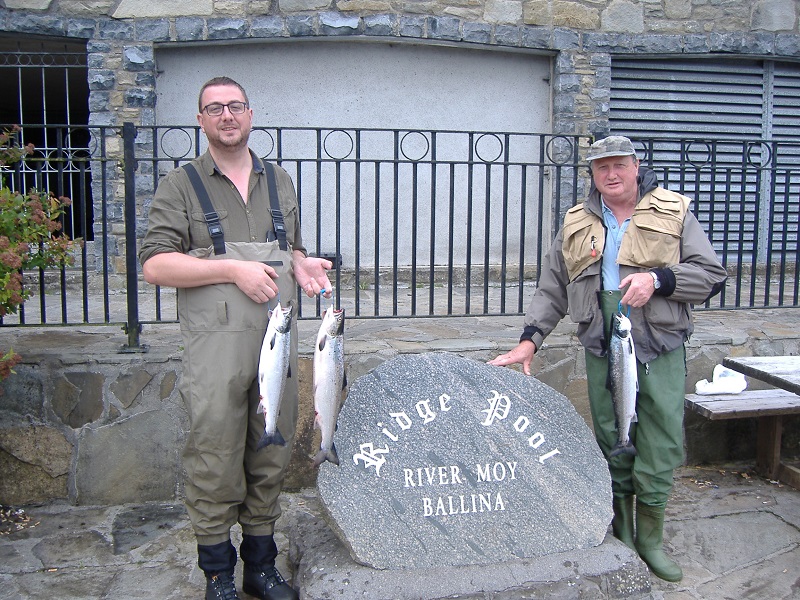 Successful on the Ridge Pool: Ivan & Ian McClatchy from Northern Ireland.



Successful on the Ridge Pool: Ivan & Ian McClatchy from Northern Ireland
John Hoddle, UK, enjoyed his time at Mt. Falcon catching 6 grilse over two days, while Liz Couzens, also UK, had a great day on Coolcronan landing three. The Foxford town waters produced in excess of 50 salmon for the week.

Further upriver on Cloongee, Peter Todd, Wicklow, caught two grilse on worm averaging 4.5 lbs. Also on Cloongee, Thierry Colum caught and released eight fish for the week. Flyfishing on East Mayo still proved quite successful with a number of fine grilse reported. Amongst the successful flyanglers was Severin Ullmann from Switzerland.




Carrowmore Lake

Sea trout fishing on Carrowmore Lake is still excellent with fresh fish continuing to run the system in good numbers. However, there are also a few grilse about. Local Ghillie, Martin McDonnell was successfully guiding Sligo native, Mark Walton, and his wife during the week. The couple caught a total of five grilse between them and enjoyed a memorable day on one of Ireland's best salmon & sea trout loughs. Jack Gillespie from Northern Ireland was also successful on Carrowmore boating a nice 6 lbs. grilse.

Best flies included Green Peter, Muddler Heads and Cascades in small sizes.

Please note that Carrowmore Lake is a Brown Tag Fishery this year! For fishing on Carrowmore Lake contact Seamus Henry on +353 (0)97 83487 or visit www.bangorerrisangling.com.




Ballisodare Fishery
Luke O'Connell reports

Things started to taper off somewhat at Ballisodare, with plenty of fish still about but proving hard to catch. However, a total of 116 fish were caught over the past two weeks with 46 of these released.

The most productive method was the worm taking some sixty fish, fifty fish were caught on the fly (most released) and only 6 were landed on the prawn.

Visiting Angler, Neville Aston, had a fine 11 lbs. fish on the worm at the Falls on Tuesday July 19th. On the same day, visiting French angler, Willie Marti, caught two nice fish of 7 lbs. and 5 lbs. on the prawn. On Monday 25th July, JJ Sullivan had a 6 lbs. fish on the fly at the Falls plus several more takes and hook ups. Albert Berry caught a brace of fish around the 5 lbs. mark also.

Most of the fish are averaging between 4 lbs. and 5 lbs. and the worm offers the best chance of catching at Ballisodare at the moment.

For information and bookings please check www.ballisodarefishingclub.ie


Sea Angling

Killala Bay

Donal Kennedy, skipper of the "Leah", reported that weather during July had been very mixed with northerly winds being most problematic as Killala Bay gives almost no shelter. However, Donal managed to provide his clients with quality fishing knowing his fishing grounds so well.

Members of the Larne & District Club had two fantastic days fishing on the 21st and 22nd of July with a phenomenal 23 species caught.

Only recently, a party of local anglers enjoyed a day's fishing aboard "Leah" catching numerous rays up to double figures and returned alive. As the day progressed, whiting, red gurnard, tub gurnard, more rays (4 species) along with some lovely brill, turbot, plaice and dabs were landed; all in all a total of 12 species were caught. The rays caught were thornback, cuckoo, blonde and spotted.
Some of the fine thornback ray and turbot caught during July on-board "Leah"
To book a day's fishing in Killala Bay contact Donal Kennedy on +353 (0)086 8174509 or visit www.dkennedyangling.net.