From Castlebar - County Mayo -


Angling News
Angling News - WRBD Galway 4 Sep 2014
By Kevin Crowley
8, Sep 2014 - 21:44


WRBD Galway Angling Report 2 September 2014
Erriff
Fishery manager Jim Stafford reports on fishing over the last 2 weeks.
The weather was rather mixed during the 1st week with high clouds, bright sunshine and light winds and about .75 inches of rainfall. Neil Spellacy, Moycullen, Co. Galway released a fish estimated at 7lbs which was caught on a Black Shrimp in the Broken Bridge Pool on Beat 5.  Brian Bell, Liverpool, caught a grilse in the Garden Pool on a Sunray Shadow.  Anthony Holden, Dublin released a fish of 6.5lbs taken on a Yellow Cascade in the Falls Pool on Beat 9.  King's Pool on Beat 4 produced a grilse and a sea trout for Martin Davison from Northern Ireland,
Nick Fenton (NI) caught 2 grilse with one from King's Pool and the second from Doyle's Pool on Beats 4 and 6.  Tobias Stern, Austria caught a grilse in the School House Pool on, Beat 3 on a Bann Special and unfortunately had a few more takes which didn't hold. Paul Sheehan, Dublin caught one in Shratloe Pool at the bottom of Beat 5.
There was a massive spate of 3 metres on the Aasleagh Gauge on the 28th./29th and fishing was impossible for a while but the river started to clear slowly from Beat 1.  First off the mark that morning was Roger Thompson (NI) with a grilse from The Wall Pool on Beat 1.   Stuart Topp, Orkney and Mike Sutherland, Edinburgh had a brilliant week  catching 14 salmon and 24 sea trout (best sea trout 3lbs) between them, including fish from Black Banks, Colonel's,  School House and the Bridge Pool at the top of Beat 3 - most successful flies were Silver Stoat and Cascades.
The Garden Pool produced a grilse for Ian Ferris, Dublin - the fish was taken on a Waddington in high water.  David Burke caught one in the Yellow Banks on Beat 5 and Philip Harte released a sea trout estimated at 3 lbs in the Quarry Pool on Beat 2.  Gerry McGuinness caught 2 fish of 4lbs and 5lbs on a Black Shrimp on Beat 4.
Tawnyard Lough produced 6 sea trout and several brown trout.
Total catch for the period was 26 salmon (14 released) and 35 sea trout -all released.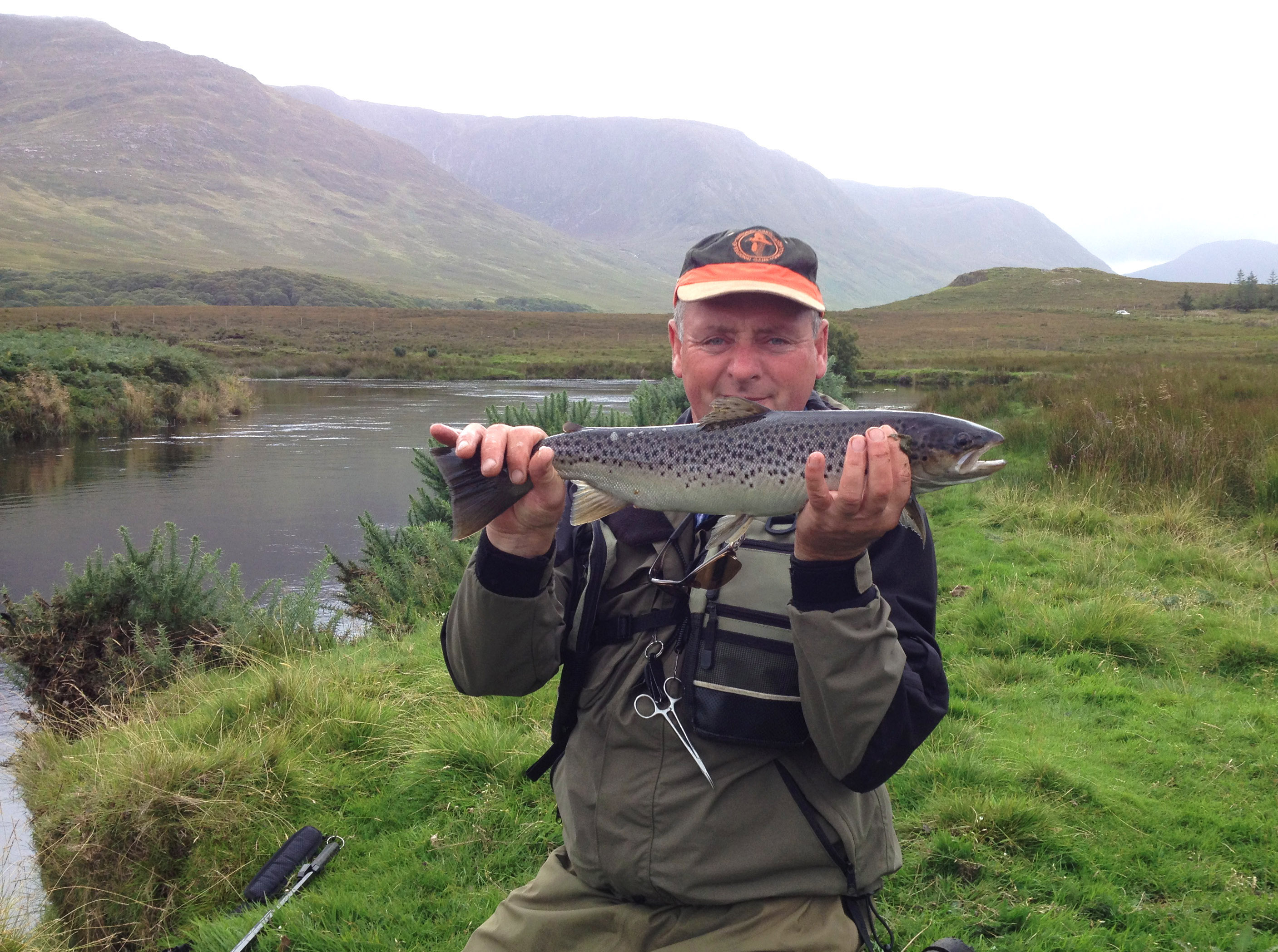 Philip Harte with a nice sea trout of approx. 3lbs from the Erriff Fishery.
The Erriff traditionally fishes very well during September, with some excellent catches during this month over the last few years. To book fishing or accommodation contact Jim at 095 42252, or email erriff.fish@iol.ie
Lough Inagh
Fishery manager Colin Folan reports that the greatest flood since Easter has arrived.  Three days of intense rain has provided the fishery with a complete water transfusion.  A lot of salmon that were trapped downstream in the lower end of the system have moved upstream with ease.  There are some fresh fish to be seen, however most of the running fish are coloured.  There is also a movement of good sized sea trout around the two pound mark.
15 salmon were recorded for the week.  Local ghille Michael Van Mourek fished a couple of days and caught and released 3 salmon to 9lbs from Corloo and Tthe Derryclare Butts on a Lemon and Grey and Badger.  Dan O 'Donovan and Eugene Greoger from Cork fished Lough Inagh on Saturday and having moved 10 salmon, landed 3 to 6lbs, and 5 sea trout to 2lbs, were needless to say delighted with their day afloat.  Well known Dublin lady angler Deirdre Herbert fished the Derryclare Butts for a morning and landed a Ggrilse of 5.75lbs on a Lemon and Grey.  Deirdre also released a number of good brown trout also.  Declan and Cian Hanley from Galway boated 7 sea trout for their day on Lough Inagh.  Dublin brothers Richard and Hugh Maguire fished the whole fishery in 2 days and had 13 sea trout to 2.5lbs.
At present water levels are perfect and should remain for the coming days. Fishing and booking enquiries to Lough Inagh Lodge at 09534706, or check www.loughinaghlodge.ie
Ballynahinch Castle Fishery
Brid O'Malley reports from Ballynahinch Castle: We are experiencing bumper catches since last weekend, as a result of high water due to the recent rainfall. We have had a total of 30 fish since the weekend!
Nigel McCorkell and Kevin Keaney hooked a total of 6 fish, and managed to land 3 on Saturday last.  Dr. John Casey had 2 fish on a Stoats Tail, while Stephen Cullinane also had 2, both on a Cascade.  The Badger fly still remains popular; Frank Flaherty had double success with it, as did Nigel McCorkell.  There is still a good run of fish coming in.  Philip Bellamy landed a lovely 7lbs fresh fish, taken on a Cascade, and another fish, which was coloured.  Dr. Toby Strauss returned a 10.5lbs salmon, the biggest of the season so far - who will beat him?  You have almost a month to do it and while we are heavily booked, some few spaces remain.
Book by contacting us here on 095 31006 or on info@ballynahinch-castle.com
Lough Mask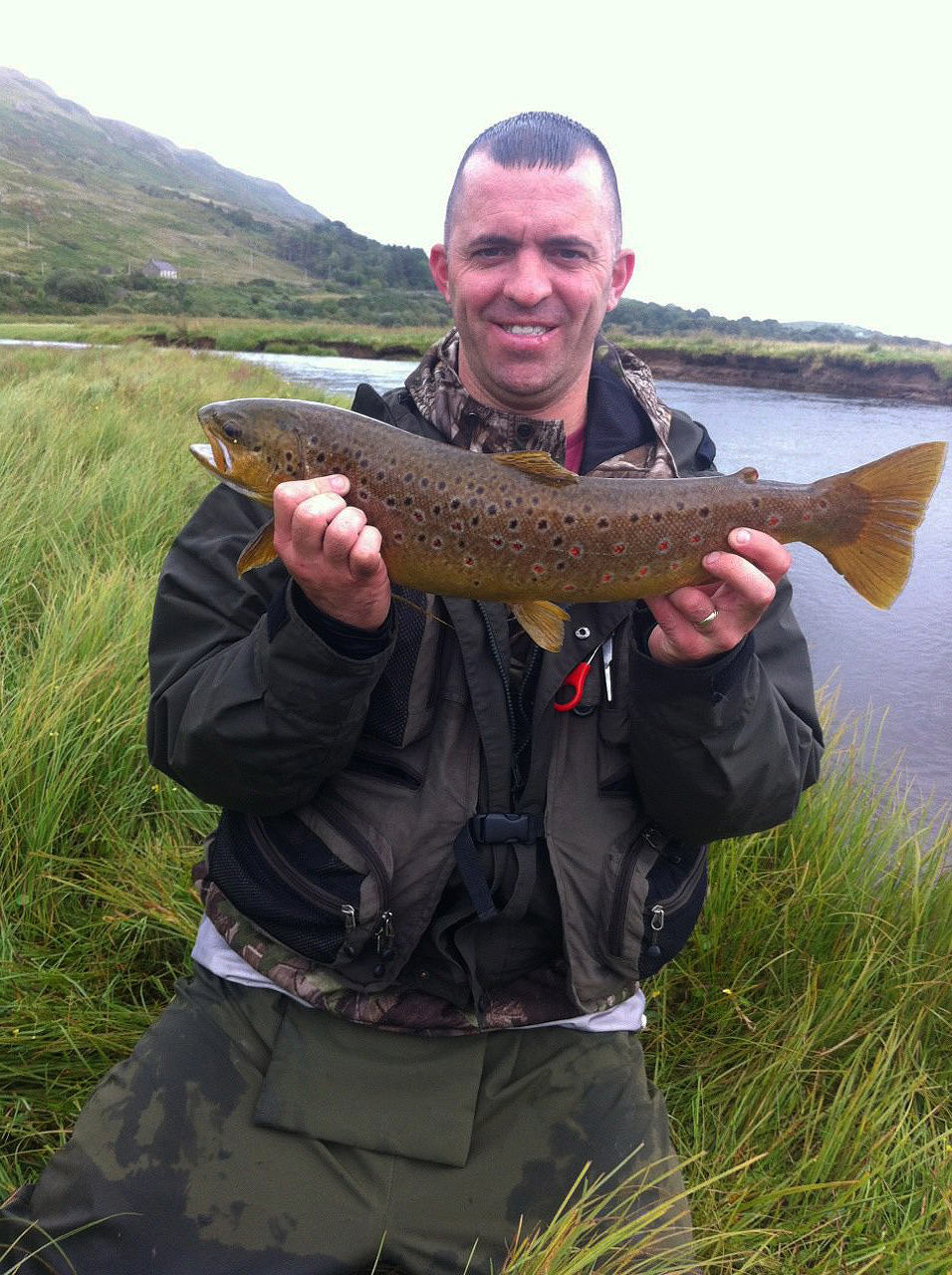 Alan Crinnion with a fine trout from the Finny River. The fish was sportingly released after a quick photo.

Ronan Cusack reports that as predicted, the sudden change in weather conditions over the past few days brought a welcome improvement to the fishing on Mask. Heavy downpours and high winds dominated the weather towards the end of last week which saw a drop in water temperature and  trout feeding more aggressively.

Well known Mask and Carra angler Peter Byrne organised a fund raising competition in aid of the water protection group over the weekend. This was a catch and release event and was supported by 42 anglers. The overall winner was Johnny Moroney, Ennis, with 8 trout measuring 276cm.  In second place was Denis Kelleher, Ballinrobe, with 8 trout measuring 271 cm. Third place went to Westport angler Ronan Gibbons, with 7 fish measuring 229cm. Mark Devine from Sligo had the longest fish of the competition measuring 40cm.

After a disappointing defeat in this year's All Ireland football semi-final, Mayo legend Donal Vaughan spent a day pulling wet-flies in the deep last Monday. Donal described the day as one of the best he has ever spent on Mask, finishing with 5 good fish over the limit and returning numerous undersize fish throughout the day (best fish 1.75lbs all returned)

The Kilbride Angling club visited Mask earlier this week and reported some excellent sport on a combination of wets and dries.  Regular Mask anglers Christy Crotty and John Ronane from Waterford had 3 fish over the weekend (best fish 2lbs). Partry angler John Munroe had 8 trout over the legal limit on Friday last and also returned numerous undersize fish during the day (best fish 1.5lbs, all returned).

Kevin Sheridan, Ballinrobe, spent a day dapping Daddy Longlegs this week and finished with 4 fish (best fish 2lbs, all returned).

The weather is more settled this week, but with lower water temperatures and fish feeding hard before their spawning migration, prospects for sport on Mask for the last few weeks are very good.

Alan Crinnion was in touch to report on superb fishing on the Finny River on Saturday, a major tributary of Mask, just before the season closed there. Fishing a dropping flood, Alan landed 8 good trout on fly, including one cracker of approx. 7lbs, and several more between 2 and 4lbs. All fish were sportingly released again on a day that Alan described as his best day's fishing in years.

Ronan also guides on Mask and can be contacted at 087 2869487, or by email at cusackronan@gmail.com



© Copyright 2014 by Castlebar - County Mayo -