From Castlebar - County Mayo -


Angling News
NW Angling News 27 June 2010
By Bryan Ward
2, Jul 2010 - 08:29



River Moy
With the region and Ballina in full preparation for the upcoming Ballina Salmon Festival (2nd-11th July), a Fly Casting Day on the banks of the Moy will be the first of a number of special events organised by The North Western Regional Fisheries Board and will take place at the Point, Quay Road on Saturday the 3rd July, 11.00am-5.30pm. The Casting Day will feature the Irish Open Spey Casting Competition, casting and fly tying demonstrations, free casting tuition, various casting competitions as well as a toddlers' fishing pool and a bouncy castle. The Board will hold a Juvenile Salmon Angling Day on the Cathedral Beat of the Moy Fishery on Tuesday the 6th July. This day is free and will commence at 8am, however spaces are limited and booking is essential. Please contact the Moy Fishery Office at info@moyfishery.com or call 096 21332 to book a place. An "Evening with Fisheries Experts", will feature presentations on aspects of fisheries management and angling, which will take place on Friday the 9th July at the Kennedy Glasgow House, Quay Road, Ballina. This event will commence at 7.30pm and again, entry is free. For full details on the Board's Festival events please see www.northwestfisheries.ie
Angling on the lower Moy continued to improve greatly, with the Community Beat, the Black Banks and the Point all producing salmon. Good numbers of sea trout were taken on the Estuary, along the Ice House and the Black Banks. Sea trout are now being observed in the lower beats, especially at the Spring Wells, which is now also producing salmon, with ten being taken for the week. Among those to have success at the Spring Wells were Harry Hutcheson, Scotland, who landed a salmon of 8lbs and Wayne Lawrenson, Dublin, who had two for the week, with one weighing an impressive 11.3lbs.
The Cathedral Beat and the Ridge Pool are now fishing very well, with the Cathedral Beat yielding twenty-nine and the Ridge Pool, an impressive sixty! On the Cathedral Beat, among those to catch was local lad Andrew Langdon, who, while fishing as part of a "Big Brothers Big Sisters of Ireland" event, caught and landed his first ever salmon. Young Leah Calnan also taking part in the event, caught her first ever salmon during the evening session. Anyone interested in volunteering their time over the summer to teach teens the skills of angling should contact the BBBS Project Officer, Louise Tuffy on 096 22012.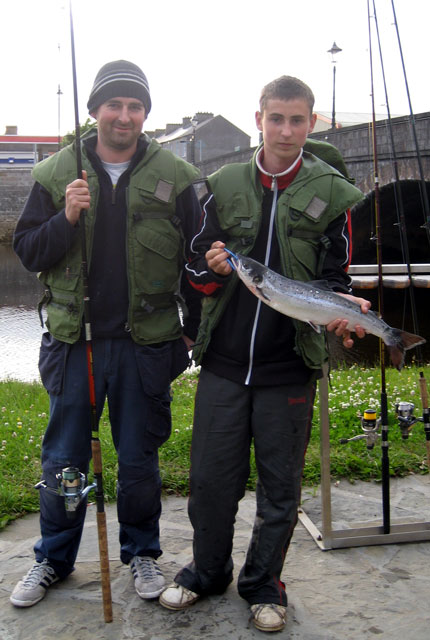 Big Brothers Big Sisters of Ireland project members Lee Jackson and Andrew Langdon, pictured with Andrew's first ever salmon caught during a recent event on the Cathedral Beat.

Roy Taylor, England, enjoyed his time on the Cathedral beat, landing four to the fly. On the Ridge Pool, Angus McArthur, Scotland, had two as did William Wells, England. However Sean Maye, Sligo, once again had great success on the Ridge, catching a total of four, with his best fish at 9lbs.

Despite the low water conditions, Ballina Salmon Anglers' Water returned good numbers of fish, with the Mount Falcon, Knockmore and Armstrong Fisheries also providing good angling. Gannon's also fished well, with Eric Fabre, France catching seven salmon for his week, as did the Foxford Fishery, where another French angler, Fredric Menade had a total of five for his week, the best weighing 8lbs. At Rinanney, great numbers were reported, including one of 9lbs. for Jürgen Babel, Germany. Further upstream, Cloongee fished well with over fourteen reported, as did the East Mayo Anglers' water, where over thirty were recorded.


Lough Conn

Angling on Lough Conn remained unpredictable, yet productive for some, with trout still being taken on Mayflies, dry Bumbles and various other dry fly patterns. Out of Kelly's Boat Hire, Cloghans, Jack Gillespie, Belfast, and Padraig Kelly had two trout each on dry Mayflies, totaling 5lbs. Bill Coughlan and boat partner also had two each on dry Bumbles for a total of 6lbs. In north Conn at the Black Rocks, Peter Byrne also had success with Mayflies, boating three trout with his best at 3.5lbs, while at Bog Bay, John Warren, Crossmolina had one 1lbs trout.

Castlebar Angling Club recently held its Juvenile Angling Competition, with twelve competitors taking part. First place went to Christopher Finnerty, Knockmore with a trout of 1.75lbs and in second place was Kevin Gallagher, Knockmore, with a trout of 1.25lbs.


Carrowmore Lake

Carrowmore is now yielding some fresh run grilse despite the low water conditions, as well as an average of thirty sea trout per day. Among those who had success was Pat Foley, who caught and returned two salmon. Other successful anglers included Tom Gallagher, Derry, John Long, Dublin, and Eamon Giblin, Clare.

 



© Copyright 2010 by Castlebar - County Mayo -