From Castlebar - County Mayo -


Angling News
Angling News - Mayo/Sligo 22 May 2011
By Bryan Ward
24, May 2011 - 20:44



Salmon Angling


River Moy

Salmon angling on the River Moy continues to improve, and despite recent high water levels, the river produced over 250 salmon for the week. The Moy Fishery has improved somewhat, with two fish from the Cathedral Beat and nine from the Ridge Pool. Visiting anglers from Scotland enjoyed success with the fly on the Ridge Pool, with Robert McKenzie landing two of 5.57lbs and 11.93lbs, while fellow Scot, Brian McGlashan landed two fine fish of 9.41lbs and 11lbs. Brian Fleming, Co. Antrim caught one of 5.75lbs on a spinner.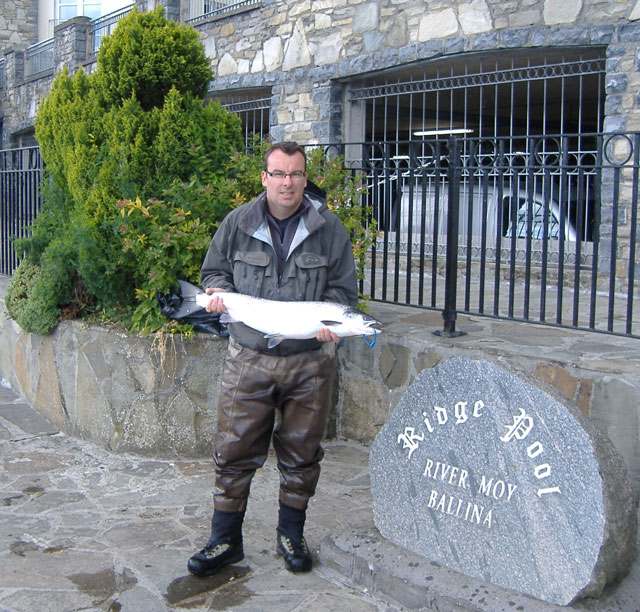 Robert McKenzie, Scotland, and his fine 11.93lbs salmon caught on the Ridge Pool with a size 8 Cascade.






Ballina Salmon Anglers' water also saw an improvement in catches from previous weeks, with over 20 salmon reported, while the Coolcronan Fishery produced several fish. Byrne's and Armstrong's Fisheries also had success in the past week, among those to land salmon at Armstrong's was Tom McDermott, Co. Westmeath, who had an 8lbs fish on the worm. Gannon's also experienced a productive week, as did the Foxford Fishery, where Sean O'Brien, Co. Wexford, was among those to land fish, with three salmon in total for the week, his best a fine 11.5lbs salmon taken on the worm.

Rinanney fished relatively well, where Christian Blashke, Germany, among those to have success, with a fish of 8lbs to the worm. Cloongee fished very well, with over forty salmon for the week. Pat Sherry, Co. Wicklow had a 10lbs salmon on the worm, Andre Rolland, France had three in total to the spinner and worm. Thiery Colum hosted a party of French anglers on the Fishery for the week, where they enjoyed great angling, catching a total of 22 salmon, six of which were released.

The East Mayo Anglers water once again fished well, with over 80 salmon caught. However, the Fishery has seen an increase in angler numbers recently. Duncan Whitehead, U.K., enjoyed a productive visit to the East Mayo waters', landing four salmon, three to the fly, the best of which was 12lbs. Claude Grosjean, Belgium had one salmon of 8lbs on the worm, while fellow Belgian, Marcel Jackqeim landed one of 6lbs. Billy McGhee, Ballyvary, had success at East Mayo on the fly, landing one of 11lbs. The Ballintemple Fishery produced its first fish of the season, with a fine 12lbs, fresh run salmon caught by Eddie Doherty, Ballina.

Ballisodare River

The Ballisodare produced over 60 salmon for the week, 28 of which were released. Paul Culreavy had one of 6.5lbs and released another. Lenny Henry landed one of 10lbs on the fly and Alexander Mills also had a nice fish of 9lbs on the fly. The fly also proved successful for Ronan Watters and Tony Scallon, who had fish of 9lbs and 9.5lbs respectively. Amongst other anglers to report fish at the Ballisodare Fishery were John and Anthony Doherty, Richie Watters, Robert Marshall, N.Ireland and Galway anglers Paul and Shane Brady.


Trout Angling

Loughs Conn and Cullin

The loughs fished relatively well for the week, despite the disruptive weather, with many of the better catches actually recorded during the bad weather! Angling out of Enniscoe Fishery, Crossmolina, Gary Crossley had one trout of 2lbs to the Green Peter, with Ian Wise boating 8, his best 2lbs, all taken on Mayfly patterns. John Warren also enjoyed success with mayflies, catching 6 trout in total.

Angling out of Murphys, Mick Sweeney, Co. Galway, had a fine 5.5lbs trout on a green Dabbler in Massbrook Bay. Barry Graham and Ned Tyrrell, Co. Offaly enjoyed good angling over three days, averaging ten trout per day on Mayfly patters. Ronnie Chambers, N.Ireland, also enjoyed a good week, averaging 10 trout per day over five days, with his best 1.5lbs. Fishing from Pontoon Bridge Hotel, Jack Mellet, Castlebar had success with the Klinkhammer, with two trout, the best of which was 2lbs, and Andrea Berti, Italy, also caught two on the Claret.

Padraig Kelly, Cloghans and John Price had four trout for a day in Cloghans Bay, Seamus Kelly, Cloghans also had success in the Bay with three trout for an evening on Mayfly patterns. P.J. Hallinan, Ballina also had two on Mayflies, his best 2lbs while Gary Binley had one of 2lbs on a Watson's Fancy.

Two competitions were hosted on the Loughs over last weekend, and despite the terrible winds, many anglers taking part enjoyed good angling. Qualifers for the Connaught Cup were held on Lough Conn on Saturday 21st, with 31 anglers participating. Of those taking part, 11 anglers boated fish, with 13 trout in total presented for the weigh in. Taking first place was Barry Fox, Co. Sligo with a trout of 3.5lbs, second place went to Seamus Kelly, Cloghans, with two trout for 2.25lbs and in third place was Francie White, Co. Sligo with two trout for 2.01lbs.

The competition for the Jack McNeely Cup was fished on Sunday 22nd, with 30 anglers participating. First place was taken by Seamus Kelly, Cloghans with his trout of 3.5lbs, second place went to Adrian Murphy, Cloghans with a trout of 2.5lbs and in third place was Richard Burnley, Foxford, with a trout of 1.75lbs. Michael McNeely, Brackwansha took fourth while David Creane, Cloghans took fifth place.

Lough Arrow

The Spent Gnat continues to fall in good numbers on Lough Arrow. Peter Dunne, had eight trout over the week, ranging from 1.5lbs to 3lbs. Rodger Young, France, boated one for 1.5lbs while David Grey enjoyed good angling on the buzzer, with two fine fish of 4.7lbs and 4lbs. Gerry Martin also had two trout for a session, both of which were returned.

Ballin Lough

Due to the poor weather, few anglers ventured out on Ballin Lough. However, those who fished were rewarded for their efforts. Mr. Nagle and boat partner boated and released 8 rainbow trout, their best fish 2lbs. Pat Sugrue and boat partner had 5 trout, their best 2lbs while Jim Prenderville and boat partner had two, averaging 2lbs.


 



© Copyright 2011 by Castlebar - County Mayo -