From Castlebar - County Mayo -


Angling News
Angling News - WRBD -Galway/Mayo - 14 Mar 2012
By Kevin Crowley
16, Mar 2012 - 18:40



Salmon
Galway Weir
The first salmon of the 2012 season has finally been landed in Galway. After five weeks of very high water, the OPW finally closed a number of gates on Friday the 9th, lowering the river level to a nice fishable level, with four sluice gates open. Local angler Sean O'Toole took full advantage, catching a nice silver fish to kickstart the season here. The fish was small for a springer, at 5.5lbs, but beautifully proportioned and gave a good account of itself. A couple of sea lice showed how fresh it was, probably just off the tide. Sean is a well-known supplier of shrimp to anglers in Galway, and used one of his own shrimps to tempt the fish.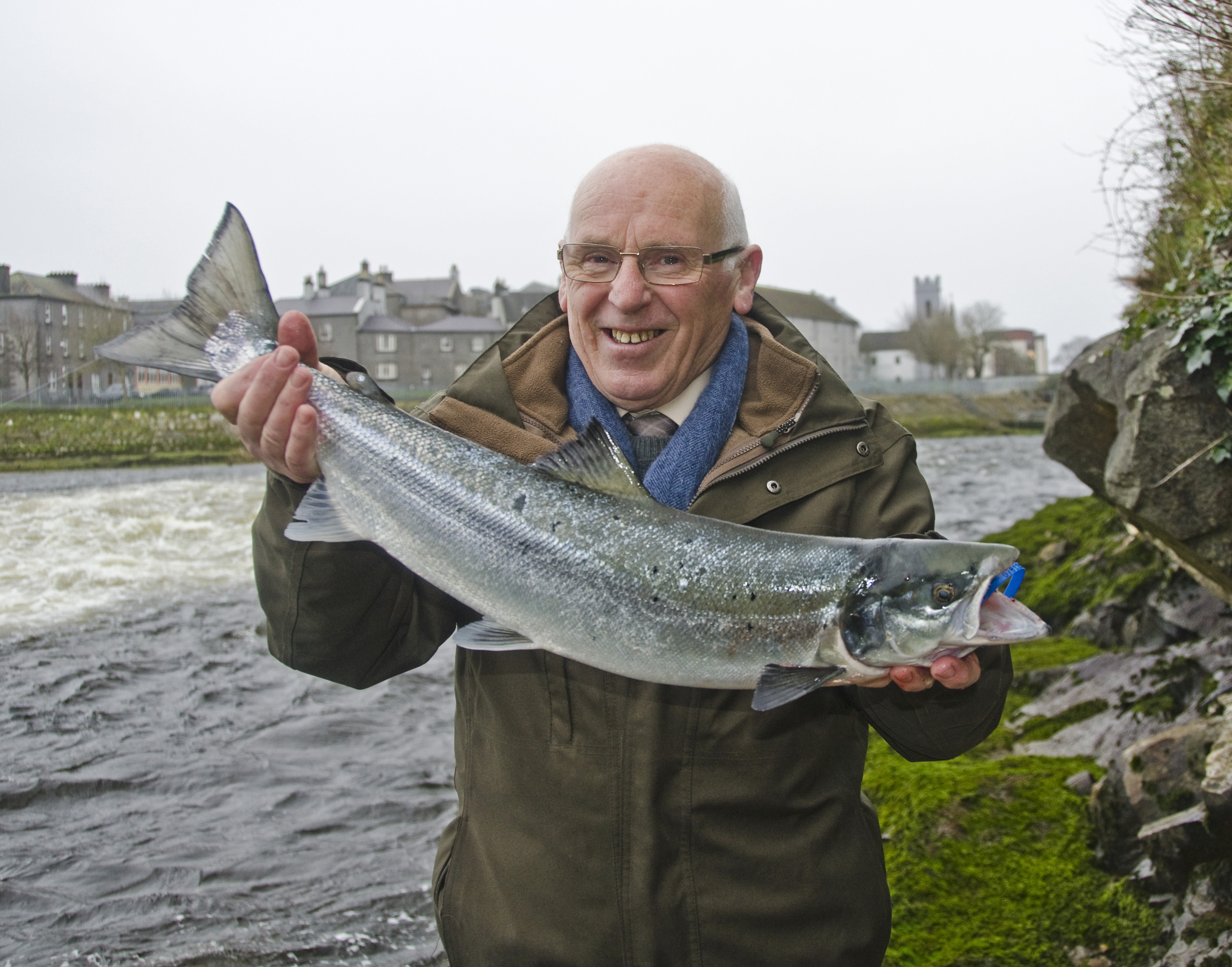 Sean O'Toole.
Another fish was spotted in the top pool just 5 minutes after Sean landed his first fish, and with the water level remaining at 4 gates open, conditions are perfect for spring fishing. Weather conditions this week are also perfect, and hopefully we will have more Galway salmon to report soon.
Delphi
After a fishless February, Delphi really came to life last week, and has had a cracking week since, with 12 salmon landed in 7 days. The first fish of the season was taken on Wednesday the 7th by Alan Dunlop - a fish of 9lbs from the Goat Pool, which was sportingly returned. John Mills then had and returned one from the Waterfall of 7lbs. Both fish were taken on a Willie Gunn Waddington fly. Alan then caught a second fish of 8lbs 1oz at 11.20am in the Whin Pool. So after 5 weeks without a fish, 3 in one day got the season going properly!
This was followed on the very next day by a cracking fish of 12lbs 12oz taken by Michael McLaughlin off Finlough on a Willie Gunn in the stream. On Friday Liam Dunne took a fine fish off Finlough in the stream that weighed in at just over 10lbs. It also took a Willie Gunn. His fishing partner Paul Smyth had lost one on the river in the morning. On Saturday Brian O'Donohue who started on the river in the morning landed 2 fish from the Whin pool in 30 minutes, the first weighed in at 6lbs 5oz and the second was approximately 10lbs. Both fish were surprisingly taken on a Willie Gunn!! Laurence Lock managed to hook and land a fish within 10 minutes of starting in the stream on Finlough. The fish weighed in at 8lbs 2oz and was taken on a Mediator. Laurence also had the first fish off Doolough of approx. 7lbs, that was taken on a Blair Spoon in Weedy Bay.
Later on in the week, Keith Pilkington had a 9lbs 8oz fish off the Rock Pool. The fish was taken on a Green and Black tube at 9.20am. It was netted by Keith's long time fishing partner Peter Morrison who, according to Keith, attempted to knock the fish off a couple of times but failed to do so and landed the fish safely!
Laurence Lock landed another, a beautiful 12lbs 9oz fish. It was taken in the Rock Pool with the river at 20. The fly was once again a Mediator. Laurence has now landed 3 fish in 4 days which is pretty impressive at this stage of the season. Stewart Woodhead landed a 10lbs 8oz fish from the Rock Pool again, 10 minutes after he started to fish on a Dundee United fly.
It looks like Delphi is getting a good run of spring salmon at the moment, and would be well worth a throw. To book fishing or accommodation, contact Delhpi Lodge at 095 42222, or check www.delphilodge.ie
Trout
Lough Mask Still Fishing Well
Ronan Cusack reports that Mask was a bit quieter this week, with not as many boats to be seen out.
Water levels continue to drop under the dry mild conditions and good hatches of duckfly are beginning to appear. Local angler Conor O'Mahony and boat partner Mick Byrne fished on Saturday and they had 4 fish for their day (best fish 2lbs). Mick fished alone again on Sunday and he had a further 2 fish totalling 3lbs. Liam Conroy, Tourmakeady, reported having 5 good keepers coupled with several undersize fish on Sunday (best fish 1.75lbs, all returned). Liam also mentioned meeting 3 visiting anglers on the pier in Tourmakeady when he returned to shore and they had 11 trout between them.

Sean Maloney, Ballinrobe, fished on Wednesday last and he had 5 fish for his day (best fish 1.75lbs). Sean fished again on Sunday with angling partner Joe Fitzharris and they had a further 2 fish (best fish 2lbs). Joe reported large hatches of small sedge all along the Inishowen shore with plenty of fish rising in the calm water. Ronan Cusack fished on Sunday last and he had 5 fish (best fish 3lbs, all returned). Kevin Beattie, Ballinrobe, also spent the day on Mask on Sunday and he had 5 fish for his day (best fish 2lbs).
Although fewer anglers were out, fishing was very good, with anglers averaging 2-3 trout per day, not to mention undersize fish, excellent fishing for this time of year. With the duckfly hatch increasing, the next week should see more good sport on Mask. Ronan also guides on Mask and can be contacted at cusackronan@gmail.com or on 087 2869487.
Lough Corrib
Fisheries staff are still busy conducting a fish stock survey, so I haven't had any reports in this week from around the lake, however I am reliably informed that the duckfly hatch is in full swing in a number of areas, and trout are switched on to them already and are feeding hard. The next week should see good fishing and I hope to have some good reports for the next report, especially with the bank holiday weekend this week.
Angling guides Omi Kurman and Jack Gorny have been enjoying some great fishing with their clients over the last week, with some great trout landed. The lads have been trying out some new Hybrida lures, and spinning as well as trolling, landing quite a few smaller trout as well as the bigger ferox. On Sunday two anglers in one boat had 13 takes and landed six fish using the Hybrida lures, while last week Des Canning, who booked a day with the lads along with his brother Michael. Des landed the fish of a lifetime, a magnificent ferox trout that measured 88cm and weighed 18lbs 3oz.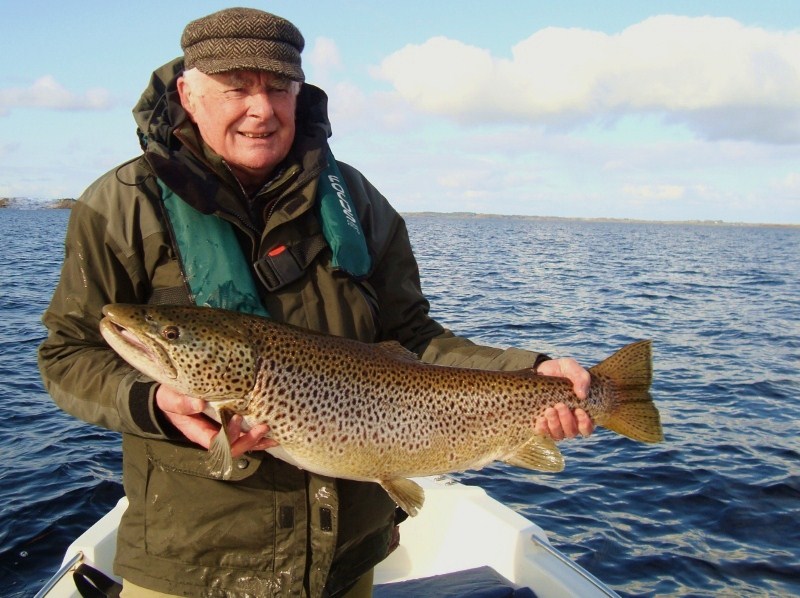 Des Canning.

To book a day with lads from the Corrib Predator Team, contact Tomi on 085 731 85 41 or check www.facebook.com/profile.php?id=100001817618251, or call Jack on 085 774 15 78 or visit his website at www.fishingireland.pl

 



© Copyright 2012 by Castlebar - County Mayo -