From Castlebar - County Mayo -


Angling News
Western Angling News - 9 Sep 2012
By Bryan Ward
12, Sep 2012 - 21:11



WRBD Mayo Angling Report 9th September 2012

Salmon Angling

River Moy
The latest reports form the Moy indicate that many fish are showing on the river, but are proving difficult to tempt. Despite this, the system yielded an impressive catch of 175 salmon for the week. On the Ridge Pool, Damien Doherty, N.Ireland, had one small grilse on fly, Stephen Sweet, Guernsey, had two spinning and Jonathan Smith, Co. Cavan, had one good fish of 9lbs also taken on fly.

The Ballina Salmon Anglers' water was relatively quiet while Mount Falcon had a reasonable week. The Knockmore water, Attymass, Coolcronan and Byrne's all yielded their fair share, including one of 7.5lbs for Pat Olden, U.K., taken on a prawn. Armstrong's Fishery had a fairly productive week, where Michael Braun, Germany, was among those who had success, accounting for two fish, taken on worm. A good week was had at the Foxford Fishery, where Niall Sudway, Co. Dublin, had a nice fish of 9.5lbs on bubble and fly.

Rinanney and the Foxford Salmon Anglers' water each produced their share, as did the East Mayo Anglers' water. Hans Ulrich Bender, Germany, banked one of 7lbs to the fly, at East Mayo, while Kathleen and Michael Collins, Co. Kerry, had one each also to the fly.

Ballisodare Fishery
Angling has been relatively slow at the Ballisodare Fishery of late, with just 15 salmon reported for the past two weeks. Visiting angler to the fishery, Dennis Quinn, had one good fish of 9lbs taken on the prawn, while fellow visitor Peter Connolly, England, had one of 6lbs to worm. Others to have success here were James McGuire who landed one of 6lbs to the fly, with Michael Breslin and Hillary Mitchell both landing grilse of 4lbs, also on fly.


Trout Angling

Lough Conn
Ballina and Cloghans Angling Club will host the Lodge Cup competition on Saturday, 22nd September from 11am on Lough Conn. Weigh in will take place at the Lodge Bar, Cloghans, accompanied by food at 6.30pm. Please confirm entry by texting +353 (0)871 802636.

 
---
WRBD Galway Angling Report 9th September 2012

Delphi
D. McEvoy of Delphi Lodge reports that salmon angling has been difficult to say the least over the past few weeks. However, sea trout have been much more co-operative, with approximately 50 landed since the last report. Despite this, they are proving difficult to tempt although the quality of trout reported has been excellent. David Rainford was one angler who had success with sea trout, boating a good fish of approximately 4lbs off Doolough, taken on the artificial dap. With the weather now turning more autumnal, hopes are that the salmon will awaken and take throughout the final weeks of the season.
Inagh
Colin Folan of Lough Inagh Lodge reports that after a bit of a struggle in August, he is glad to state that the lake is starting to fish well again. The most notable indication is that the larger sea trout have been active in recent days. The water level in the lake is perfect at the moment, and last week was the first time in three weeks that fresh grilse were seen in the system.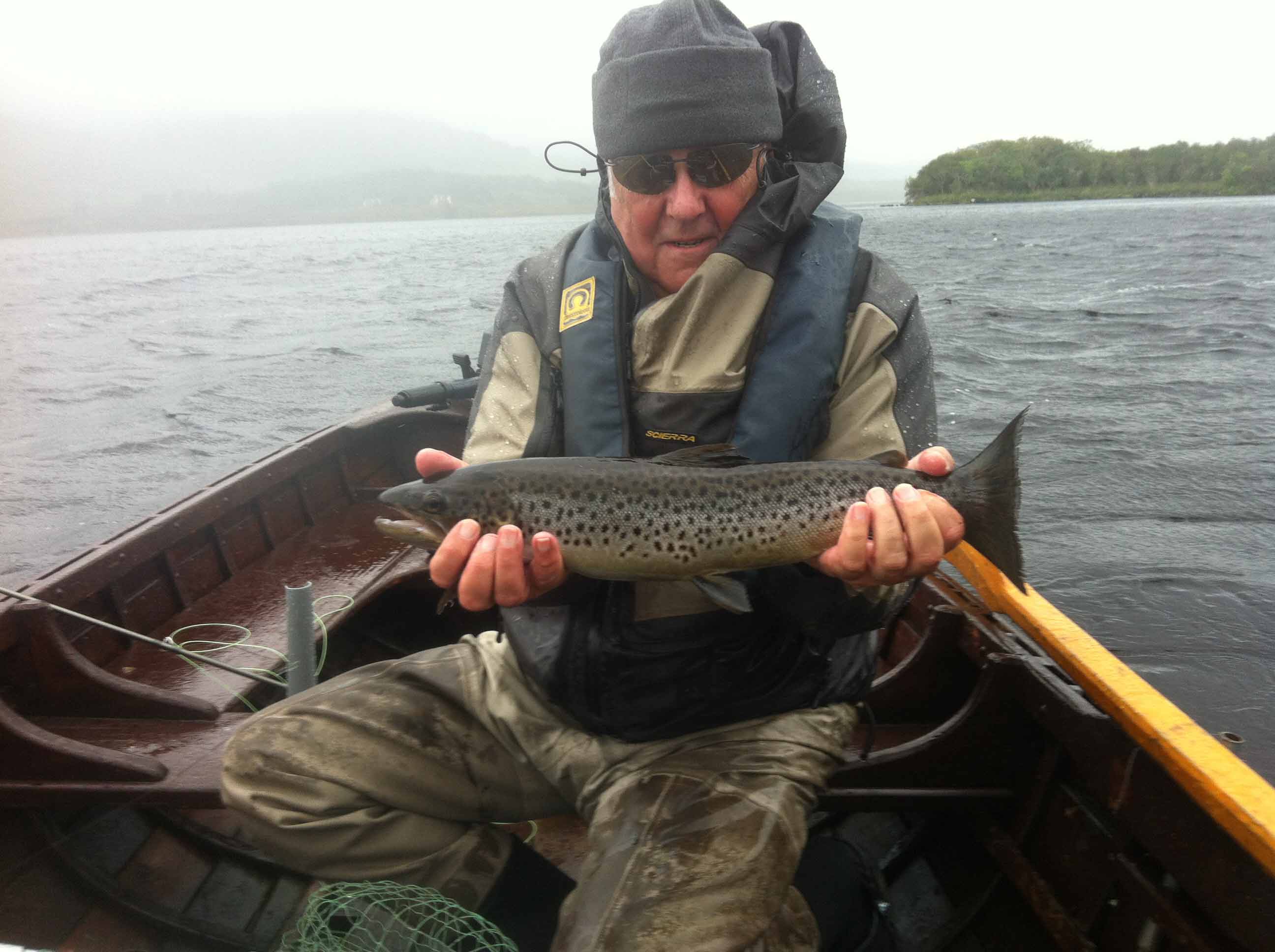 Michael Heery with a fine Lough Inagh sea trout.

A total of three salmon and 93 sea trout were recorded for the week, for 40 rod days. Meike Zahnen, Germany, landed her first ever salmon, when she fished Lough Inagh on Friday past. The fish weighed 5lbs and was taken on a Green Peter. Michael Heery and William Hamilton also had a good day on Inagh, during which they boated 16 sea trout to 4lbs on a Green Dabbler.

The season's total catch of sea trout to date is 943, and Colin is hoping that their estimate of 1200 sea trout for the season will be achieved in the remaining three weeks.

Kylemore
Nigel Rush reports that conditions have not improved of late. Despite this and combined with a lack of anglers the fishery was lucky to land just one grilse for the week. Andrew Crouchman tempted one coloured fish to his fly from the Lunch Pool on the Lower River, weighing 3.5lbs. Two sea trout were landed for the week to the sum total of three rod days. Andrew has started the new week with a fish of approximately 10lbs from the Rock Pool, fishing a Gold Head Hares Ear. Conditions look set to change in the anglers favour, with some wetter and fresher weather predicted for the coming days. To book fishing at Kylemore Abbey, contact Nigel on Tel: +353 (0)95 41178, or Mob: +353 (0)87 9580702, and for latest news check the website at www.kylemorefishery.ie.




 



© Copyright 2012 by Castlebar - County Mayo -