From Castlebar - County Mayo -


Angling News
Angling News - WRBD - 2 May 2012
By Kevin Crowley
4, May 2012 - 08:15



Salmon Angling

River Moy
The River Moy has produced some great fishing for anglers of late, and last week was the best week of the season so far, with 70 salmon reported caught throughout the system.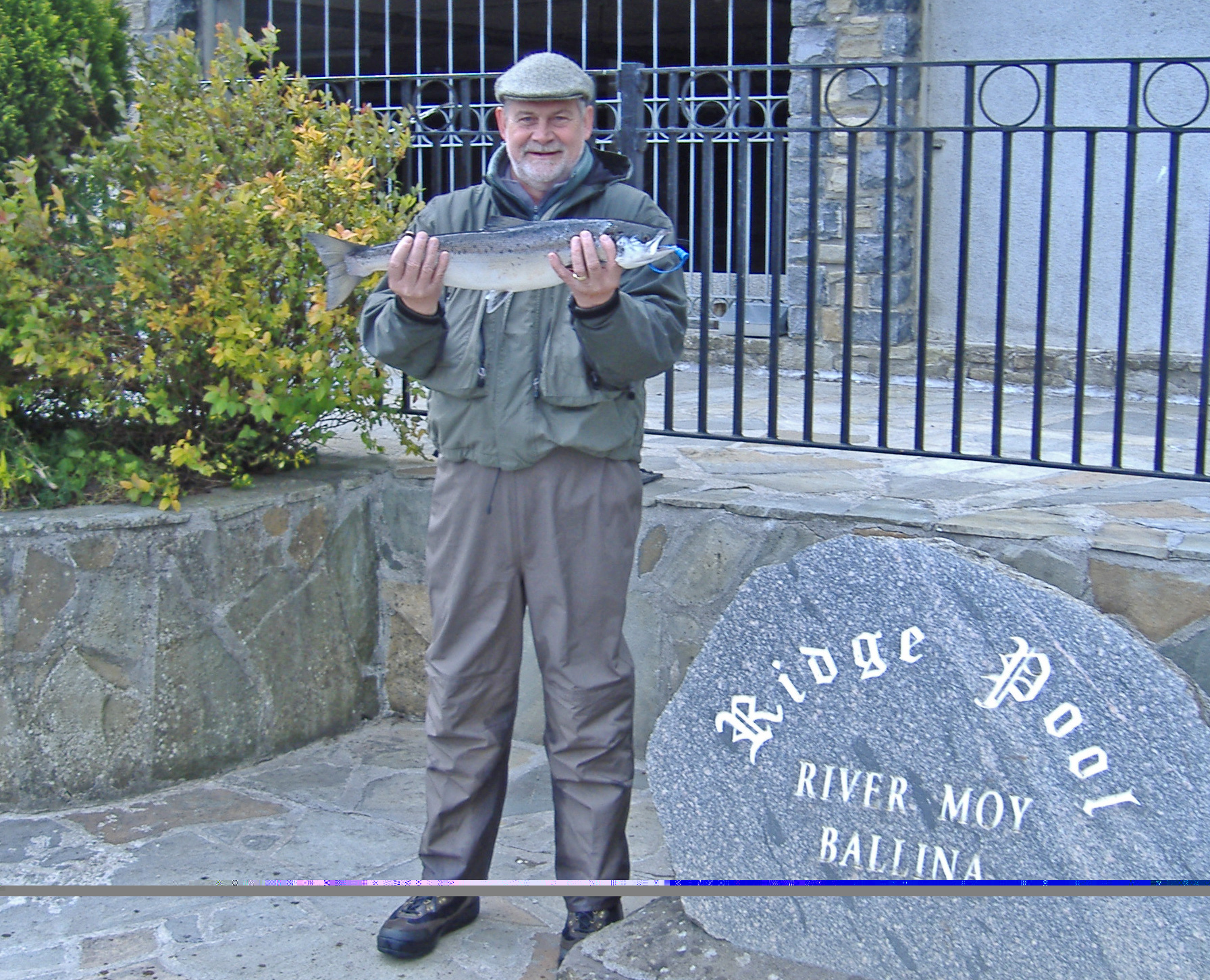 John Wilson with his salmon which weighed 5.5lbs, the first salmon caught on the Ridge Pool this season.

Angling on the lower and middle Moy was slow during the week with the majority of fish caught upstream of Foxford.

On the Ridge Pool John Wilson from Co. Fermanagh caught the first salmon of the season, a 5.5lbs sea-liced fish on the spinner. On Ballina Salmon Anglers water Paddy Dempsey had a 5lbs fish on bubble-and-fly. William Marshall from Northern Ireland landed a fine 12lbs fish on prawn at Gannons Fishery, with Richard Wallace from the UK taking a 5lbs fish on the Foxford Fishery.

Upstream of Foxford on the Foxford Salmon Anglers water Joe Casssidy landed a beautiful salmon of 16.25lbs. On the Cloongee Fishery Willem De Vos from the Netherlands had a salmon of 12lbs on the spinner. On the East Mayo Anglers water both visiting and local anglers enjoyed success. Peter Comny, Ballina,had a fish of 11lbs on worm. Paul McGrath, Swinford, had a fish of 9 lbs on fly, John Noad (UK) landed a fish of 6lbs on fly, while Steve Thompson (UK) took a fish of 6.5 lbs on fly. Willie Lentz (Germany) landed a 7lbs fish on fly, and Sammy Lewis from Monaghan caught a fine 15lbs fish on spinner.

Water levels are good and expectations are high for the coming week.

Ballisodare River
Dermot Glennon reports that excellent spring salmon fishing is reported from Ballisodare over the last 2 weeks. For the week from the 15th to 22nd 37 salmon were recorded, including 23 fish released. Among the anglers to land fish were local angler Paul McMahon, who took an 8.5lbs fish, and Bill Clinton (not the former US president) who landed a fine 13lbs fish on fly. Sean Maye took a 10lbs fish on fly, while Paddy O'Loughlin landed a 9-pounder on worm. Paul McGroary took a 10lbs fish on fly, while Tommy Donovan caught and released a 9lbs fish taken on a Willie Gunn fly. Seam Maye caught another 9lbs fish, which he released, while Trevor Goulding and Ray Cooper also caught and released salmon.

The week ending Sunday 29th saw 60 salmon landed, with 30 of those released. Michael Martin landed a 9lbs fish on fly, while Dermot himself caught and released an 8-pounder on fly. Vinny Henry had a 6lbs fish on fly, also released, and visiting angler M. Wymes had an 8lbs fish on fly. Trevor Goulding tok a 10.5lbs fish on fly, while visitor John Savage caught and released a 7lbs salmon.

Other anglers to score were Denis Barrett, with an 8lbs fish on fly, Paul Colreavy from Sligo, with a 6.5lbs fish on fly, and local angler Stephen Moore, who had an 8lbs fish on fly. D. Crawford landed an 8lbs fish on worm, while UK angler Andrew Pearson had a 9lbs fish on fly, and Denis Quinn took an 8lbs fish on the worm.

Dermot reports that water levels are starting to get a bit low now, and the average size of the fish is slightly smaller this week as a few early grilse start to appear among the springers. Given a drop of rain and with such a good run of fish at the moment, fishing prospects here are very good.

Carrowmore Lake
Seamus Henry reports that Carrowmore Lake produced very good sport early in the week before the northerly gales blew up and spoiled fishing for the rest of the week.. Brian Moore landed a 9lbs salmon, and then caught and released another nice fish. Jim Ruane from Castlebar had a 9lbs fish, and also caught and released a fine 12lbs salmon. Matt Bateman had a fish of 9lbs, and Vincent Rigney took one of 7lbs.

Pat Foley caught and released 2 salmon, and Cavan angler Gene Brady had a 6lbs fish, and released another one. The following day Gene returned and had another 6lbs salmon. Andy Latimer from Enniskillen landed a nice 8lbs fish and returned another, while Frank Hughes and Gerry Dooley from Dublin both had a fish of 8lbs apiece. Larry Mitchell from Belmullet caught a 6lbs salmon as well. From Wednesday the winds picked up and angling was curtailed on the lake by poor water clarity until the last day or two, and Seamus reports that fish are being caught again at the moment.


Trout Angling

Lough Arrow
Jimmy Frazer reports that anglers took advantage of good mayfly hatches towards the end of the week on Arrow. Conditions were cold with strong northerly winds at times. Wet fly fishing was the best method, with some fish caught on the dapp.

Finian Dodd had a nice fish of 3 lbs, while his son Colin had 4 fish with best fish 3.5lbs. Darrell Haslam had 3 fish of 1 - 1.5lbs. Martin Doherty from Donegal had 1 fish for 1lb 10oz. Francie White had 3 fish weighing an average of 2lbs. Ken Murray had 2 fish on the dap of 4lbs and 2lbs. David Frazer had one fish on the dap weighing 3lbs.

Peter Dunne from Drumshanbo had 3 fish last week weighing 4.5lbs and 2 further fish of 3 lbs, all on buzzer. Jean Anderson had 2 fish, one 4lbs and the other 2lbs, taken on olive patterns.

Paul McMenamin from Derry had 4 fish on wetfly. His son Niall had 1 fish. The heaviest was 2.5lb. Michael Gunning had 1 fish on the dap weighing 2 lbs.

Fishing for the coming week looks promising with good hatches of may fly expected.


Lough na Leibe
Due to the windy, wet and cold weather the angling activity on Lough na Leibe remained low during the week. Despite the difficult conditions some club anglers took to the water over the weekend and all were rewarded by landing fish, with a total of 25 trout reported for the week. There was a mixed hatch of buzzers and lake olives reported throughout the weekend on the lough, despite the cold temperatures. The successful fly patterns were, Dry Fly; Olive hopper size 14: the Wet Fly/Nymph Patterns; Kingsmill, Black Pennell, Bead Head PTN and Sooty olive Nymph

Fly fishing Class on Lough na Leibe
Ballymote and District Angling Club in conjunction with Lough Gara Angling Club hosted a Fly Fishing Class on Lough na Leibe on Sunday the 29th April. The class was given by expert fly fishing instructor Packie Trotter. There was a good attendance from both clubs and all who attended reported the experience very rewarding despite the trying conditions. Henrys (Gala) of Ballymote supplied much welcome food on the day for the event.

Competition notice for Lough na Leibe Wednesday 29th April.
The 1st round of the Evening League competition takes place on Lough na Leibe on Wednesday 9th May from 18:30 - 21:30. Draw for starting pegs is at 18:00 with the competition starting at 18:30 sharp. Please note only fully paid up members of Ballymote and District Angling Club aged 18 and over may take part in this competition. To win the league title competitors must fish in the 1st or 2nd round of the competition and fish in 3 rounds in total.


Loughs Conn and Cullin
Angling was slow on the lakes due to the weather, cold northerly winds with hail did not help. In saying that all anglers that ventured out did enjoy some good sport in some of the sheltered bays. Fishing out of the Pontoon Bridge Hotel, John O'Hara from Nenagh, Co.Tipperary, had 6 trout to the Claret Octopus, best 1.5 lbs, all on Cullin. Roland Absalom, UK, had 6 trout also on Cullin to a Claret & Mallard, best 2 lbs. John & Monica Murtagh, Galway, had 9 trout to wet mayflies, best 1.5 lbs on Conn, and Ray Leddy, UK, landed 4 trout to the Fiery Brown, best 1.5 lbs, on Conn.

Fishing out of Gerry Murphy's Boat Hire, Massbrook, John Williams from Cork landed 3 trout on Conn, best 1.5 lbs.

Gary Crossley and brother Steve, Wales, fished out of Crossmolina-Cloonamoyne Fisheries and recorded a total of 17 trout over 2 days, best 1.75 lbs, all to wet patterns. Ricky Williams and Richard Pointer, UK, had 23 trout for 6 " short " days angling, most to Claret Bumble. Richard had also a 6lbs salmon to a Yellow Dabbler.

Ian Wise had 3 trout, all keepers, and all returned, to wet mayfly patterns while his friend John Warren, Errew, had 1 trout for 1.75 lbs.

Steve Rushworth, Kilfian, Crossmolina and Padraic Traynor, also Crossmolina, had 4 trout , 3 & 1 respectively to mayfly patterns, particularly the French Patridge. They returned 7 more.

Congratulations to Ryan Binley, Foxford who qualified again for next year's Youth International, in a qualifier which was fished on Lough Owel, Mullingar last Saturday, organised by ITFFA. The International will be fished in Wales in 2013.






---
Galway Weir
In a reversal of usual weather patterns, the west of the country has seen the driest weather lately, while Dublin and the east have received biblical quantities of rainfall (or so they would have you believe - we only ever hear about bad weather on the news when it hits Dublin!). While Lough Corrib is now at a low level, the strong northerly winds helped to push water over the gates on the weir, so while we have had just one gate open all week, water levels were quite high and water clarity was also affected. Despite this, good numbers of spring salmon are running the river every day now, and anglers are beginning to enjoy good sport at Galway.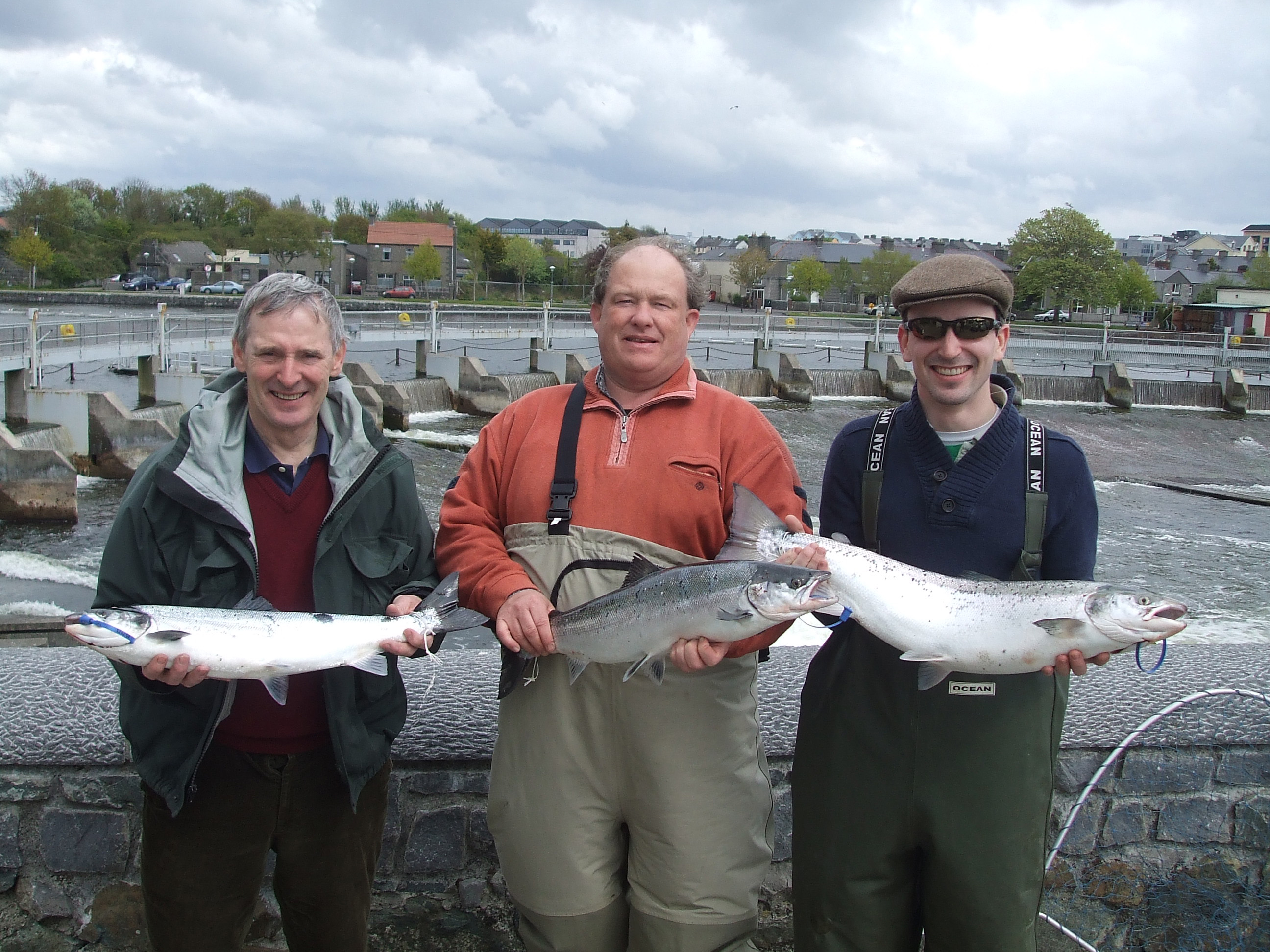 Ryan and Carroll party with their Galway Salmon.


There were 9 fish landed for the week, including 7 to the fly, and many more fish hooked and lost. It was a bumper day for the Ryan and Carroll party on Monday, with John Carroll taking a 7lbs fish on fly, while father and son John and Jim Ryan both landed 2 fish, with John having two fish of 6 and 8lbs, and Jim taking two fine fish of 9lbs and 11.5lbs, all on fly, with 2 of the fish released.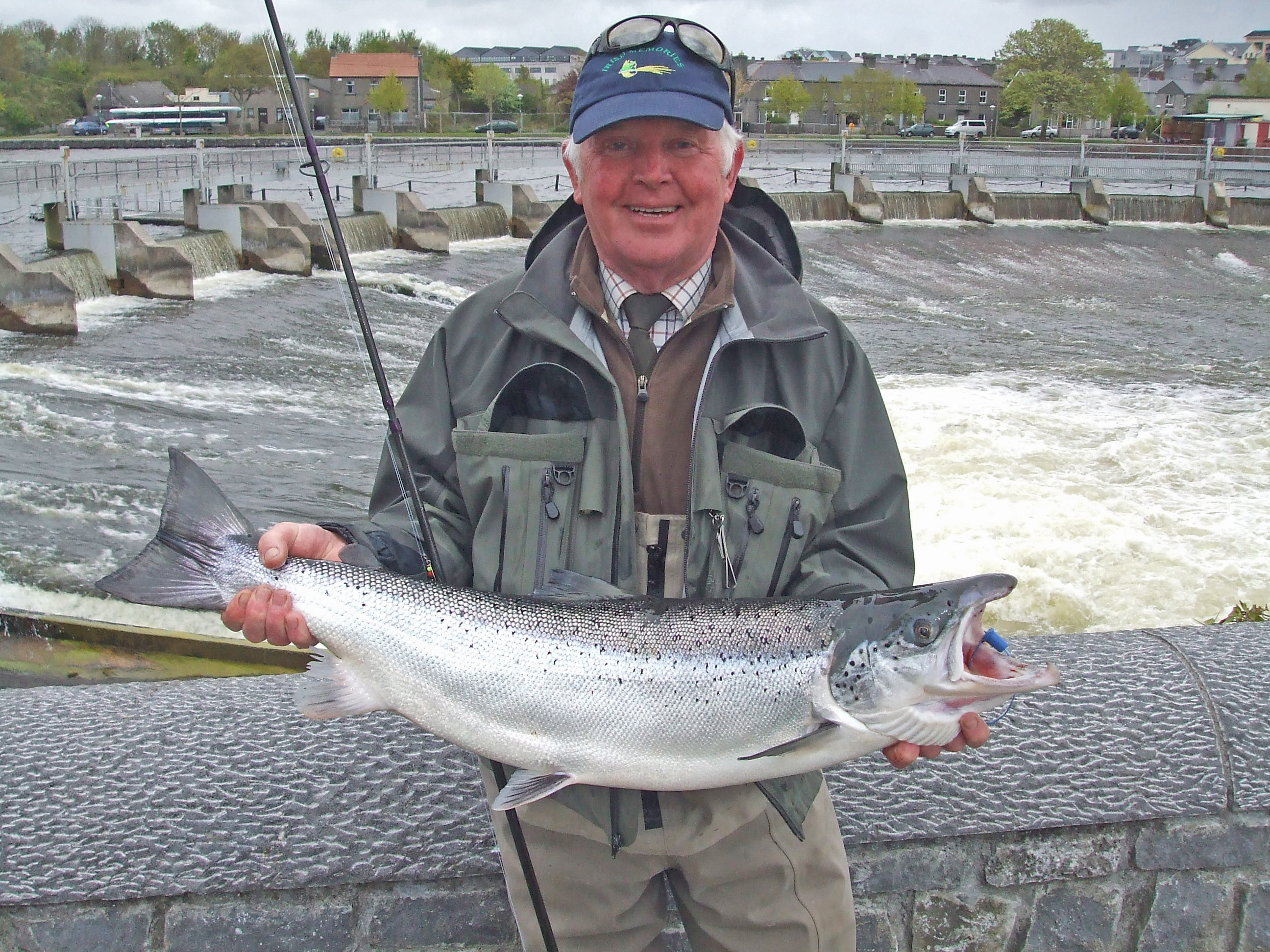 Sean McManmon with his 16lbs salmon taken on a spinner.

Spanish angler Carlos Garza Fernandez fished the weir for the first time on Wednesday, and landed a nice 7lbs fish on fly, while Eugene Murphy from Galway took a 9lbs salmon, also on fly. Offaly man Liam Dunne, who is a regular visitor to Galway, landed an 11.5lbs salmon on spinner, while the fish of the week went to Kildare angler Sean McManmon, with a cracking 16lbs spring salmon, taken on spinner.

The strong northerly winds have abated now, and as a result, with water levels at one sluice gate open on the weir, conditions are absolutely perfect for flyfishing. With no significant change forecast, conditions should remain good and fishing prospects are very good for the coming week.


Connemara
Connemara has been affected by the lack of rain, and salmon rivers are now at low summer level throughout the region. Nigel Rush reports from Kylemore Abbey Fishery that the river is now below fishable level, but just before it dropped away there were 2 fish recorded for the week, both small springers or early grilse, and both released safely. The main spring run has yet to hit Kylemore, and once the rain arrives I would expect a few salmon to start showing here.

To book fishing contact Nigel at 095 41178 or 087 9580702, and check the fishery website at www.kylemorefishery.ie

Delphi was the only other fishery in Connemara to report salmon this week - despite the tough conditions there were 3 fish landed. David McEvoy reports that Heidi Hoefler had a fine sea-liced fish of approx. 9.5lbs in the Whin pool on Wednesday on a Silver Stoat. Michael Pettigrew also had a sea-liced fish of approx. 9.5lbs in the Rock pool on a Willie Gunn tube on Thursday. Then both Michael and his son Tim managed to break in a fish each which was a pity. Needless to say David reminded them repeatedly of this fact. Michael Pettigrew was top rod for the week and on Friday he managed to land a sea-liced fish of 6lbs 2oz on a size 4 Cascade single in the Meadow pool.

To book fishing or accommodation, contact Delphi Lodge at 095 42222, or check www.delphilodge.ie


Lough Mask Producing Excellent Sport
Ronan Cusack reports on plenty of good fishing on Lough Mask again this week, despite the cold north/easterly winds and icy showers. The majority of anglers reported to be having most success in shallow water on wetfly patterns. The Partry Anglers were the host club for the Trout Angling Federation of Ireland (T.A.F.I.) Connaught Cup held on Lough Mask on Saturday last. This event was run on a 12-inch limit catch-and-release basis (all fish over 12 inches measured and released), and competitors enjoyed spectacular fishing, with 149 trout caught by 31 anglers from 7 clubs, which gives a rod average of 4.8! First place went to Eugene Nolan (Annaghdown) with a staggering 18 trout for 629cm. In second place was Martin Feerick, Partry, with 13 trout for 454 cm. Third position went to Aidan Hodgins, Loughrea, with 10 trout for 341cm. The winning team was Loughrea, followed in close second by Partry. Longest trout on the day went to Tony Tighe, Moycullen, measuring 45cm.

Also fishing Mask this week was Gerry O'Brien, Ballinrobe. Gerry fished with his son John over the weekend and they had 12 good fish and numerous undersize trout over the 2 days (best fish 2.25lbs-all released). Christy Crotty and a friend from Waterford also fished Mask over the weekend and they had 13 trout over the limit and again several undersize (best fish 2lbs-all released). Richie Yang and boat partner Harold Schmitt fished on Saturday last and they had 4 fish for their day (best fish 3lbs). Sean Maloney, Ballinrobe, had 6 trout for 3 outings last week (best fish 3lbs). Kevin Sheridan fished from Cushlough on 4 occasions last week and he had 9 fish in total (best fish 3lbs).

Ronan says the sheer abundance of well-fed small trout anglers are encountering on a daily basis this year gives a clear indication of the volume of natural recruitment of juvenile trout, there is to Lough Mask from feeder rivers and streams. The two main contributing factors for this are
water quality and the volume of high quality trout spawning and nursery streams there are around Lough Mask. Thankfully much of the negative impacts of arterial drainage along rivers such as the Robe are being reversed by Inland Fisheries Ireland in conjunction with the Office of Public Works (O.P.W.). A number of local angling clubs have also contributed generously to the development of sections of river and streams in their local area and are seeing the fruits of their work. Partry Angling Club is indeed a prime example of this. Also the mild winter we experienced this year accelerated the availability of food in the lake, ensuring that young trout fed well through the winter months. It is great to see both fisheries and angling clubs working closely together for a common interest, and continuing to ensure that fish stocks are conserved and exploited in a sustainable manner for future generations.

Ronan also guides on Mask and can be contacted at cusackronan@gmail.com or on 087 2869487.

Margaret Gorman from Isham Self Catering and Angling Centre at Dringeen Bay on Lough Mask, reports that on Sunday, 22nd April, Adrian Gorman had a good day's fishing from Dringeen Bay where he caught 3 trout and a number of small fish. All fish were returned to the water to fight another day. All of his fish were caught on a Pearly Dabbler and Cock Robin flies.

French Anglers, Denis Martin and his family Gaston, Noelie, Emile and Jules had 15 trout over a week's fishing from Dringeen Bay with their best fish weighing over 3½lbs. Best flies were Green Peter and Bibeo. All fish caught were returned to the water.

For boat hire, angling information and self-catering accommodation check their website at www.congselfcatering.com or phone Margaret on 087 7908107.

Mayfly Hatches Increasing on Lough Corrib
The mayfly is well and truly up on Corrib, and despite the brutally cold northerly winds of much of the last week, has been bringing trout to the surface and providing good sport.

Eamon Walsh reported some excellent catches of trout were to be had in the Cornamona area in the past week, even in the unfavourable conditions. 50 anglers taking part in the annual Cornamona Hospice Pairs Competition landed a total of 60 trout. In first place was Conor Dennedy and Eamon Walsh with 5 fish, Jimmy Molloy and Stephen Lydon came second with 6 fish, Seamus Kelly and Joe Creane were third 5 fish. Joe also claimed the prize for longest fish, a fine trout of 54cm. The competition is run on a catch-and-release basis, which is great for fish stocks. This was the 5th year of the completion and organizer Tom Sullivan thanked everyone for taking part, to date over €8,000 has been raised for the hospice which is a credit to the local club and all who took part and provided sponsorship.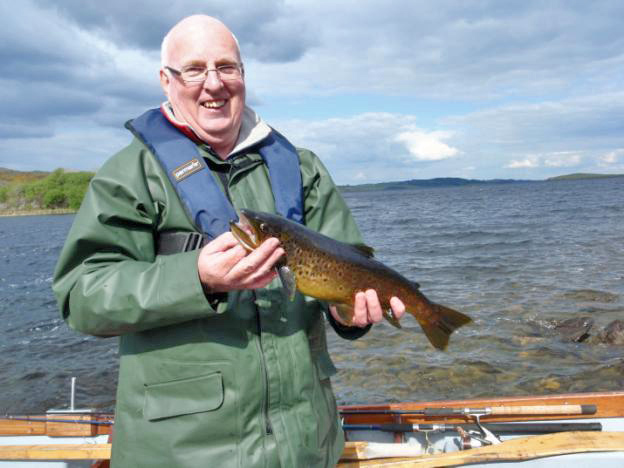 Michael Diskin of Dooras with 3lbs trout caught dapping.

Anglers fishing the dap seemed to have the best of the fishing during the week, brothers Patrick and Gerry Walsh had some great days out, recording up to 5 fish most days, their best day being Saturday when both had fish of over 3.5lbs each, with most of the catch returned. Carrick-on-Shannon angler Brian McDermott also had 3 trout on the dap for a morning's fishing. Micheal Diskin of Dooras had a great day dapping, having 16 fish to the boat, most of which were over the 13 inches, and all bar 2 were returned.

In the Greenfields area Frank Reilly reports that dapping also seemed to be working well. 24 anglers had a total of 40 fish over the weekend, most notable were Bill Tully from Tuam who had 5 fish for 11lbs over 2 outings dapping. Paul Dignam landed 9 fish on wetfly, all returned, while Frank Guilfoyle Sr. and Jr. had 8 trout for 12.5lbs, also to wetfly. Anthony Quinn from Ennis had 2 fish to dry fly of over 4lbs.

Tom Kelly reports that fishing has been good in the Oughterard and Derrymoyle area, especially in areas with a little shelter from the strong north wind. Overseas anglers Dieter Lampe and a friend from Germany, fishing out of Currarevagh House, landed 8 fish for 13lbs, while also releasing 5 others. John Legeoin and boat man John Molloy had 6 fish for over 7lbs, and Sebastian Deganay had a lovely trout of 3lb. Raymond Lee took 7 trout for 11lbs over 2 days, all to wet fly, while Peter Kelly had 3 trout for 5lbs in one days fishing. Peter Ryder and Larry Hession, fishing the dap and traditional wetfly for 3 days, had 13 trout for approx. 18lbs.

Anglers fishing the Braithreach na Coiribe Mixed Grill competition on Sunday had some excellent fishing. 48 anglers caught 34 trout. Jimmy Riddel and James Beatty were first with 8 trout for 17lbs, second was Harold and Kevin O'Toole with 6 trout for13 lbs. In third place were the Collins family - Niall, Deirdre and Cathal - who also had 6 fine trout weighing in at just over 12.5lbs. Eugene Mc Carthy had the heaviest trout, a smashing fish of 6.5lbs.

Mayfly hatches are increasing in size by the day, and with the milder conditions this week angling should provide excellent sport over the next 2 weeks. "Duffers fortnight" may be upon us!




 



© Copyright 2012 by Castlebar - County Mayo -