From Castlebar - County Mayo -


Angling News
Angling News - Mayo/Galway - 6 June 2012
By Kevin Crowley
8, Jun 2012 - 08:20



Galway Weir
Fishing conditions this week could not have been much better, with one open sluice gate providing perfect water levels for flyfishing. Good runs of fish continued, and the fishery produced the best week of the season to date, with 28 salmon landed, including 26 to the fly. Increasing numbers of grilse were reported, as well as some great spring salmon.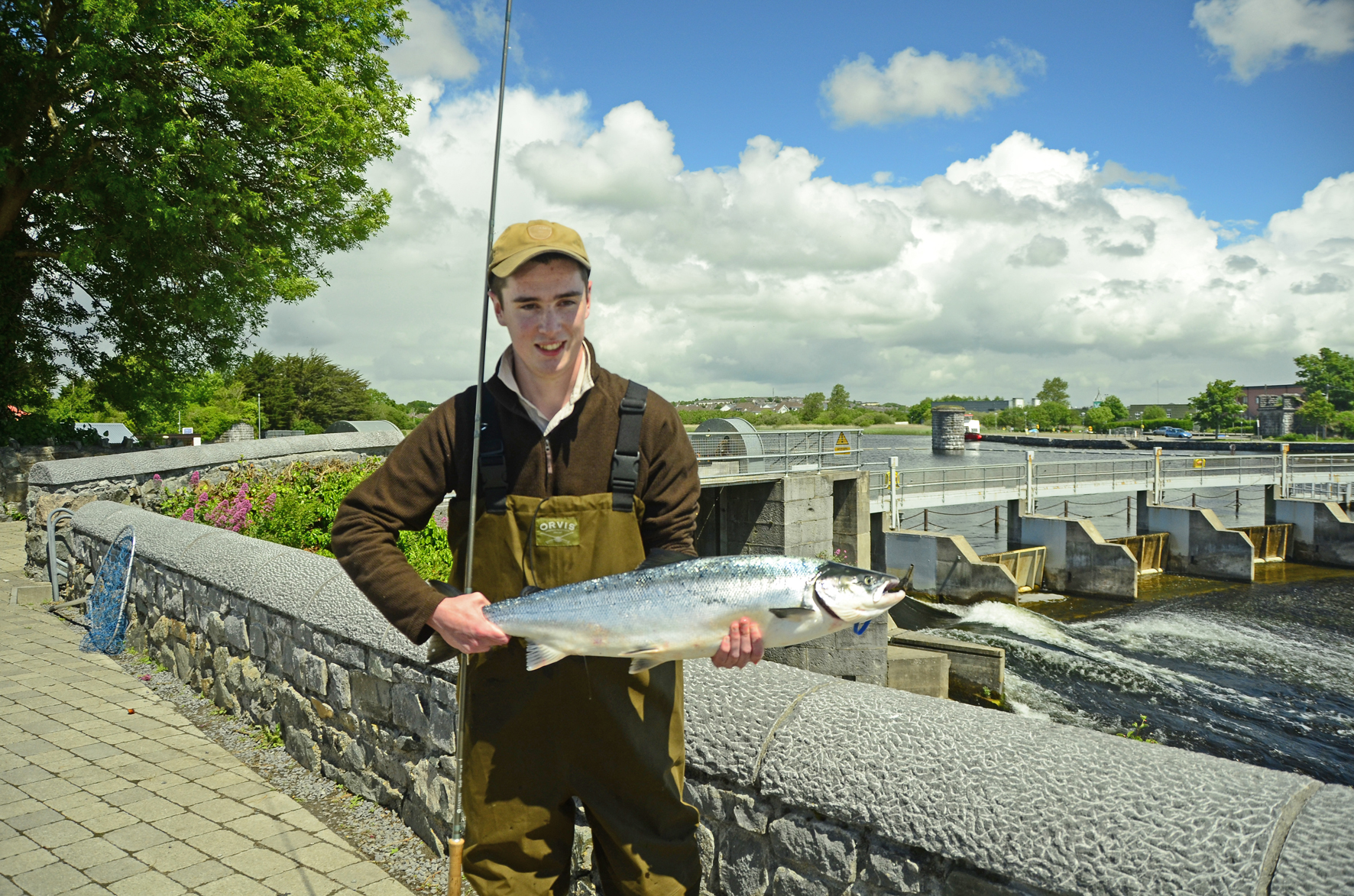 Aidan Twomey from Waterford with a fine 15lbs spring salmon taken on fly at the Galway Fishery on the 6th June, 2012.

Eamon Power from Waterford landed a 6.5lbs fish on fly, while Ciaran Ward from Dublin had a great day, catching 3 salmon from 4lsb to 10.5lbs, also on fly. Clare man Eddie Corry took a 7lbs fish on fly, while Cork angler John Moore had 2 nice grilse on fly. Father and son Gus and John Murphy from Clare spent a day together while John was home on holiday from the US, and both had a day to remember, catching identical salmon of 10lbs each on fly. Swiss visitor Johan Wetter landed a nice 8.5lbs fish on fly, while Dublin man Gerard Keane, who lives in the US now, enjoyed his visit back to Ireland by landing his first ever salmon on fly, a nice fish of 6.5lbs. Dublin angler Dermot Quinlan landed an 8lbs fish on shrimp, and local angler Michael Barry took a 7-pounder on fly, while local man Simon Lenihan had a 6.5lbs fish on fly. Northern Irish angler had a great time during his visit to Galway, landing 4 fish to 7lbs, all on fly. Tom Beecher from Cork had a 7lbs fish on fly, and fellow Cork man Jim McEvoy had a fine 12.5lbs fish, also on fly. Catch of the week, though, goes to young angler Aidan Twomey from Waterford, who landed a cracking 15lbs silver springer on the fly.

Fishing conditions are absolutely perfect at the moment, and should not be too adversely affected by the forecast rain, as the lake is very low at the moment and should absorb the extra water. Fishing prospects for the coming weeks in Galway are excellent.

Erriff
Despite low water, the Erriff Fishery produced 2 fish over the last week, the first fish of 6lbs 6oz was caught on the 4th by Deirdre Herbert from Dublin, and was taken on a shrimp fly from the high bank on Doyle's Pool on Beat 6. It was Deirdre's first ever salmon, and one she won't forget! Paul Micheals from the USA also fished Beat 6 on Wednesday the 6th, and landed the first grilse of the season, a fresh fish about 3.5lbs, taken on a Cascade fly from Doyle's again.

Rain since the weekend has brought levels up, and with very heavy rain forecast for the next couple of days the Erriff should get a nice flood that will hopefully bring a few more fish into the river. There is good availability in the lodge and on the river over the next few weeks.

A casting and flyfishing course for ladies will take place from Thursday the 5th to Sunday the 8th of July, led by qualified casting instructor mark Corps. All accommodation and meals are included, as well as tuition in all aspects of flyfishing and salmon fishing, and plenty of time on the river to practise the skills acquired. The cost for 3 nights B&B, lunch and dinner, and fishing tuition is €500 per participant. Partners can stay for €300, and may fish the river on the other beats for free. Contact Aasleagh Lodge for information and booking.

To book fishing on the Erriff or accommodation in Aasleagh Lodge, contact fishery manager Jim Stafford on 095 42252, or visit www.aasleaghlodge.ie for details. The lodge and fishery also have a Facebook page at www.facebook.com/AasleaghLodge

Kylemore
Nigel Rush reports that Kylemore Abbey Fishery has started to produce better numbers of salmon, with 7 fish caught in the last week. A small rise in water levels on Thursday brought in a run of fresh fish. Seamus O'Neill started June rolling with 2 fish for his half day - one of 6lbs from Lower Eugene's on the Upper River, and a further fish of 4.5lbs from Siddies on the Lower River. A further 5 fish have been taken since then ranging from 7lbs to 8.25lbs, with Seamus landing a further 2 fish on Sunday. Geoffrey Fitzjohn landed a 7.5lbs salmon, and Nigel himself had 2 fish of 7.25lbs and 8.25lbs. Further heavy rain is forecast which should give good fishing conditions during the coming week.

To book fishing at Kylemore, contact Nigel at 095 41178, mobile 087 9580702 or check www.kylemorefishery.ie

Delphi
David McEvoy reports that Delphi has produced a few fish over the last week. The first two fish were taken on Monday the 28th, off Doolough. It was Bertrand Fenart who proved as keen as always when he landed the first, a fish of approx. 9lbs off Paddy's point. The fish had been in quite a while. He then managed to guide Olivier Suquet to his first ever salmon, a fish of approx. 8lbs. This fish was taken at Grants Rock and was again in quite a while. The rest of the week was quiet, until a bit of rain got things moving again over the weekend, and a further 3 fish were reported. Martin Ceillier managed to outfish his wife Barbara again this year when he landed a fresh 4lbs 2oz fish off Finlough on a Willie Gunn, on Saturday afternoon. Robin Cox, who is on his first visit to Delphi, managed to land a fresh fish of approx. 4lbs off Doolough, andFred Eberle started his Delphi fishing week in style when he landed a sea liced 7lbs 6oz fish off the Whin pool on a Willie Gunn.

To book fishing or accommodation at Delphi, contact the lodge at 095 42222, or check www.delphilodge.ie

Lough Inagh
Colin Folan reports that Lough Inagh, which suffered drought conditions for most of the last 3 months, has finally produced its first salmon of the season. The fish was a fresh-run grilse, and was taken at the Derryclare Butts by regular German angler Heinrich Harendza. Heinrich released the fish after a few quick photos. The sea-liced fish was approx. 4lbs and took a size 12 Silver Rat. With heavy rain forecast, Lough Inagh should get a long-awaited proper flood that will bring a few fresh fish into the system.

To book fishing or accommodation at Lough Inagh Lodge, call the lodge on 095 34706, or check www.loughinaghlodgehotel.ie

Lough Mask Quieter This Week
Lough Mask is a lot quieter this week, with very few boats out, and those that do are going out in the evenings. Sedge hatches have started, and a lot of fish have been seen rising out in the middle of the lake, taking just under the surface. Evening fishing can be magical at this time of year, with sedges bring trout on the feed just before dark. Mayfly hatches have petered out, but the sedges should keep fish feeding at the surface for the next few weeks.

Lough Corrib
Fishing activity on Lough Corrib has slowed down a lot over the last week following the heatwave of last week, which signalled the end of the big mayfly hatches. Some mayfly are still hatching off in sporadic hatches, and fish are coming up to these when they occur. Most anglers are concentrating on evening fishing, and sticking to their local bays, or short drifts over the shallows.

Tommy Greham and boatman Jimmy Acton had a very productive evening dapping in the Greenfields bay area, with Tommy boating 3 fish of 9lbs, the best being 5lbs. Frank Reilly spent 2 evenings flyfishing, landing 4 fish for his efforts, ranging from 1.5lbs to 3.5lbs. Darragh Lynch from Headford had 4 fish for one evening's fishing, averaging 1.5lbs, all released.

The picture is much the same on the western shore of the lake, with only a handful of anglers taking the opportunity to enjoy the long evenings on the lake. Those who take up the chance are having moderate success with one to two fish being the average catch.


Sea Angling
A new charter angling operation has set up in Clew Bay. The MV Spirit Adventure, a refurbished former RNLI lifeboat built to withstand the roughest weather, will be operating out of both Westport and Old Head, Louisburgh, offering quick access to the fantastic fishing grounds around Clare Island and Inisbofin, as well as the vast expanse of Clew Bay itself. Currently doing day and evening trips, the MV Spirit Adventure caters for up to 12 people, and is offering competitive rates for day and evening charters. For full details check their website at www.spiritadventure.net , or contact skipper Francis on 086 0675833.

 



© Copyright 2012 by Castlebar - County Mayo -