From Castlebar - County Mayo -


Business
Connaught Telegraph Goes Compact
By Catherine Kenna
14, Jul 2014 - 20:14



The Connaught Telegraph is about to make one of its most noticeable and exciting changes in its entire history when they launch their new look compact edition. Their decision to launch a compact edition is a natural progression within the industry and is part of a raft of developments that their paper has undertaken by The Celtic Media Group who have recently purchased the title. The change comes about after consultation with both readers and advertisers and is part of an overall strategy which will also include the development of The Connaught Telegraph's presence across both online www.con-telegraph.ie and social media platforms www.facebook.com/ConnaughtTelegraph and www.twitter.com/thecontel.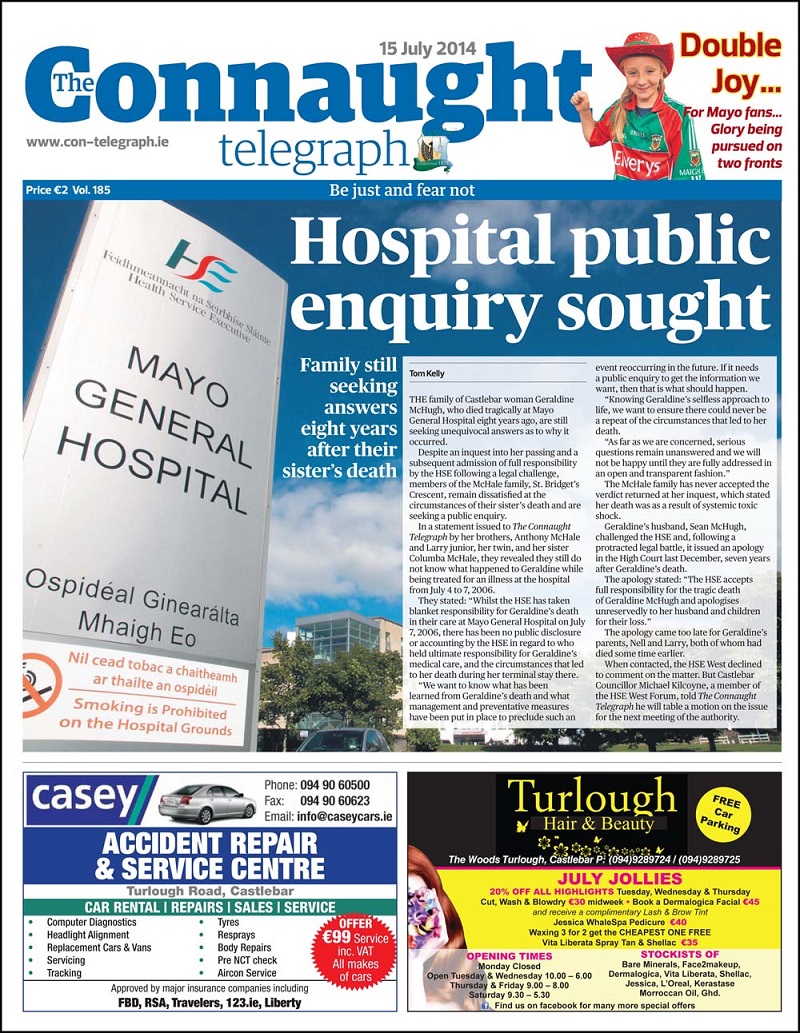 Advertising Manager Bernard Hughes said "The new format will allow for a stronger visual presentation of editorial content and advertising for a number of reasons. The streamlined design will allow better visibility for advertisements in their placement around news stories. This will create a much stronger impression and we look forward to developing this with our customer base."

Acting Editor Tom Kelly added "The new developments will ensure that as one of the country's oldest newspaper titles, The Connaught Telegraph can build on its proud local heritage and tradition and will continue to develop as a dominant regional newspaper in the region. The compact will also be a welcome and richer experience for our readers."

Celtic Media Group has a range of publications, consisting of four weekly regional newspapers including The Anglo Celt and Meath Chronicle and two free newspapers. The Group, employing 125 people, is also a substantive newspaper printer, including the Irish Mirror and Sunday Mirror. Frank Mulrennan, Chief Executive Officer of Celtic Media Group, said: "We are delighted that a newspaper with a publishing tradition back to 1828 will now be joining our company. We look forward to investing in the future of this fine title."

Celtic Media Group has been a pre-press and print service provider to Connaught Telegraph since 2011 and has operated the title under a licence agreement with the liquidator over recent weeks. The Connaught Telegraph looks forward to developing their title with the help and support of Celtic Media. In this association, they see opportunities to take greater strides both in terms of the ongoing development of the paper and the strengthening of other digital and social publishing platforms so that the brand "The Connaught Telegraph" remains robust for the age we live in. In so doing they will be at the cutting edge of their industry to work hard for both their readers and advertisers.

 



© Copyright 2014 by Castlebar - County Mayo -