From Castlebar - County Mayo -


Business
Mayo Claims Three European Sport Tourism Awards
By Eugene Hogan
18, May 2015 - 17:03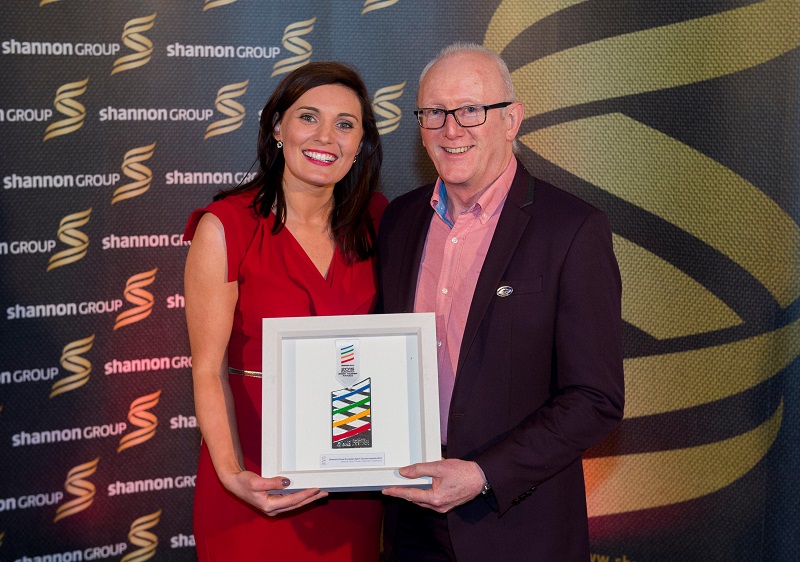 Dermot Langan, Mayo County Council, is presented with the National Sport Tourism Destination Marketing award by Caroline Madden of W2 Consulting. European Sports Tourism Awards 2015. King John's Castle, Limerick. Picture credit: Diarmuid Greene/Fusionshooters


Mayo hit the bright lights of sport tourism in Europe at the weekend as it claimed no less than three of the inaugural Shannon Group European Sport Tourism Awards at a gala event in King John's Castle, Limerick.

Representatives from organisations, locations and venues from across Ireland and Europe gathered at the Shannon Heritage venue on the banks of the River Shannon as 15 category awards were handed out.

Westport claimed one of the top awards as its busy and innovative calendar of events for next year saw it scoop the European Sport Tourism Town 2016 award. It beat off stiff competition from Killarney and Thurles to take the award.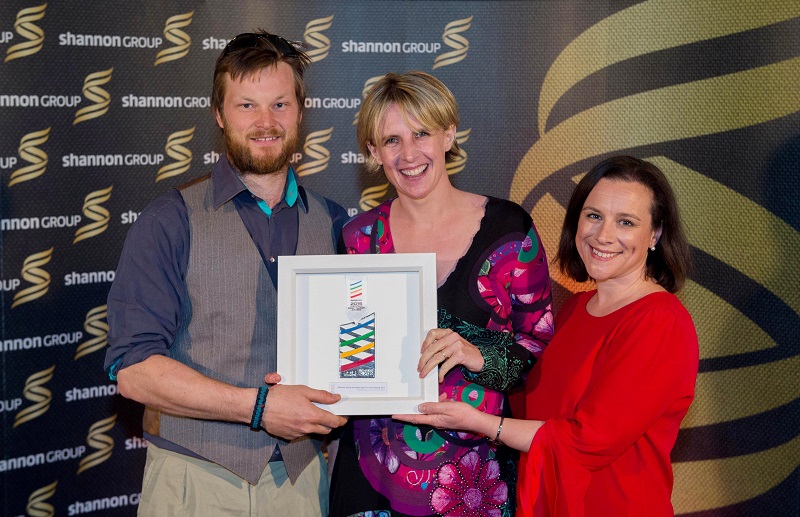 Shane Young and Mona Purcell from Killary Gaelforce are presented with the National Sport Tourism Innovation award by Jennifer Churchward, Event Ireland. European Sports Tourism Awards 2015. King John's Castle, Limerick. Picture credit: Diarmuid Greene/Fusionshooters


Killary Gaelforce adventure race, which finishes in Westport, took the National Sport Tourism Innovation Award, while the county also scored again in the National Sport Tourism Destination Marketing Award, with the Great Western Greenway taking the honours there.

The event was attended by some of the best known faces and stakeholders in Irish tourism, from rugby legends Paul O'Connell, Keith Wood and Hugo McNeill to two-time World Cross Country Champion, Olympic marathon silver medalists and CEO of the Irish Sports Council John Treacy.

The awards were one of the high points of the two-day Shannon Airport European Sport Tourism Summit in Limerick - an annual think-tank on the industry annually that was addressed by some of the world's leading experts on sport tourism, including Commonwealth Games CEO David Grevemberg, Ryder Cup Director Richard Hills, Director of Major Events and International Relations at UK Sport Simon Morton and Paul Smith, Head of City Delivery for England 2015 Rugby World Cup.

The shortlisted entrants comprised towns, cities, events and venues from Ireland and across Europe already becoming synonymous with the sector, which is growing at a rate of 14% per annum globally compared to the 5% growth of the wider tourism industry.

Speaking at the event, Rose Hynes, Chairman of sponsors Shannon Group, said that the awards and the European Sport Tourism Summit held over Thursday and Friday at Thomond Park, Limerick had illustrated the enormous potential of the industry.

"Sport Tourism is the fastest growing sector in tourism, growing at a rate of 14% per annum compared to 5% for the wider sector. That's rapid growth and in a €450billion global market, it amounts to a huge opportunity for Ireland.

"The clear message from the Summit is that Ireland is tailor made for capitalizing on this market in that we have the passion for sport and the infrastructure as well. However, we still have some way to go in terms of getting all the elements in place to capitalise on this, not least around the area of marketing and bidding. The truth is we just have to bridge that gap because the prize is too big to miss out on."

Congratulating the winners, judge and Director of W2 Consulting (summit and awards organisers) Mark O'Connell, said that the inaugural awards have set a high standards for the years ahead.

"When you look at the winners and, indeed, all those shortlisted, you get a real sense of the enthusiasm and innovation that's bubbling over the industry here and abroad. The exciting thing is we are really only starting the journey. If anything the Summit and Awards have galvanised all involved and given us a real sense that there is huge capacity for Ireland in this sector and everyone seems determined to go for it," he said.




The winners of the inaugural Shannon Group European Sport Tourism Awards were:

European Sport Tourism City 2016 - London

European Sport Tourism Town 2016 - Westport

European Sport Tourism Venue - MTB Park Ballyhoura

European Sport Tourism Innovation Award -Tour de Yorkshire

National Sport Tourism Innovation Award -Killary Gaelforce

Sport Tourism Educational Institute of the Year Award - University of Brighton

European Sport Tourism Destination Marketing Award - Event Scotland

National Sport Tourism Destination Marketing Award - Great Western Greenway

Sport Tourism Digital Marketing Award - IAAF World Half Marathon Championship 2014 (79)

Sport Tourism Sponsorship of the Year Award - Vodafone - Triathlon Ireland (81)

European Sport Tourism Event of the Year - Prudential RideLondon (112)

National Sport Tourism Event of the Year - Giro d'Italia Big Start Belfast (115)

Regional Sport Tourism Event of the Year - Tour de Burren (118)

Lakelands & Waterways Sport Tourism Innovation Award - Leitrim Tourism (photo 102)

Charity Sport Tourism Event Award - Cycle Against Suicide (photo 105)






© Copyright 2015 by Castlebar - County Mayo -