From Castlebar - County Mayo -


Castlebar Swimming Club
Castlebar Swimming Club News - 13 July 2014
14, Jul 2014 - 19:52



The penultimate swimming competition of the season saw Castlebar swimmers Niamh Breslin, Fiona Conway, Aaron Doherty, Rory Grady, Tommy Huang and Sam Rennick record some fine swims, gaining PBs all round. The Irish Age Groups Division 2 competition - extended to three and a half days this year - kicked off in Limerick on June 26, with 530 swimmers from 78 clubs across Ireland in attendance.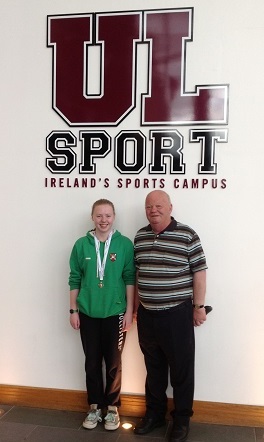 Niamh Breslin displays her Division 2 medals with coach Joe Moran.
Competition was as stiff as ever at this level, and the Castlebar swimmers did very well, with Tommy Huang achieving three Division 1 qualifying times, and Niamh Breslin taking home gold and bronze medals. Given the daunting number of competitors and the sheer size of this event, a young swimmer is doing very well even just to improve on their previous times, so the all-important PBs are a great coup at Division 2 level.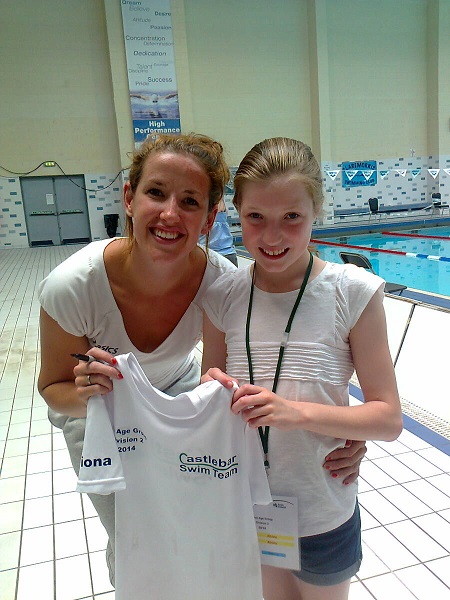 : London 2012 Olympian Melanie Nocher shares tips with a fellow Irish swimmer, Castlebar's Fiona Conway.

First up, on the first evening of competition, was the 800m freestyle which saw Niamh Breslin finish a strong swim on 10:40.92, earning a bronze medal. The following morning, Niamh was back in action in the 400 IM, and she swam excellently, taking almost nine seconds off her previous time to finish on 6:02.20 and scooping a gold medal for her performance.

Fiona Conway's first swim was the 100m backstroke and she achieved a PB of 1:24.42, with Niamh Breslin finishing on 1:21.67 in the same event. Sam Rennick also achieved a PB in the 100m backstroke, finishing on 1:26.73. The 200m freestyle brought a second PB for Fiona Conway, who improved her time by almost four seconds (2:37.20). There was a PB also for Niamh Breslin (2:30.31) and Sam Rennick also swam well, finishing on 2:43.12. In the 14-15 age group, Aaron Doherty finished on 2:22.90, a three-second PB.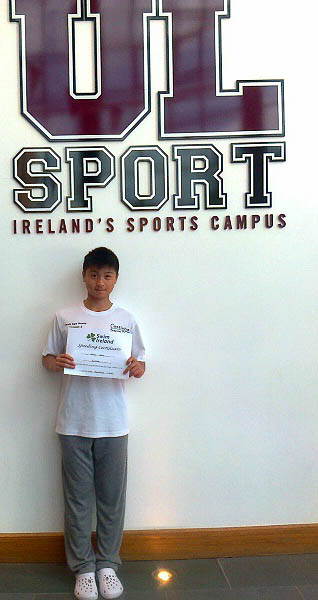 Castlebar swimmer Tommy Huang displays his three 'speeding certificates' which accompany his Division 1 qualifying times.

The first of Tommy Huang's Division 1 times came in the 100m breast stroke - he finished fourth and took eight seconds off his previous PB to finish on 1:28.22. Aaron Doherty also swam well, finishing on 1:28.83. In the 400m freestyle, Rory Grady punched home at 6:08.49, taking a whopping 43 seconds from his previous best time, with Aaron Doherty also PBing on 4:59.53.

Tommy Huang achieved a second Divison 1 time in the 100m butterfly (1:14.99), and finished first in his age group. The introduction last year of a new 'two percent rule' (a swimmer achieving a time two percent over the qualifying Division 1 time will not qualify for a final or receive a medal, but will instead be awarded a speeding certificate), meant that Tommy did not have the chance to repeat this achievement in a final, but a trip to Dublin later this month for the Division 1 Championships is now on the cards for this talented young swimmer.

In the 200m backstroke, there were PBs for Fiona Conway (3:01.80), Sam Rennick (3:01.85) and Rory Grady (3:11.55), while the 200 IM also saw Fiona Conway and Niamh Breslin achieving PBs of 3:03.77 and 2:53.98 respectively. The two girls notched up more PBs in their respective age groups in the 400m freestyle, with Fiona finishing on 5:32.59 (an almost 10-second PB) and Niamh finishing on 5:17.02.

Rory Grady took almost nine seconds off his previous best time to finish on 3:30.88 in the 200m breast stroke, while the same event saw Tommy Huang finishing his hat trick, with a third Division 1 time (3:18.20). The Castlebar swimmers finished up on the 100m freestyle event, with Tommy Huang achieving a PB of 1:09.02 and earning himself a place in the final. Fiona Conway also performed well, finishing on 1:11.86, her final PB of the competition, with Niamh Breslin also finishing up with another PB to add to her achievements (1:08.60).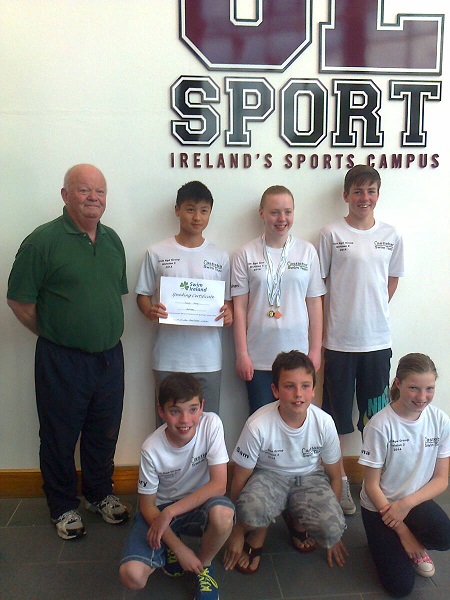 For many of the young swimmers, there is now a short break from their training efforts during the swimming year, and perhaps a short break also for coach Joe Moran, who continues to travel from his home in Ballina, five times a week, to mentor his young charges. The dedication and commitment from coach and swimmers at this level has to be seen to be believed - as they fly up and down the pool in Castlebar, week in, week out, striving to knock seconds (and sometimes only split seconds) off their already impressive times. Great credit is due to all involved.



© Copyright 2014 by Castlebar - County Mayo -