From Castlebar - County Mayo -


Castlebar Swimming Club
Swim News - 14 March 2012
By Darina Molloy
17, Mar 2012 - 10:40



Sinead's big splash

Sinead Mylett isn't one to blow her own trumpet. In fact, she would prefer to remain completely out of the limelight, but it looks as though that may not be possible for too much longer. The 13-year-old Castlebar girl, who has been swimming since she was five, has been selected to represent Ireland at a prestigious swimming competition which takes place in May at the Olympic Aquatic venue in London. "It is pretty exciting," she agreed quietly after a recent training session at Castlebar swimming pool, but that's about as much trumpet-blowing as you're going to get.

Each year, an elite squad of young swimmers are chosen from Wales, Ireland, Scotland and England to come together for the WISE Schools International Swimming Championships. (Sinead's club-mates Nicholas Quinn and Eoghan Grady made the WISE cut last year; while this year's Irish Olympian Grainne Murphy swam at WISE in 2006.) This year, because of the Olympics, WISE has been put on ice - but in its place almost 1,600 schoolchildren will get to compete in four main Olympic venues before the Games proper kick off. The competition will mirror the Olympics in that it will have an athletes' village for competitors, coaches and staff to assist, and tickets for the families of athletes. "Yes, we get tickets to go," confirms Sinead's mother Carmel.

The 2012 School Games take place from May 6 to 9, and Sinead will compete in the 50 meter freestyle, with the added possibility of taking part in a team relay. In a statement to the BBC, British Secretary of State for Culture, Olympics, Media and Sport Jeremy Hunt said: "The 2012 School Games finals will be the largest ever event of its kind in the UK. It will be an unprecedented opportunity for young athletes to run on the Olympic track before Usain Bolt, cut through the pool before Michael Phelps, and feel the speed of the Velodrome before Victoria Pendleton."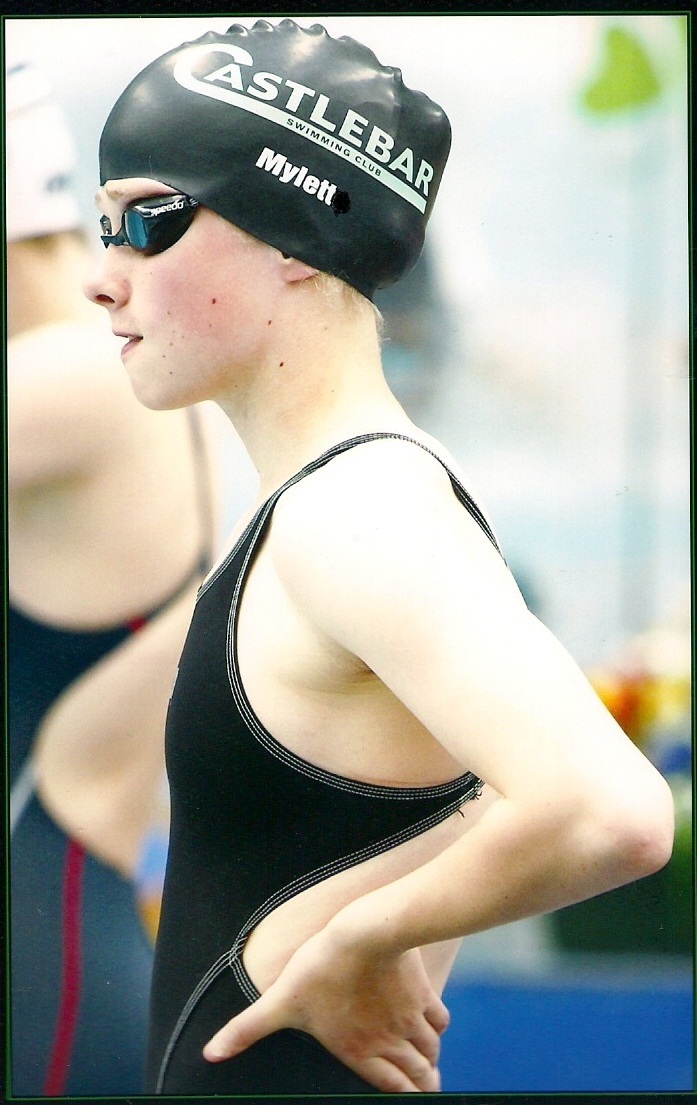 Sinead
While she concedes that this is probably the highlight of her swimming career so far, Sinead is fairly sanguine about her long list of achievements to date - impressive by any standards. It's a far cry from a near disaster during one of her first ever lessons, but mother Carmel was determined that she stick with it and gain some confidence in the water. Moving through the ranks steadily, it wasn't long before coach Joe Moran spotted her potential, and she now swims on the senior squad under the expert eye of Marian English. Just before her eleventh birthday, she was the youngest girl competing at Division 1 All-Ireland level - for many young swimmers, the pinnacle of their competitive year. It has now become an annual fixture in her calendar, along with gold medals galore at Community Games, a sterling performance at the Irish Senior Schools gala, and a host of other competitions. She has been on the Connacht swim team for the past two years, and is also on the Swim Ireland National Youth Development Squad.
Another excellent performance followed just two weeks ago, at the Long Course Championships and Olympic Trials at the National Aquatic Centre in Dublin. Up against many older swimmers, Sinead took third place in the preliminary heat of the 50 meter freestyle. "It was an outstanding result in an open competition as she is only 13," says Castlebar head coach Marian English. Sinead was one of nine Castlebar Swimming Club members to qualify for attendance at the trials, which saw swimmers from as far afield as the U.S. and South Africa compete, as well as those from closer to home, including Germany and the UK.
With nine hours of training spread over six sessions a week, not to mention Gaelic football (at school and with Castlebar Mitchels), hockey and the study commitments of any first year student, Sinead is not left with much down time in her week, but shrugs nonchalantly when asked how she manages to fit everything in. "It's just routine, really," she smiles. "It's a big commitment for the whole family," says Carmel, adding that Sinead will probably have to up her training hours shortly and add in some dryland training. "You can't really do anything on a Friday night because she has training in the morning and again in the afternoon." Add in all the travelling for galas and competitions, and the need to balance things out with Sinead's brothers (one older and one younger) and their sporting commitments, and it makes for a pretty full schedule.
It's just as well she loves what she does. "It's great fun," she says. "And you get to make some really great friends." She doesn't really have much of a pre-competition routine, she says, except that she avoids fry-ups before taking to the water. For some races she can be more pumped-up than others, but at the end of the day she tries to do well in every swim. There have been some disappointments and she's learning to deal with those, but she finds the best coping strategy is just to "think about the next swim." After our chat she will go home, have some dinner and then tackle her homework. She may not have much else to say on the matter, but Sinead does her talking where it counts - in the water. She powers through the pool with a strength and intensity that belies her youth; she swims with a ferocity that has to be seen to be believed.
---
 

 

Gala Results for February

February proved a busy month for Castlebar Swimming Club, with training continuing apace and two competitions held a week apart to keep the young swimmers on their toes. The most recent outing was to Sligo, where a B&C graded gala was held on February 12, and the Castlebar contingent performed very well, with many achieving A times and a scattering of personal bests among the group.

First up were the under-11 boys swimming freestyle, with James English, Cian Donohue, Michael Fahy and Ciaran Mylette performing well for Castlebar. For the girls, Hannah Grady, Heather Fadden, Fiona Conway, Hazel Coen, Sheena Morris, Megan Deely, Clodagh Healy and Johanna McDonagh also swam well in this stroke. In the under-13 age group, Nathan Rennick finished first with an A time of 1:16.25, with Alan Bourke-Tuffy on 1:33.00. Louise Mongan finished in the top five with a time of 1:21.06. For the under-15s, Matthew Moran came second with a time of 1:14.56, while for the girls Kianna Higgins finished third with 1:21.47, followed by Sarah Burke on 1:25.53.

The next stroke was butterfly, and there were A times for Michael Fahy and Clodagh Healy in the under-11 age group, a B time for Hannah Grady, and good C times for James English, Heather Fadden, Fiona Conway, Saoirse Hoban and Hazel Coen. Alan Bourke-Tuffy came third in the under-13 fly with a time of 1:55.90. Michael Fahy took bronze in the U-11 individual medley with a time of 1:46.40, with James English close behind on 1:46.75, and Cian Donohoe on 1:49.50. For the girls u-11 IM, Heather Fadden came second, with an A time of 1:36.50, with Hazel Coen, Fiona Conway, Clodagh Healy, Sheena Morris, Megan Deely Saoirse Hoban and Johanna McDonagh also swimming this stroke.

There were additional A times for Nathan Rennick and Louise Mongan in the under-13 IM, and in the under-15s age group, Matthew Moran scooped second with a time of 1:31.09 while Kianna Higgins took gold with a time of 1:33.83, followed in fourth place by Sarah Burke on 1:35.78. There were good results in the team relays also, with the girls taking second place and the boys coming third.

Meanwhile, a total of 16 Castlebar swimmers travelled to Limerick during the first weekend in February to compete in the Gerry Ryan Memorial Gala, held over two days, and established in honour of the late Limerick swimming coach. For some of the youngsters it was their first time to swim in this impressive 50 meter facility, and the experience should prove invaluable as they prepare for the Division 2 championships being held there in June.

There were gold medals for Aisling Grady (50m breaststroke), Patrick Livingstone (50m breast), Mark Dervan (200m breast), silvers for Ronan Dervan (200m breast) and Patrick Livingstone (200m breast) and bronze for Louise Dervan (800m freestyle), Cillian Melly (800m free and 100m fly), Con Doherty (800m free), Ambre Fadden (50m, 100m and 200m breast), Killian Dervan (200m breast) and Heather Fadden (50m breast), Jamie Murphy (50m breast) and Aisling Grady (200 IM). Also swimming well for Castlebar were Conor Melly, Paula McDonagh, Aoibheann Hennigan, Una Togher and Caoimhe Hennigan.




 



© Copyright 2012 by Castlebar - County Mayo -