From Castlebar - County Mayo -


Columns
Reflections on the Mayo v Cavan outing
By Green n Red Forever
5, Aug 2005 - 15:50



There are some great reasons for travelling to Mayo matches, the atmosphere, the camraderie, sometimes even the football is worth travelling for ;-)

But it's the people that you meet that make it such a rich experience.

Hats off to the Cavan fans who turned up in such vast numbers last weekend in Hyde Park, they supported their team well and although their team failed to turn on the magic that has seen them crush Meath, hammer Donegal and take Tyrone to a replay in the Ulster Semi-Final they've had a fairly good summer's football.

It illustrates how spoiled Mayo fans have become when they don't bother to travel to games like this one which was only down the road in Hyde Park. Shame on those of you who'll be looking for tickets on the big days out in the future, you should support a team through thick n' thin and not just the glamour occasions.

Sure on the day we met some very entertaining characters from Armagh who had taken the trouble to travel down to watch their minors take on the Mayo minors, that's great dedication and teams of all levels appreciate such support, I hope that our minors get such support now that they're playing in the final stages of that competition.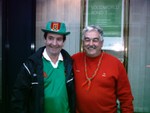 Talking of dedication we were fortunate enough to meet a true Mayo fan in the shape of one Tom McNally from Birmingham, who never misses a game and flies home for every Mayo match, Tom braved terrorist bombers and tornadoes to get to this game and he told us that he was a regular visitor to Castlebar.ie too so a big Hello to Tom, we hope you got home safely.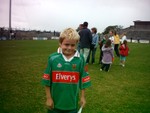 We also met a very despondent looking young man who had got an elbow in the head from someone in the middle of the autograph melee that surrounded Ciaran Mac after the match, and to make matters worse Ciaran took his pen too . . . no autograph, no pen and a sore head - Mac if you're out there maybe yourself or John Maughan could get an autograph to this young man, I don't know who he is but I'm sure someone will know him and I'm sure that M here at Castlebar.ie (info@castlebar.ie) will happily act as an intermediary, sure we might even have a photocall if we're lucky. [Indeed we will - Ed.]


So thanks to the Mayo lads (both minor and senior) for extending our runs in the various championships, let's hope for a good result against Kerry at the weekend and let us all pray for an all Connacht Semi-Final pairing of Galway and Mayo - now that would be some crack (and if they didn't get the Sawdoctors to play at halftime it'd be a disgrace).

Keep the faith !


Green n Red Photos from the last Three Years


P.S. Of couse everyone from McHale Road in Castlebar is exempt from having to travel to Dublin this weekend to support the team ;-)

I hope all your celebrations go well, God knows you've had to put up with thousands of Mayo fans traipsing past your front doors over the years on the way to McHale Park and the people of McHale Road were always great Mayo supporters with green and red bunting out on the biggest of match days.


One of the McHale Road Scullys in Croke Park after last year's Semi-Final win over Fermanagh.



© Copyright 2005 by Castlebar - County Mayo -