From Castlebar - County Mayo -


Columns
Belfast Anti-Racism Rally 27 Jan 2004
By Mike
30, Jan 2004 - 19:16



There were a good few hundred at the rally (some 1000 according to UTV news) which was good, considering that it was midweek and had been snowing earlier. I took some photographs of the event.

Speakers included:
Eamon Mc Cann
Socialist Environmental Alliance/Jornalist/Longtime civil rights campaigner from Derry
Sarah Boyce
Anti Racism Network/main organiser
Anna Lo
Chinese Welfare Association
Martin Morgan
SDLP/Lord Mayor of Belfast
Jamal Iweida
President of the Belfast Islamic Centre
Rev Ken Newell Fitzroy
Presbyterian Church/ Embrace (inter-church organisation))
Nigel Williams
NI Children's Commissioner

Background

"The Village" district (Including Tates Avenue and Donegall Road) is considered a poverty blackspot in South Belfast and is one of the main strongholds in the city for "Loyalist" criminal gangs.

It is divided (purposely) from West Belfast by the A12 Westlink dual carriageway/Broadway Roundabout and to the east from the more prosperous Windsor and Malone districts by the Lisburn Road and Boucher Road Industrial/Retail Estate.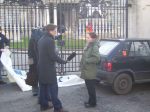 In recent years there have been attacks on students and more recently members of ethnic minority communities both of whom had been attracted to the area by low property prices and the proximity to the university and city centre. Loyalists alleged that the attacks on students were due to "anti social behaviour" (noise and drug use) but it is generally accepted that the real reason for the attacks was that many shared student households are "mixed" (i.e. Protestants and Roman Catholics) It is thought that there are very few (if any) Catholics left living in the area. The attacks on ethnic minorities are generally believed to be down to the refusal of one Chinese owned business to pay protection money. Estate agents in the area have been "approached" by "community workers" and "advised" not to rent houses out to "outsiders".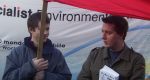 In truth (as is the case in many other parts of the city and across Northern Ireland) most of the "local" are sickened by the stranglehold these thugs have on their areas and the way they are destroying the communities they claim to "protect" but intimidation is so widespread that very few are prepared to speak out or be seen to help the police.

In recent years there have also been attempts by neonazi groups such as Combat 18, the British Nationalist Party, the white wolves, the National Front and the White Nationalist Party and to gain a foothold in Northern Ireland while membership of most of Northern Irelands "native" terrorist groups (UDA/UFF, IRA UVF, INLA LVF etc) are outlawed membership of these mainland Nazi terrorist groups is not.


January 27th was chosen for the demonstration because it coincides with international Holocaust Memorial Day and the anniversary of the liberation of Auschwitz, the most notorious of the Nazi death camps by Soviet troops in Poland.



© Copyright 2004 by Castlebar - County Mayo -