From Castlebar - County Mayo -


Community - Cancer Support
Turn Your Trash Into Cash
By Ken Wright
20, Jul 2007 - 09:07



Mayo Cancer Support Association and Western Care Association are to be the beneficiaries of a used phone project spearheaded by Brendan Chambers of C. & C Cellular. Once again C & C. are asking the public to support this project which raised over 27,000 last year for the selected Chairities. This year it is hoped to raise 60,000.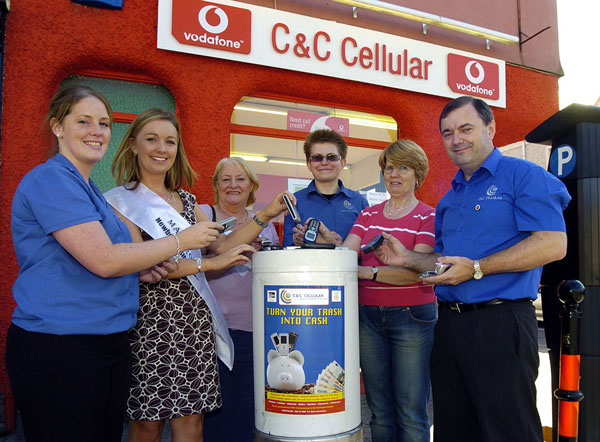 Pictured outside C & C Cellular, Market Square, Castlebar L-R: Paula Killeen (C & C Cellular), Brenda Coyne (Mayo Rose), Angela Currane (Manager of Services Rock Rose House), Sylwia Bziwura (C & C Cellular), Finola O'Healai (Mayo Cancer Support Association), Brendan Chambers (C & C Cellular). Photo © Ken Wright Photography 2007.




Old phones are thrown in drawers and in garages throughout the county. These old phones could be helping to bring services to people dealing with cancer or supporting people with disabilities. The project depends totally on the goodwill of the public so we are appealing to all to pick up that old phone and throw it into our collection boxes which are located in all C& C Cellular shops and the locations listed below.

The lists of collection points are available on the Western Care site

http://www.westerncare.com/phonerecycle.html

http://www.westerncare.com/phonerecyclebins.html




© Copyright 2007 by Castlebar - County Mayo -