From Castlebar - County Mayo -


Community Groups
Croagh Patrick Heritage Trail Walking Festival 2009
By Heritage Trail
14, Mar 2009 - 09:00

The Croagh Patrick Heritage Trail Walking Festival commences with a welcoming event on Friday evening March 13th in the Westport Country Lodge Hotel, Aughagower.

Details are as follows:

The inaugural 'Croagh Patrick Heritage Trail' walking Festival will take place on the 14th- 16th March 2009 and consists of a 3 day organised walk along the newly developed Croagh Patrick Heritage Trail. Walkers will pass through some of West Mayo's most scenic landscape and attractive villages.

The trail extends from the town of Balla to Murrisk. It is 61km in length and mainly at low level. Walkers have the option of completing the entire trail over the three days or alternatively taking part on one or two of the days.

Day 1 Balla – Killavally 25km

Day 2 Killavally – Aghagower 16km

Day 3 Aghagower – Murrisk 20 km

Registration will take place at the following locations; Saturday Morning at Balla Community Centre, Sunday Killavally Community Centre & on Monday at Aghagower Community Centre. Registration times are between 8.30 am – 9.30 am. The walk will commence at 9.30 am sharp.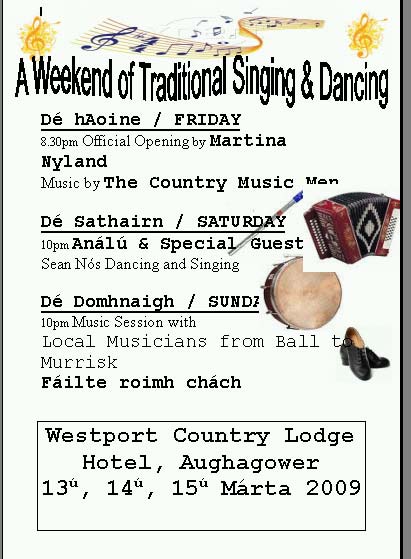 For bookings contact, tocharvalley@eircom.net (094 9366709)



© Copyright 2009 by Castlebar - County Mayo -