From Castlebar - County Mayo -


Road Safety
Back to School Road Safety
By Noel Gibbons
17, Aug 2010 - 09:08



Back to School Safety
As school starts each year, many young Mayo students enter an unknown world for the first time. It is important that these young Mayo students know and practise road safety skills.A report on child road user casualties produced by the Road Safety Authority and co-funded by Elvery's Sports shows that a total of 141 children under 14 years of age died and 5,732 suffered serious and minor injuries on our roads between 1998 and 2005.


The report "Child Road User Casualties 1998 to 2005" indicates that just under half (48.9 per cent) of children killed on our roads were pedestrians and over a third (35 per cent) of children killed were passengers in cars. In light of this information Mayo County Council's Road Safety Officer is appealing to all parents and carers to make their children aware of the dangers on our roads.

"It is important for parents to talk to their children about road safety at all times throughout the school year. Follow these simple tips to help you ensure your child remains safe and develops good road sense and traffic awareness skills," advised Mr Noel Gibbons. Getting to school

Plan your route in advance and do a test run before School term starts. Give yourself plenty of time to get to school and consider the extra time needed to negotiate rush hour traffic on term-time weekdays.

Ask your child's school about its provisions for safer or more eco-friendly travel options, such as a school bus service, walking bus or car pooling.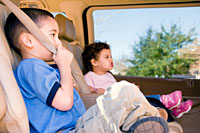 Younger children need a suitable car seat for the school run no matter how short the journey.

Driving to school

If driving can be avoided- walking/cycling options should be concidered-the healthier options.

If there's congestion near the school, park a little further away and walk.

School entrances should be kept clear by drivers. Do not stop or park on 'School Keep Clear' markings, even to drop off or pick up passengers. Also avoid parking on the opposite side of the road to these markings and double parking in other nearby areas.

Don't reverse your car into school entrances when turning around.

Make sure children only get in or out of the car on the pavement side and check for passing vehicles (especially cyclists) before opening car doors.

Younger car passengers on the school run should be carried in a suitable child car seat..

Consider teaming up with other parents to take turns picking up children from school. This will cut the number of cars on the road during rush hour, save fuel and be less polluting.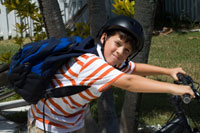 Your child's bike should be adjusted as they grow.

Walking and cycling to school

Teach your child about road safety, the safe cross code and the 'stop, look and listen' road safety mantra.

In winter months it can be difficult for drivers to see children cycling or crossing the road. Dress your child in a bright, florescent or light coloured coat for daytime travel, and consider adding reflective strips to school bags and coats for visibility after dark.

Choose a bike that fits your child's size, ability and needs. They should be able to keep both feet on the ground when sitting on the saddle and able to control the cycle without wobbling.

Ask your child's school if it avails of cycling training or requires children to have passed a cycling course before cycling to school. The cycling proficiency scheme is offered to all primary Schools in Co.Mayo and can help your child learn cycling safety skills.

Ensure your child's bike has working lights if they will be cycling home from school after dark. Older children can also be taught simple bike repairs such as patching up a minor puncture.

Cycling helmets are an essential accessory for child cyclists. Seek advice when shopping for a helmet and be sure it continues to fit correctly as your child grows.

If you plan to cycle and carry small children with you, you'll need to fit an appropriate child carrier or seat to your bike.



School Bus Safety Advice
When you wait for a bus, stand on the pavement well back from the traffic. It is dangerous to mess around at bus stops.

Wait for people to get off the bus before you get on.
Always do what the driver tells you and do not distract him.
If you do need to cross the road after getting off a bus, wait for it to move away first.

Remember -Drivers need to concentrate on what they are doing. Make sure that you do not distract the driver, no matter what vehicle you are travelling in.
Where seatbelts are provided always use them.

 



© Copyright 2010 by Castlebar - County Mayo -