Clerics in Co. Mayo blessed the county's roads in a novel ceremony aimed at creating road safety awareness in a bid to reducing the number of people who die in traffic accidents each year.
A special 'Blessing of the Roads Ceremony' took place in most parishes and Services throughout the County on Easter Sunday as religious leaders back the campaign to make the roads safer.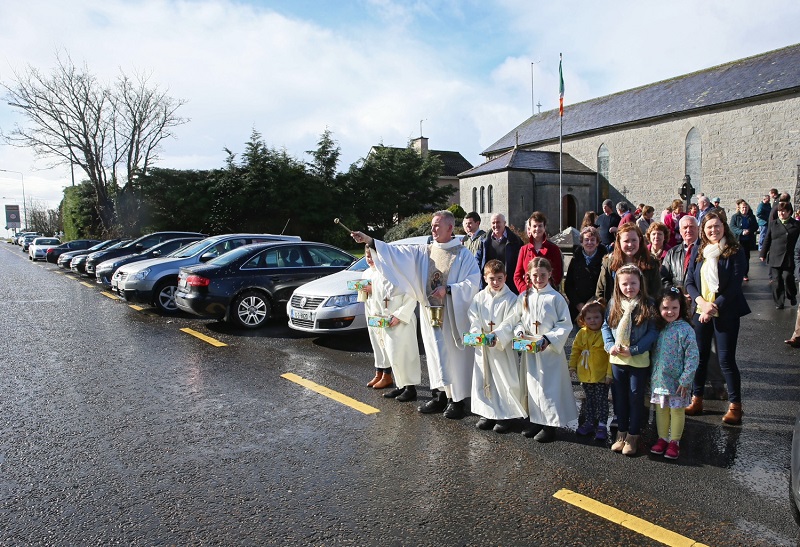 Fr John Kenny, PP Partry/ Tourmakeady, Blesses the Road outside St Mary's Church at Partry on Easter Sunday morning. Photo: © Michael Donnelly
The ceremony, which took place at churches on Easter Sunday, it is been promoted by the Road Safety office of Mayo County Council and supported by the emergency services, some priests will perform the blessing from the road side while others will do it from the altar.
"The Blessing of the Roads Ceremony takes places in parts of Australia each year to raise local awareness of road safety, and we are bringing it to Mayo this year," said Mr Gibbons, who added that 13 people were killed on Mayo's roads last year. The total so far this year is one.
He added: "The community makes improved road safety a goal in an effort to ensure that the grief associated with loss of life, or serious injury, does not come to them.
"This is not the first year we have done the Blessing of the Roads Ceremony in Co. Mayo and we have get a very enthusiastic response. There are still too many drivers under the impression that an accident won't happen to them.
Tuam archdiocese spokesperson Fr Fintan Monaghan said "The trauma of road crashes to families and communities is devastating. A major focus of the campaign is to promote the issue of driver fatigue, drink-driving and speeding, as well as praying for the safety of not only all road users, but our Gardai and emergency services."
Mandy Gaynor Traffic inspector said ''An Garda Siochana appeal to all road users to think "Safety" every time they use the public roads and streets.
We urge families to discuss the topic so that Parents and Guardians assume and accept responsibility to alert their sons and daughters of their obligation to drive within all legal boundaries.
In circumstances where Parents have supported their child with a means of transport or insurance there should be conditions attached to the use of such vehicle including the legal obligations on young permit holder drivers.''
Tuam archdiocese spokesperson Fr Fintan Monaghan said the church was "fully behind the campaign. We all need to play our part to reduce the number of road deaths."
Purpose of the campaign:
· Promote working together for road safety.
· Raise community awareness of road safety.
· Involve local communities in road safety activities.
· Encourage the adoption of the safe system approach.
The Blessing of the Roads campaign can:
· Create awareness for road users to exercise courtesy, care and common sense when travelling on the roads.
· Remember the family and friends of those who have died or been seriously injured in road crashes and provide an opportunity for them to encourage others to be more road safety aware.
Recognise the dedication and efforts of those, both full time and volunteers, who work towards reducing road trauma.
The Blessing of the Roads campaign calls on the community to:
Be responsible for our actions when using the roads and assist in creating a safer road system.

Turn off your mobile phone before driving.

Travel at a safe speed - adapt your speed for the weather, light, and traffic and road conditions.

Belt up when travelling in a vehicle.

If you are planning to drink, arrange a skipper, organise public transport or stay overnight

Take a break, have a rest or if possible swap drivers - fatigue is a silent killer. Stop at a filling station for a coffee.
By joining together and appealing to all road users to take care over the Easter break, we aim to raise awareness of the things that we can all do to stay safe on our roads.
The proposed prayer is a variation on this old Irish blessing:
The Motorist Prayer
Lord, Grant me a steady hand
And a watchful eye
That no person may be hurt
When I pass by,
Thou gavest life
I pray no act of mine
May take away or mar
That act of Thine.
---
Traffic Fatalities up to 9am on the 16th March 2016
Pedestrians 10
Drivers 17
Passengers 4
Motorcyclists 1
Pedal Cyclists 1
Pillion Passengers /Other 0
Total Year To Date 33
2015 - Comparison: 32 (+1)
2016 - March fatalities to date: 9