From Castlebar - County Mayo -


Frank Cawley
An Oilean Briste "a Broken Island"
By Frank Cawley
9, Jul 2009 - 21:00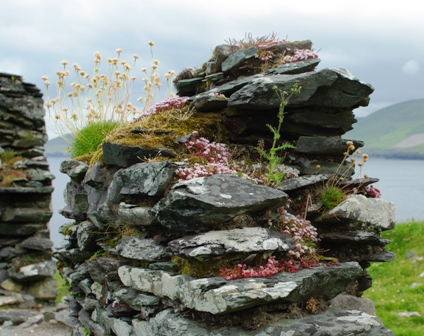 All thats left now is the blathana.



There are five islands in the Blasket archipelago one more beautiful than the other, but you wouldn't leave a milk bottle out in any of then when the weather is bad.

1. An Blascaod Mór - The Great Blasket
2. Inis Tuasceart - Inishtooskert - North Island
3. Inis na Bró - Inishnabro - Island of the Quernstone
4. Inis Mhic Aoibhleán or Inis Icileáin - Inishvickillane - Origin very uncertain
5. An Tiaracht - Inish Tearaght - The Most Westerly (island)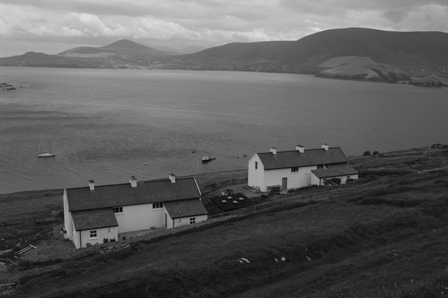 Some new houses on the island it won't be long before they are old too.



According to Tomás Ó Criomhthain's book An t-Oileánach the weather is pretty much brutal during the winter. All you can do is sleep and worry about the seven cares of the mountain on your shoulders, because of all the work that's ahead of you. Contrast that to today where no one seems to do an honest day's work, only if it's for themselves, while they are off sick from their "paying position". Tomas was born on An Blascaod Mór Island on St Thomas's day 1856, and he took the spirit curragh out to sea from the very same island on the 7th of March 1937, four score and one. A great age for a man that had a tough existence. He lost kids to whooping cough emigration and the sea, but death seems to have been a part of live in those days, people got on with it. There were no gyms, or vitamin tablets, or inoculations, people smoked the steims when he could get hold of them, and if God arranged for a barrel of hooch to find its way washed up onto the shore, well then it would have lasted as long as an ice cream cone in a Hiace. So it looks like hard work, homegrown food, seagull eggs, and plenty of fish will help you live for a long time. A small bit of banter doesn't go astray either. In one of the stories Thaig the joker is telling this elderly island bachelor that he will have to marry an English lady to keep a hold on his old age pension. This was the early 20th century, the great war was just finishing, and Ireland was still part of the union. There were thousands of English widows after the war, but there were very few Blasket bachelors who would even think of marrying a tan.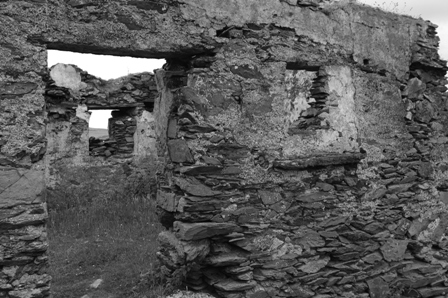 All that's left of the houses, which is a lot better off than the deserted village in Achill.



When you mention the Blaskets the first name that comes to mind is Peig Sayers, because the Irish government tortured, any regard for the ancient tongue out of every single secondary school student in the free state by forcing them to read about a bitter and weapon of a lady, vomiting on about how bad she had it. Tomás Ó Criomhthain on the other hand was born years before her and he never seemed to have a different view on life. Rather than start by saying here I am with one foot in the grave he started by saying wouldn't it be grand if I could read a book that I had written one day. His wish came true, and so did Peigs she's buried in Dunquin cemetery.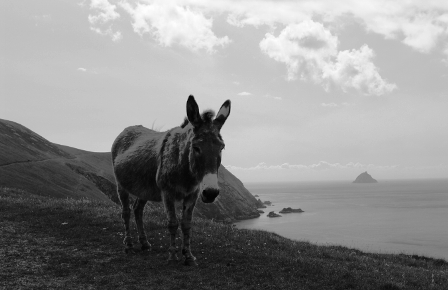 The current king of the island No7.



I decided to make a pilgrimage to the Blascaod islands to see this haunting harrowing place for myself. An Blascaod Mór is abandoned now since 1953, most of the people living on the island were multi-skilled. Tomás Ó Criomhthain was a fisherman, a farmer and a stone mason, multi-skilled, but jack of all trades master of none. The ancient celts built the neolithical monuments over 5000 years ago in Carrowmore Co Sligo and you can still find them today. The congested districts board built some two story houses on Blascaod Mor in the early 1900's and I could only find one of them. I don't know if it was the bad weather or the bad workmen.

The weather on the last weekend of June 2009 on the other hand was handsome. Warm but not too sunny, with a calm sea thank God, because there is no pier on Blasket Mor, just a slip way. A boat leaves Dunquin every hour on the hour, 25 deogh for the 3 mile trip. If I had €25 with me visiting the island way back in the 1880's when Tomás Ó Criomhthain was alive, I would have been king. I could have bought a ton of mackerel, a barrel of salt, a bucket of lobsters, a wheel barrow of sugar, a chest of tea, enough steims to blow the lungs off a dozen camels, and ship load of porter that would blind a parish of alcoholics for a fortnight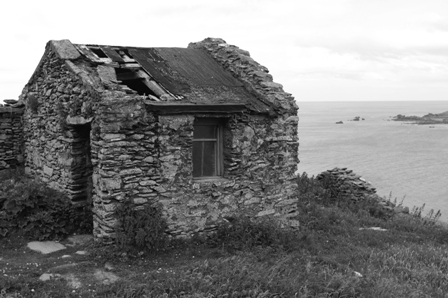 Used to be a hen house, now some cute Kerry hewer has it rented to 12 Germans for 500 euro for the week.



In 2009 you get to wear a rancid "mandatory" life jacket, that's more for show than safety, while your escorted on an 8 man rib to the baid Mor, for a 25 minute trip from Dunquin to Blasket Mor. The boat leaves the island almost straight away. You have to tell them which boat that you're getting back, incase the boat is over loaded. My advice is try and spend 3 hours on the island, you can walk around it in an hour and a half, but if you want to go to the main western headland, or just chill on Tra Ban then you have the extra time. If it's just the walk you're after then 2 hours is perfect. I was in a rush, I tried getting a boat from Dingle but they weren't traveling the day I arrived, so I had to scurry down as far as Dunquin, and I forgot to bring any thing to drink, a fatal mistake. My mouth was as dry as an arabs sandal by the time I got back to the mainland. It was only then that I learned that there is a tap in the deserted blasket village. I can only imagine the water would have been the tastiest cleanest clearest water in the world, but I could have drank a tank of herbal tea from a sick tinkers Wellington the thirst was that bad. So don't forget to bring a drink, there is no litter on the island so don't forget to bring it back with you afterwards. Slan.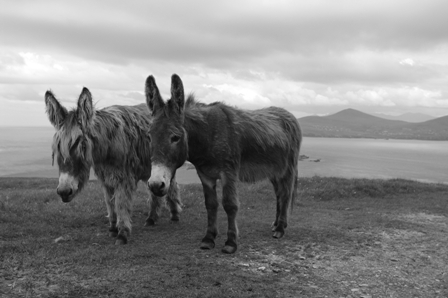 The King's Wife and Son the Prince of Kerry.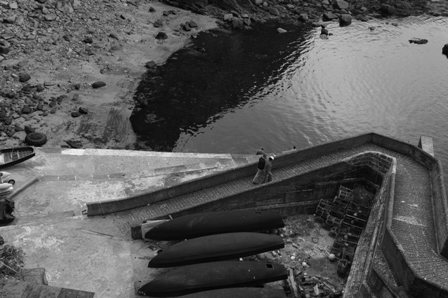 The harbour steps in Dunquin, I know a man who took two long hours to get up these steps one January with a bad frost; eventually he had to put the slip ons in his pockets.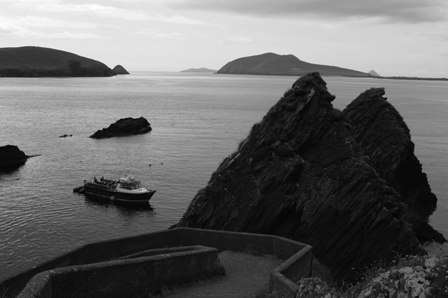 View from Dunquin harbour.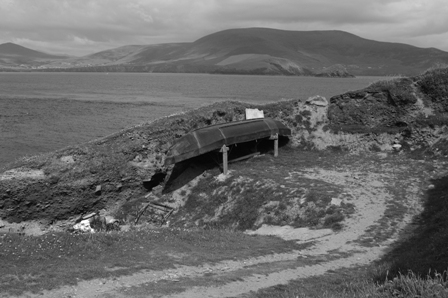 View from Blasket village harbour.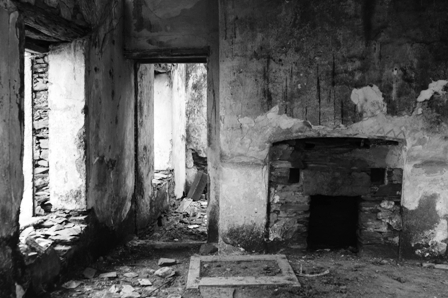 Isteach sa ti.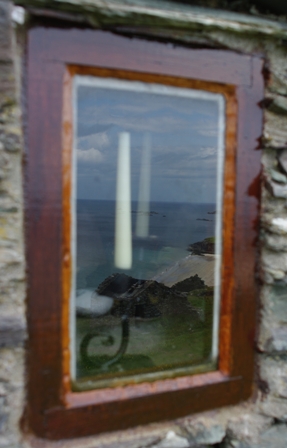 Reflection of an Tra Ban from an island cottage window.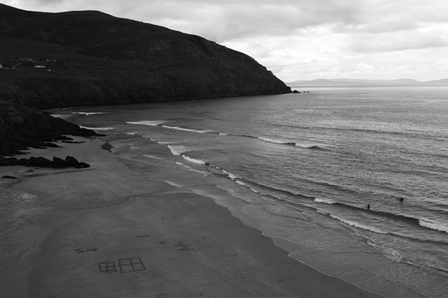 Dunquin Beach.

Teach Mor one of the only refurbished CDB houses on the island.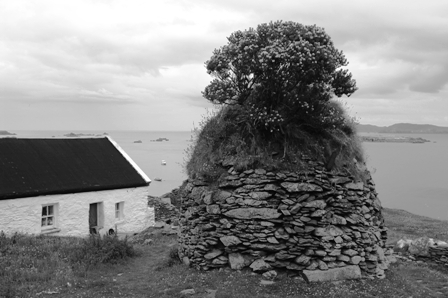 There are lots and lots of these bee hive type shelters on the west coast of Kerry, some people travel many miles to see them becasue they believe holy monks lived in them. This one was used for storing turf and it has a fairy tree growing out of the sun roof.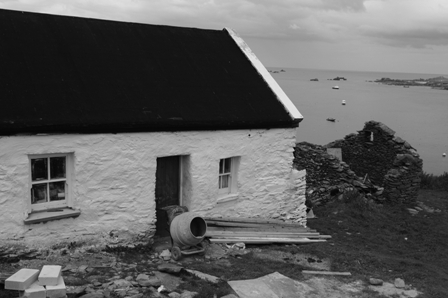 Good to see the work goes on this house is currently under construction. So I guess you can say there is more building been done on the island than there is on the mainland, and I didn't hear any one pleading for an 11% pay hike.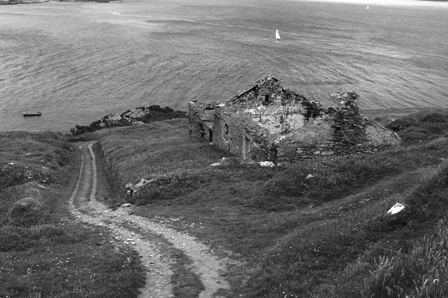 Most of the roads are overgrown now.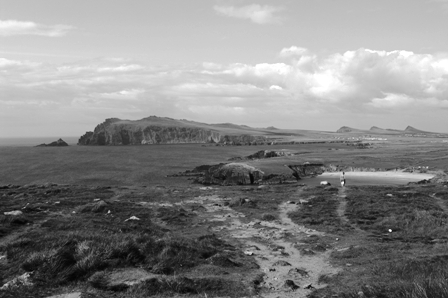 This is the view north towards Mayo, this is where the islanders faced their asses every time Kerry beat us in an all Ireland.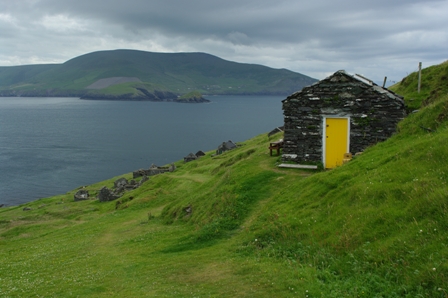 There is a German woman living in this cottage for half the year.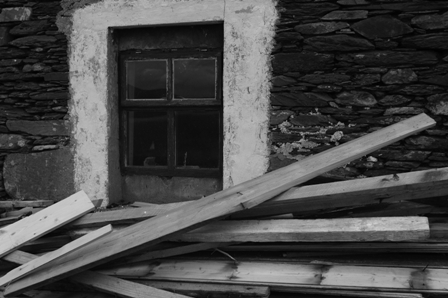 An Obair ar suil.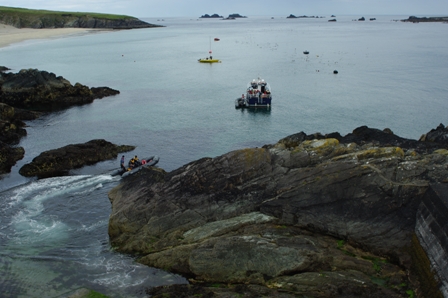 The Baid mor that brings you back to reality.







© Copyright 2009 by Castlebar - County Mayo -