Kylemore Abbey's greatest attraction is its location. Nestled at the base of Duchruach Mountain [1736ft] on the northern shore of Lough Pollacappul, in the heart of the Connemara mountains, it is regarded as one of Ireland's most romantic buildings.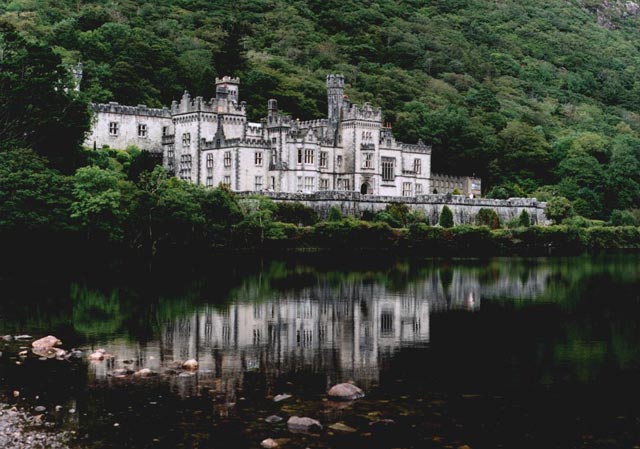 Kylemore Abbey on the Galway Mayo border
Today the Abbey is the monastic home of the Irish Benedictine Nuns and a renowned international girls' boarding school. However, it was built in the 1860's as a country seat for Mitchell Henry, the son of a wealthy Manchester merchant. Tradition tells us that Mitchell Henry, a surgeon practising in London, first visited Connemara while on his honeymoon in 1849.
Mitchell Henry's young bride, Margaret Vaughan, was charmed by Connemara and the picturesque location of Kylemore Lodge, a shooting lodge which stood on the spot now occupied by the Abbey. The couple are said to have made the decision, there and then, to someday build a home there.
This dream was made possible when, in 1862, Mitchell's father died and on receipt of a sizeable inheritance he abandoned his medical career and became Chairman of the family textile firm, A & S Henry. However, business interests seem to have occupied very little of his time and instead he concentrated his attention on getting elected to Parliament and in the construction of two family homes, one at Kylemore, the other in London.
In 1866 he finally secured the purchase of Kylemore Lodge and 13,000 acres of mountains, rivers, lakes and bog, with extensive fishing and shooting rights. Almost immediately work began converting the Lodge into a Castle.

The Lodge continued to be occupied while excavation for the Castle's foundations was underway. To the rear of the building the builder cut deep into Duchruach mountain to make room for the servants quarters. As the Castle began to rise up around the Lodge, the walls of the old house were taken down and it was incorporated into the new building.
In keeping with the fashion of the day, an extensive walled garden was under construction at the same time as the castle. The barren Connemara boglands to the west of the Castle were transformed into what was recognised at the time as Ireland's most impressive walled garden. The 6-acre garden contained a 21 glasshouse complex, flower garden and kitchen garden separated by a serpentine mountain stream, head gardener's house, workers' bothy and lime kiln. At the same time hundreds of thousands of exotic and native trees were planted throughout the demesne.