From Castlebar - County Mayo -


Frank Cawley
An Puc ar Buile!
By Frank Cawley
11, Aug 2008 - 17:14



I made a return trip to this year's annual Puck fair in Killorglin County Kerry. This annual fair takes place on the 10th 11th and 12th of August. I'm not sure if it's the same dates every year. It's a time of uncertainty in the lives of the certain people of the Kingdom. Kerry will certainly win another all Ireland, and Killorglin will be full to the gills with piebald salesmen and travellers from every halting site in the country. The local taverns and chip shops certainly make a fortune with their "Puck Fair" rape the tourist menus. Their will be a male puck Gabhair shittin himself with fear at the top of his throne in the main town square, and I suppose the only uncertainty is the weather and this year it was very hit and miss. This year I was surprised by the number of foreign gypsies at the event and even more surprised at how well they fitted in. There doesn't seem to be any language barrier when you're haggling over the price of a saddle of horse or a second hand drill. I don't think I've ever seem as many second hand tools in one place in my life, well not in Kerry anyway - I have seen 15 of them playing in Croke Park a few times.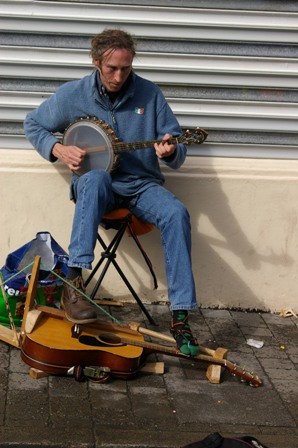 One talented man playing banjo with hand and guitar with toe