TRENCH CUP RUN COMES TO AN END The brave attempt to reach the finals weekend of the Trench Cup came to an end on Thursday in Breaffy when Letterkenny I.T. proved too strong for a courageous Castlebar side.

When Noel McHale was quickest to a Shane Galvin knock down in the opening minutes and crashed the ball over the bar it looked like it might just be their day. But excellent point taking from letterkenny saw them keep in touch as they maximized their chances in a half that Castlebar dominated. Playing lovely possession football Castlebar were well on top, aided by a strong breeze, but failed to turn their superiority into scores.

Nicky Corr added a long-range point while Jimmy Killeen and Dan O'Connor both pointed frees. But it was the quality ball, being delivered from a hard working half back line and midfield, that they failed to convert that was to cost them dear.

Letterkenny made the most of their rare breaks and when Dan O'Connor added his second point is was to equalize and send the teams in at 5 points each.

The breeze at their backs and the knowledge that they had been given a lifeline by Castlebar's lack of accuracy gave letterkenny an edge that they were not about to waste. They carried the ball brilliantly and swept upfield to tack on several early scores and leave Castlebar chasing the game. This, to their credit, they did. But there was no climbing the mountain they had left themselves. Jimmy Killeen got a hand to a Gavin Kearey free to tip it over and when the same ball was delivered with 4 minutes to go a Castlebar hand repeated this movement and sent it crashing to the net. It looked like the lift they needed and 3 points down with 4 minutes to go it would have been all to play for. Unfortunately an umpire's hand was raised and it was called back for a square ball and with it went any realistic chance of a fightback.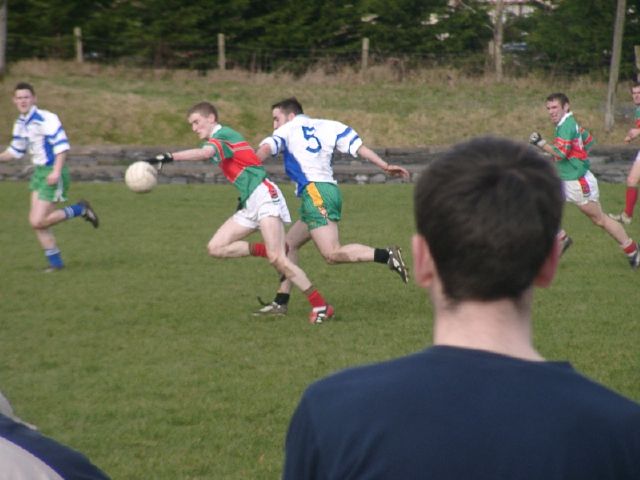 There were still scares for the Donegal men and another goal bound effort was cleared off the line. When that rebound was carried down the field for a clinching point, Castlebar's heads went down and hearts were broken. The referee's whistle moments later signaled the end of the odyssey and they were left to reflect on what might have been.
Indeed the absence of Star full forward Daniel Branley would surely have made a huge difference if his match winning display against Portobello, or his huge contribution prior to his injury against Magee were anything to go by. But that will remain the stuff of conjecture and the harsh reality remained that Letterkenny march on winners 13 points to 6. They will now face the British University Champions , Tallaght I.T. and St Pats, in the finals tournament in cork this weekend and they are strongly fancied to emerge from that group as Trench cup winners.
If they do then the Castlebar men will reflect on what might have been, but they can also reflect on what was – a memorable campaign , with some special moments,( not least the marvelous fight back against Magee), the transformation of a team that failed to take a point in the league to genuine Championship contenders, and the raising of expectations that leaves a team knowing that their best days are yet to come.
Looking for a catalyst for this transformation, one need look no further than Coach Billy McNicholas. Starting with the hectic training schedule, (including early morning sessions that raised one or two eyebrows) to his infectious enthusiasm and incredible will to win, Billy's contribution was immense. Everyone involved with the team would like to send a heartfelt thank you to Billy and all look forward to working with him again.
More thanks have to go to the supporters, who gave such great encouragement and turned up in such huge numbers, (even for the long trip to Derry). And everyone who lent their encouragement to show to the lads how much it meant for a College of this size to go up against the country's biggest colleges and acquit themselves so well. The Trench cup 2003 has given some great memories but lets hope it's the springboard to greater things around the corner.
While all this was going on the men's soccer team were going about their business in the league. Blanchardstown were the visitors and making it an overnight trip the Dubliners were definitely here with a sense of purpose.
In what turned out to be a hugely entertaining game the castlebar men put on a display of football that was a joy to behold.With our French students Cyril and Fabrice ruling the roost in midfield big Tom Cluskey was running the defence ragged up front and it was only a matter of time before something gave. In the end it was Johhny Mullins that popped up to break the deadlock and not content with one he quickly added a second.
Seemingly in control The Dubliners were gifted an own goal to let them back into the game but when Fabrice struck a superb effort superiority was restored. An own goal from Blanchardstown sealed the victory and it was nothing more than a consolation when they popped up late in the game to make it 4-2.
Next on the list is D.I.T. in Dublin on Thursday and with some of the Gaelic players coming back into the squad they will be traveling in a confident frame of mind.
The Mens second team were the big victims of the Trench cup commitments but they re-grouped and put up a fine display against G.M.I.T Letterfrack's first team. An early goal to the physically stronger visitors seemed ominous but when Ray O' Connor and Paul Gallagher started to gets to grips with midfield the Castlebar lads took control.
Frank Kelly was unlucky not to score on a couple of occasions, but when Shane Galvin's excellently struck free hit a defenders hand a spot kick was awarded. Shane stepped up himself to coolly slot the ball home. The Stars of the show were the defence who dealt brilliantly with all that was thrown at them Paddy Gibbons was probably man of the match while Joe "Rio" Canning was brilliant in the center of defence. J.T. Leneghan had another outstanding game in goal and is getting better with each game and his speed of the line was a huge factor in keeping the galway men at bay. That he did and in the end it was honours even at 1-1.