From Castlebar - County Mayo -


Ken Wright
Green Flag Pre-Schools
By Ken Wright Photography
4, Nov 2009 - 08:48





Mayo County Childcare Committee and Mayo County Council have collaborated to provide training for childcare services in the county to make their services more environmentally friendly.
Jim Power County Childcare Coordinator said that the initiative has proved very successful with 64 services attending training on Monday the 19th of October. The training was provided by Mary Hunt on behalf of Mayo CCC and Sharon Cameron and Mary Forde Environmental Officers with Mayo County Council.

Feedback from childcare services who attended the training has been very positive. The childcare services were informed about how to engage in the seven step programme to attain a 'Green Flag' for their Childcare Service. This is a comprehensive programme which requires services to write up an action plan and an evaluation and monitoring system on how the progamme is going.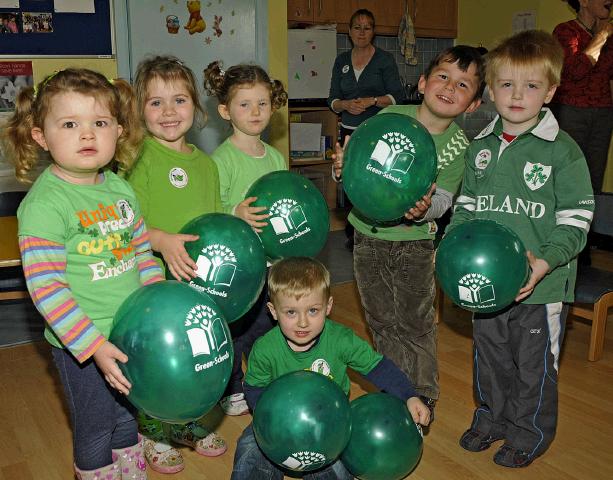 Jim Power stated, " This is a very exciting initiative as very young children are taught through play and enjoyable activities how to be more environmentally friendly. Research shows that young children learn behaviours , which they carry into teenage and adult life. By teaching through play children in Mayo will learn how to reuse, recycle and reduce. Each childcare service which attended the training received a lovely A3 size children's book called "Ellen, Eoin & Great Rubbish Adventure. It is through stories and play activities that the children will learn"

The initiative was formally launched at Stepping Stones Montessori which is owned and run by Bernadette Frazer. Bernadette's pre school is the first pre school in the county to have attained the Green Flag status. Mayo CCC hope that more pre schools around the county will follow Bernadette's lead and attain the Green Flag status. It is hoped that all the 64 services which attended the training on Monday will implement the Green Flag programme and/or implement some of the 'green' activities described in the training.



© Copyright 2009 by Castlebar - County Mayo -