From Castlebar - County Mayo -


Local Papers Commentary
The Connaught Telegraph - 16 April 2003
By The Jaundiced Eye
19, Apr 2003 - 17:16



Castlebar-Westport Clash

'Dynamic midfielder Declan Reilly kills off arch rivals with double strike' reads the headline over the half-page photo of Declan Reilly (who scored the two Castlebar goals) and teammate Stephen Ryan. Tom Kelly provides a further half page of analysis and reportage on last Sunday's big match – the clash between Castlebar Celtic and Westport United – at a local level something akin to an England Ireland rugby or soccer clash. The fishheads and coveys meet eyeball to eyeball on Westport's rain-swept Sportspark. Tom Kelly reports the 2-0 win for Castlebar in detail suggesting that they are now in line for Connaught Cup glory.

Revolutionary €4.3M euro traffic plan for Castlebar

The details of a proposed new traffic plan for Castlebar are outlined by Tom Kelly. Traffic consultants, TPI LTD, prepared the plan. The following table gives an idea of the short-term plan and costs.
Two year plan

Cost (euros)

Item

962,000

Pedestrianisation of Shamble Street Castle Street

200,000

Traffic signal refurbishment and pedestrian facilities at Bridge Street/Lucan Street and Ellison Street/The Mall

140,000

Gateway features at seven entrances to town

112,000

20 Pay and Display Machines within parking zone

100,000

Station Road/Maryland 'environmental cell' against 'rat-running'

100,000

Traffic Lights for Breaffy Road/Station Road junction

100,000

Reclaiming Marion Row from through traffic - creating a 'home zone'

84,000

15 pay and display machines in offstreet carparks

60,000

Safer routes to schools package

50,000

Relocation of bus stops

10,000

Lucan street parking formalisation

10,000

CCTV

10,000

Development of park and ride facility

10,000

Development of cycling strategy

10,000

Development of walking strategy

7,500

Car-pooling feasibility study

2,000

Carparking strategy publicity

2,000

Motor cycle secure parking

1969500

total short-term cost

Longer Term

1,500,000

Bridge and link road from Springfield to Castle Street Car Park
Tom Kelly suggests that the town council should get this project under way before their term ends in May 2004 and avoid the tag of being 'arguably the poorest council this town has ever produced' .
Council can't afford to demolish cinema?
Ray Norton,Castlebar town manager has said that the 200,000 euro tender submitted for the work of demolishing the old Cinema on Spencer Street was too costly. The council did not award the contract as a result. Councillor Blackie Gavin suggested that 200,000 would be a waste of public money when the council had the workers to do the work themselves.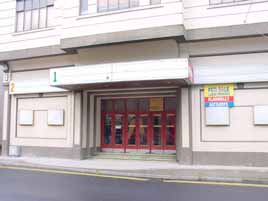 © Copyright 2003 by Castlebar - County Mayo -