From Castlebar - County Mayo -


Music
The Art of the Fugue
By Bowser
9, Mar 2006 - 20:26



Celebrating Mozart's 250 birthday we have already heard a lot of Mozart so far this year. So at this stage it was refreshing to listen to a concert of slightly unfamiliar tunes. Mozart was brought to Castlebar by this delightful duo in four hands one piano format. Not a whole programme of Mozart of course. Sandwiched between Mozart we were taken to France, Egypt, Spain and finally to the Deep South.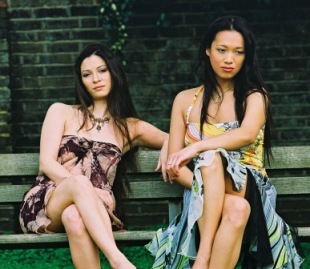 Cassie Yukawa and Rosie Chan
The duo gave us overtures from the Magic Flute and Cosi Fan Tutte obviously enjoying themselves hugely as they entertained a packed out Linenhall – disappointed punters had to turn away and go to the pub instead. A lotta notes and on the double with 20 fingers working overtime.
Cassie Yukawa and Rosie Chan – were once billed as rivals on the piano circuit but now they have joined forces to wow audiences everywhere. They are both English but of oriental extraction and, suitably somehow, wearing long flowing dresses and glittery high heels and as a result obviously having to take special care in arranging their dresses so as not to snag the pedal. Pedalling of course an important element of the sonorous chords of the their first Debussy set 'Pour la danseuse aux crotale' and 'Pour L'Egyptienne' - (walk like an Egyptian?).
As former rivals would one play treble and the other bass right throughout the concert? No indeed – the treble and bass clefts were divided fairly between the duo with regular switches from left to right. Piano stools were adjusted back and forward to compensate for their differing statures – Ms Chan being taller than Ms Yukawa.
The second Debussy suite in the programme again provided a contrast with the preceding Mozart – which was a clever but light, fun Andante with a series of short variations. Debussy's Petite Suite sounded very familiar – elements of Golliwogs cake-walking up and down the keyboards. Glorious chords and rhythms. The final Ballet movement certainly also seemed familiar – perhaps as a theme music for a radio programme. Ian Fox's programme notes suggests that we are more familiar with this suite as an orchestrated piece from Henri Busser.
Of course being a country town Castlebar we clapped enthusiastically between each of the suite pieces – the natural exuberance of the two beautiful pianists with slightly unfamiliar pieces meant that we didn't feel any embarrassment - and that frowned upon practice of clapping between the movements was out the window. Hard to resist clapping in any case when many of the pieces ended on an a high: double- if not triple-forte. The ladies didn't seem to mind our country ways in any case – in fact they looked like they were really enjoying the applause. No po-faced pianists these two.
Then a very interesting fugue from Mozart – most unlike Mozart and Cassie Yukawa drew a fascinating parallel in her introduction from the piano stool – she was on the treble shift for this one next to the audience. She said they had been running around the country like tourists as they went from gig to gig - actually quite a gruelling schedule with a eight concerts in 10 days over 3 - 12 of March. In any case the duo had visited Newgrange and she drew a parallel between the Mozart Fugue and ancient Newgrange. Music and architecture or music and the atmospheric mists of time? (RTE ran a series of programmes a year or two back with architects exploring the links between music and buildings – not something that ever struck me before until I listened to a few of the programmes in that series. A difficult gap to bridge – music and architecture.) In any case here it was again: ancient architecture and music in this case. A very Bachiana sounding piece of Mozart – most unlike any Mozart I had ever heard before. Bach wrote for harpsichord, which does not have dynamics whereas Mozart had the pianoforte with the ability to easily vary the loudness from note to note. Their Fugue in G minor sounded a bit like orchestral arrangements of Bach's Art of the Fugue where the harpsichord is forgotten - with plenty of ebbing and flowing as the theme moved up and down the staves.
After the interval Cosi fan Tutte and a Mozart Sonata for two hands with two Spanish dances from Manuel de Falla's La Vida Breve opera. Highly recognisable Spanish dances - especially the first. Ferocious rhythms here and a triple-forte sound rat-a-tatted out in a manner that certainly belied the small stature of the two ladies in the long dresses and high heels. The concert ended on a real high with a final Mozart Sonata in C.
Of course then an encore was required – and they were not going to get out of the Linenhall without once more sitting down side by side at the grand piano on the Linenhall stage. So to finish off they played their own soulful version of Gershwin's Summertime – languid and evocative of the Deep South of the USA. So we all spilled out into the night air humming that favourite party piece Summertime but not forgetting Manuel's magic dance rhythms, Claude's playful chords and sonorities and of Wolfgang's operas and his unexpected artful fugue.