From Castlebar - County Mayo -


St. Patricks BNS
St. Pat's BNS get involved with Omagh Primary School in Cross Border Project
By Caroline Lane
14, Nov 2007 - 14:45



Thursday 8th November 2007 will always be remembered as a very special day in St. Patrick's De la Salle BNS, Castlebar. It was the day they held their first face-to-face meeting with their cross-border partner school, Omagh County Primary School. This came about through St. Pat's decision to become involved in a project called Dissolving Boundaries where either a primary or second level school in the Republic of Ireland decides to twin with a school in Northern Ireland in order to share experiences and allows their pupils to get to know their nearest neighbours.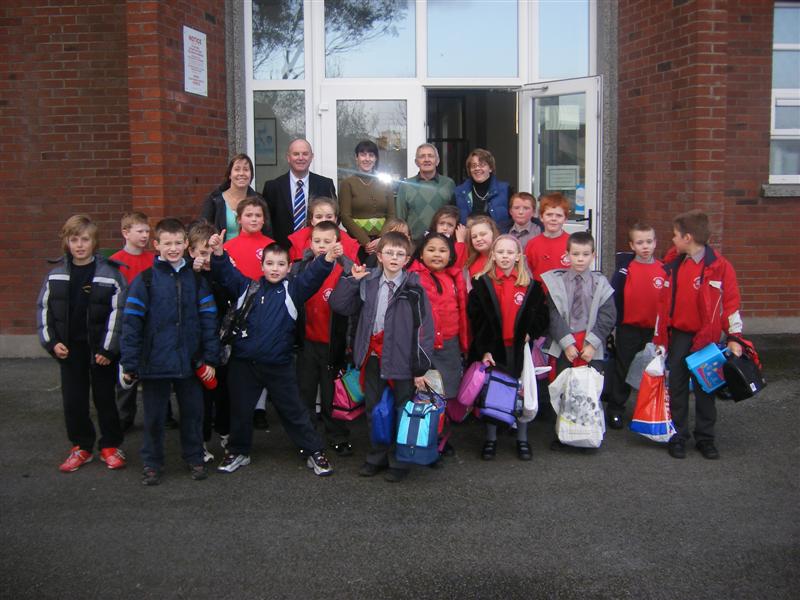 Children from St. Pat's BNS & Omagh Primary School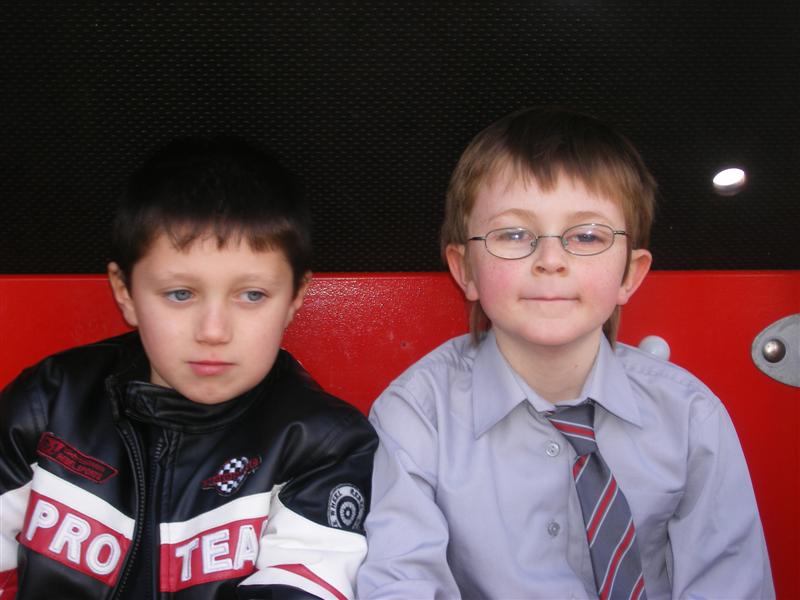 Two children from St. Pat's BNS & Omagh Primary School get acquainted.
The initial contact between teachers took place in Cavan in early September. On that occasion, Mr. McEvilly and Mr. Keena from St. Pat's partnered up with Mr. Wysner and Mrs. Parke from Omagh County School and agreed a plan of action for the year. This was to include the setting-up of a local history project utilizing the resources of the American Folk Park near Omagh and the National Folk Park near Castlebar. The project was to centre on the pupils from two third classes (primary 5, Mr. Wysner's and Mrs. Parke's) in Omagh and a third (Ms. Lane's) and fourth class (Mr. McEvilly's) in Castlebar exploring local history through interviewing their grandparents / elderly relatives and for the findings from both schools to be shared through videoconferencing and creating webpages using software called Moodle. It was also agreed that two face-to-face meetings between the pupils would take place during our first year, one in November in Castlebar and the other in February '08 in Omagh.
It was this initial meeting of the pupils that took place on Thursday 8th Nov. It was very exciting for the pupils of both schools when the beautiful yellow coach from Omagh came to a stop in St. Pat's school car park. The 50 pupils from Omagh were accompanied by Callum , trainee teacher and Barbara, parent as well as Mr. Wysner and Mrs. Parke. They were all welcomed to St. Patrick's by Mr. McHale, principal. With the pupils organised in mixed groups, Ms. Lane then introduced some fun get-to-know-you games which were very well received and really achieved their aim of 'breaking the ice'.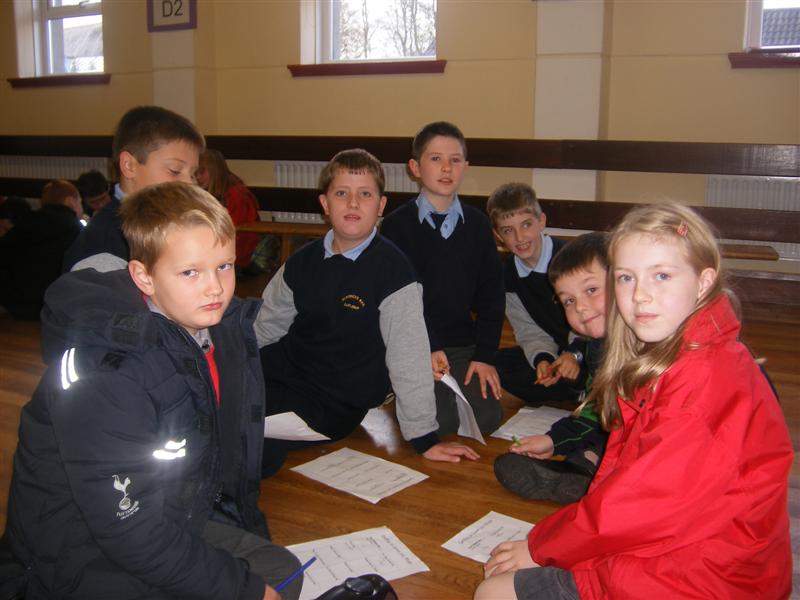 Children play some ice-breaker games
Afterwards, the large group was divided into three smaller groups with one group heading to the National Folk Museum, one on a local history walking tour of Castlebar, led by Mr. Devaney from St. Pat's and a third afforded the opportunity to mix together while playing table-tennis and basketball and enjoying the purpose-built playground in St. Patrick's, which proved very popular.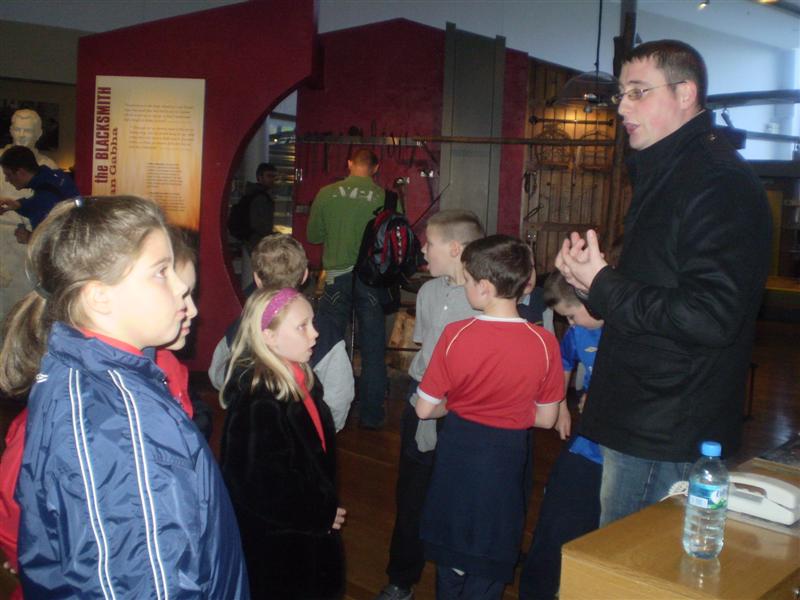 Children learn about what school was like in days gone by at the Country Life Museum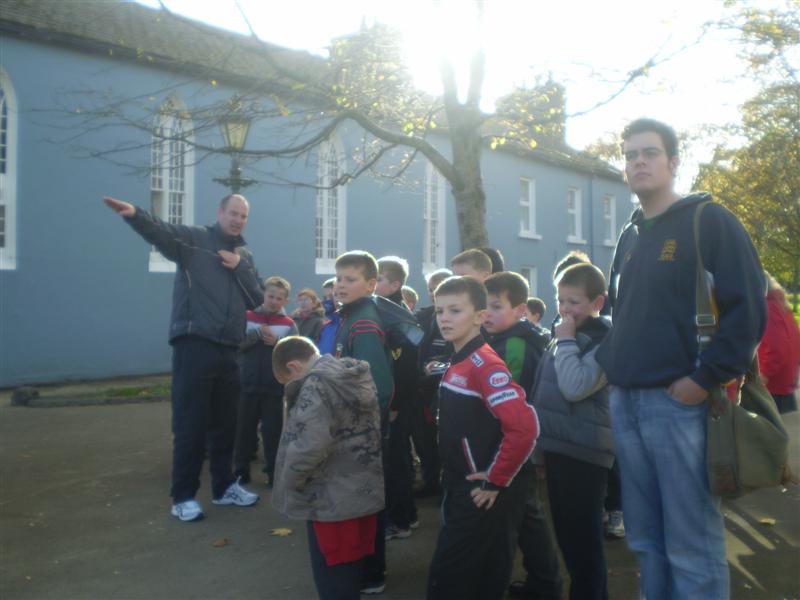 Mr Devaney gives a talk on Castlebar Town History.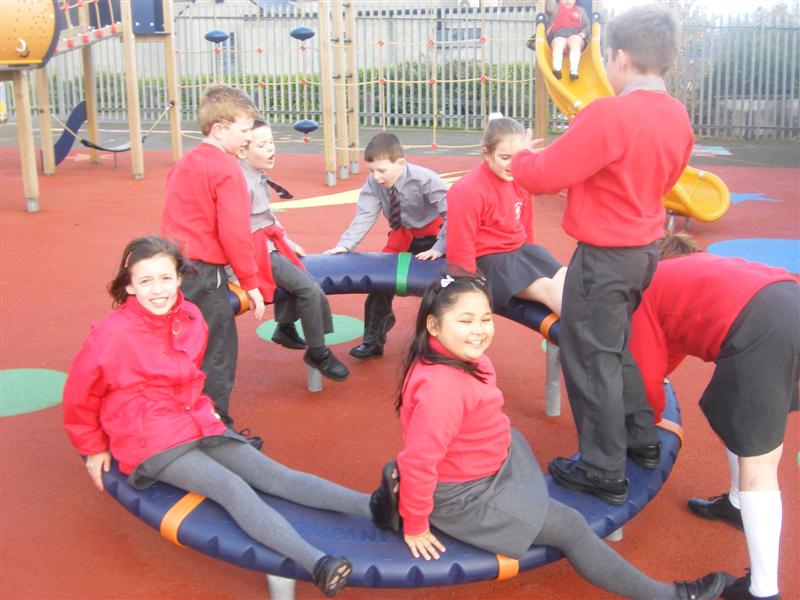 Omagh Primary school children enjoy the playground in St. Pats
Lunch was organised by Mrs. Chambers and prepared by Bosh Restaurant in Linenhall St. This was greatly enjoyed by the pupils from both schools. Many of the support staff of St. Patrick's assisted in serving the food which was really appreciated by all involved in the project.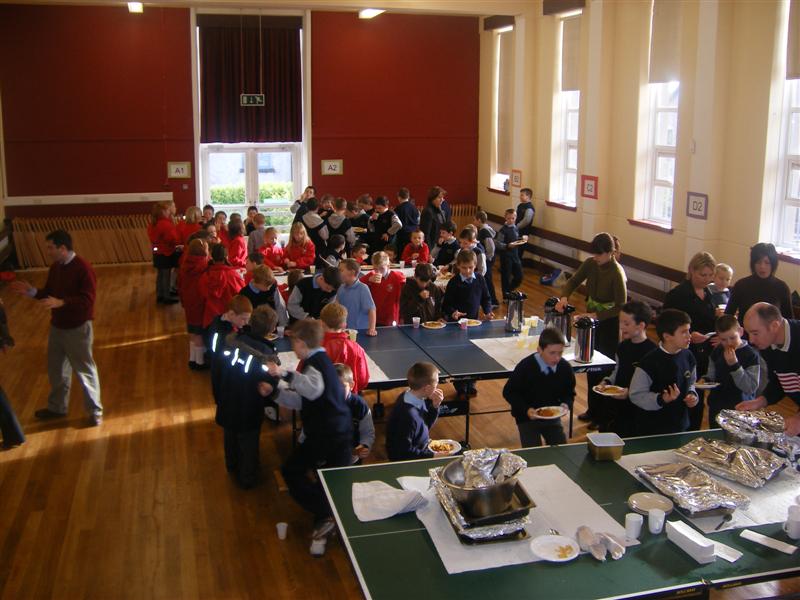 Dinner time
The rotation of activities followed until 4 p.m. and far too soon the pupils from Co. Tyrone had to board the coach and return home. Omagh County pupils and teachers really enjoyed their visit and St. Patrick's certainly enjoyed hosting the first meeting between the two schools and are already looking forward to visiting Omagh in 2008.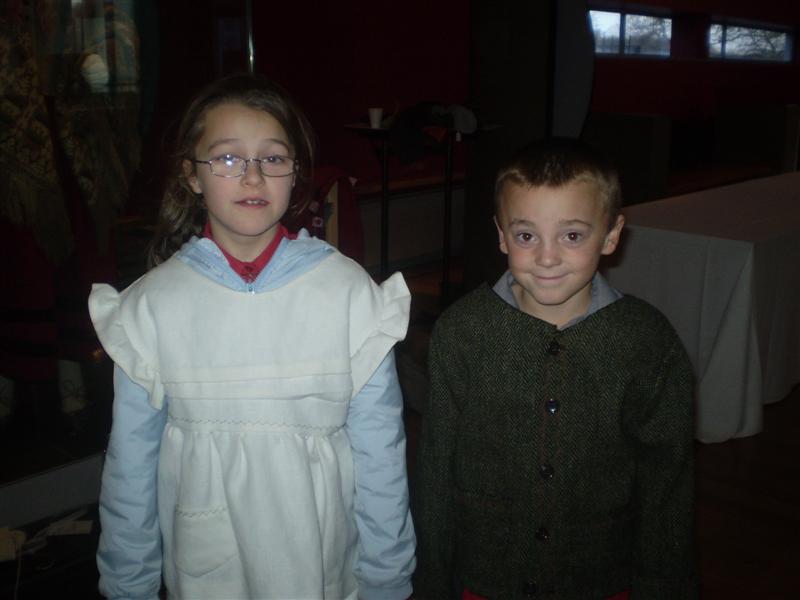 Two children dress up as children used to long ago.










© Copyright 2007 by Castlebar - County Mayo -