First produced in July 1971 in Killarney, this 2016 version by the ever versatile Parke Drama group is a comedy set in a rural presbytery in 1970's Kerry, where the newly appointed "Moll" is a priest's housekeeper who takes over a parish house with a "divide and conquer" strategy. When Canon Pratt and his two curates, Father Brest and Father Loran, lose their esteemed Ms Bottomly, they must recruit (from a limited Parish) a replacement to carry on her fine work. Cue Ms Maureen Kettle as the matriarchal priest's new housekeeper (Moll)! She wraps the (slightly vain) Canon around her little finger, feeds him well while starving and terrorising the curates. Then continues this pattern until the Canon is promoted and one of the curates takes his place. When it comes to the question of Moll's pension, more chaos ensues. However with the support of the Bishop, Moll proves to be an unstoppable force.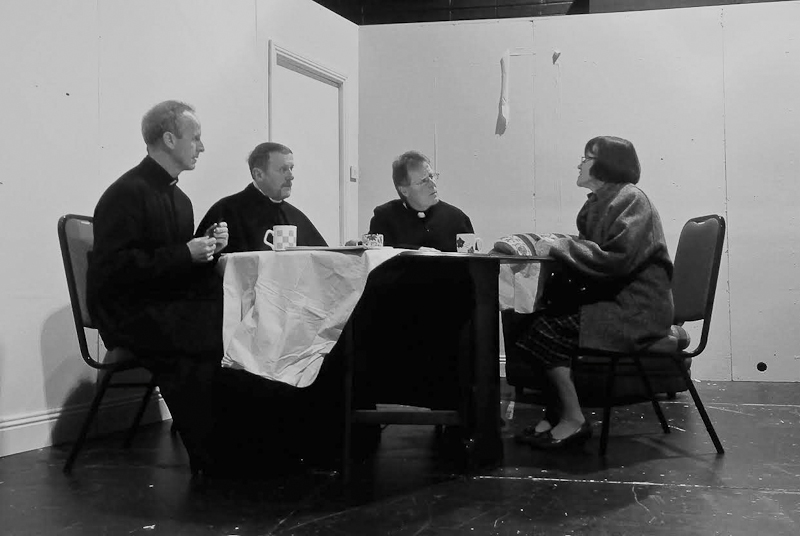 Parke Drama Moll rehearsals with Ger Minogue Michael Moran Des Gilsenan and Mary Neary.
Along the way Moll gets a school built and the church repaired. How she raises the money for these projects leads to Fr Breasts pet hate Bingo being introduced to the parish and Fr Loran's music loving heart being broken. Attempts at peace-making by the Cannon and challenges by the curates never go well, for anyone but Moll.... In the midst of caring for the religious around her, Moll is also keeping good eye on her own future. Moll follows advice from a retired housekeeper, who has to get married, as she is penniless. As to Moll's choice of husband.....well come and see for yourself.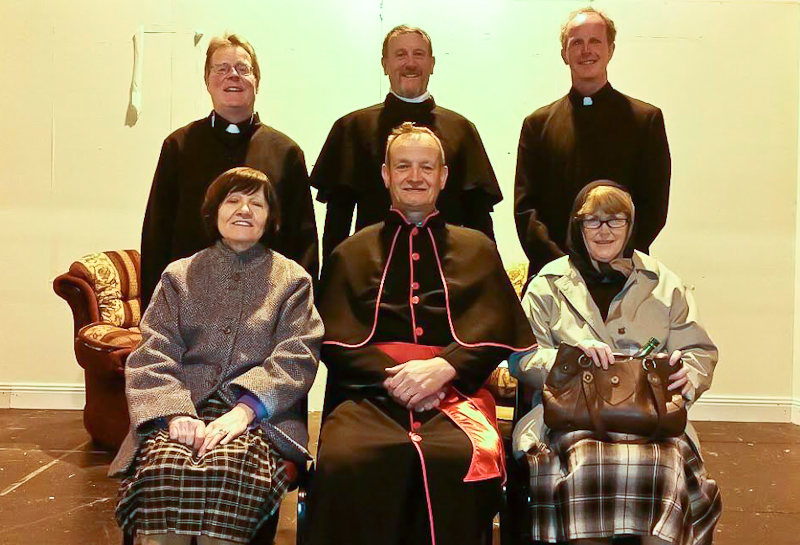 The Cast of Parke Drama's production of Moll
The cast of Moll consists of Parke Drama veteran actors Mary Mahon as Moll, Mary Neary as Brigie, Des Gilsenan as Fr Loran and Ger Minogue as Fr Brest. The very welcome newcomers to Parke Drama's Moll, include Bernie Hallinan as Mrs Andover, Fr Declan Carroll as Ulick & Michael Moran as The Cannon. Bernie Hallinan decided to take advantage of the short cut from her native Pontoon Road to cut across to Parke for her first role, Parke Parish Priest, Fr Declan Carroll decided that that a hop over the wall from the next door presbytery was as good a reason as any to join in rehearsals for his first acting role and as Michael Moran's first and last role was in 1978, you are in danger of missing his every 38 year venture onto the stage, should you miss his second ever performance within Moll.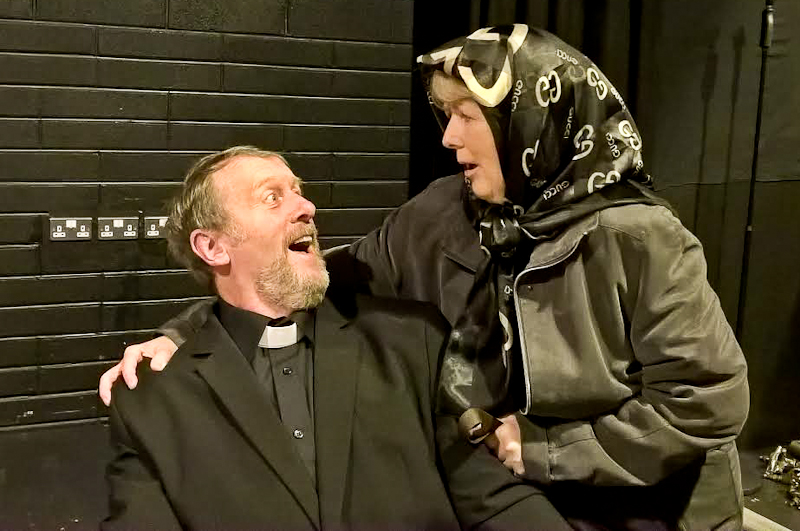 Parke Drama Moll rehearsals with Bernie Hallinan & Michael Moran.


Directed by Bríd Quinn and Produced by Emily Connor, Parke Arts & Drama Group look forward welcoming you to Parke Community Hall 11th and 12th of November at 8pm. Where "Moll" will lift your spirits and leave you laughing! Tickets €10 on the door or from Ann Connor on 094 9031128 (after 6pm) or Emily Conor on 086) 3771197. For more information on Parke Drama Group, (new members always welcome), please visit www.parkedrama.com or Parke Drama Group on Facebook.