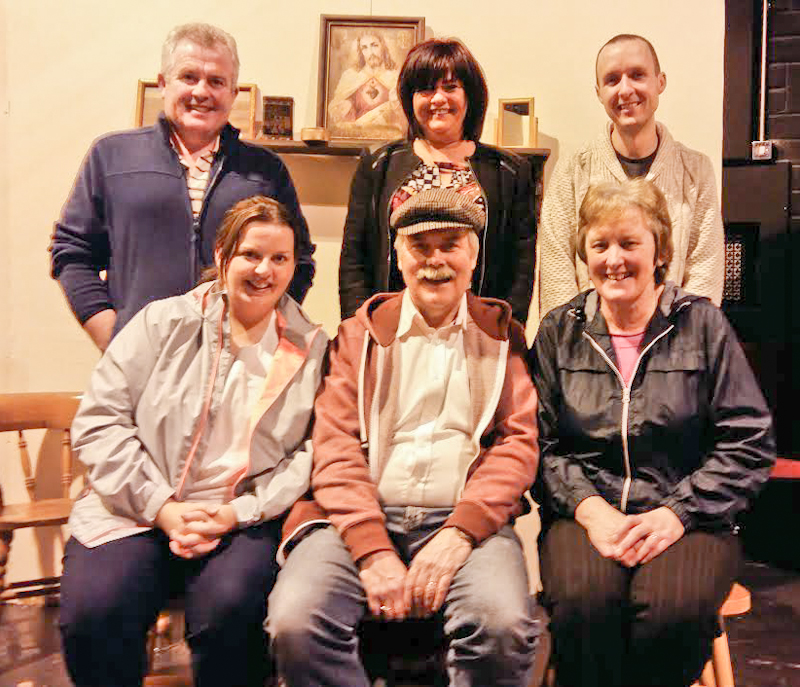 The cast of Parke Drama's The Country Boy Back Row L-R Seamus Beirne, Fiona Campbell, Eamon McNicholas, Front Row L-R Maria Jordan, John Daly, Mary Neary.
Parke Arts & Drama Group proudly presents The Country Boy by Charlestown born John Murphy in Parke Community Hall April 1st & 2nd at 8.30pm. Director Dermot MacMahon has assembled an experienced cast to bring his vision of this moving and humorous play to life.

The Country Boy is a comedy-drama set in the small Irish farmhouse of the Maher family living near Nephin, County Mayo. Reflecting on the social problems of emigration and rural life in the late 1950s. John Murphy who wrote the play, (born in Charlestown in 1929), was himself a Country Boy who emmigrated to America, but unlike his characters returned, with the experiences and inspiration to write The Country Boy
John Daly plays the domineering father Tom Maher, a hard working country man who likes things done his way, the way he's being doing them all his life. This will be John's fourth appearance with Parke Drama since joining in 2012.

Mary Kate Maher, played by Mary Neary, is Tom's wife who is the perfect foil to her strong minded husband and often ends up acting as the mediator between husband and son. This is Mary's return to Parke Drama stage since her memorable performance in A Wake in The West in 2010.

Curly is a strong willed young man who wants some freedom and not to be stuck under his father's thumb; he wants to experience all that life has to offer and in a last bid for freedom he believes emigrating and leaving his home is the only option remaining. Eamonn McNicholas, from Straide, plays the role of Curly. Eamonn has worked with the Group previously within the Claremorris Fringe Festival 2013. He has much stage experience including roles in Australia and is also a fine musician and singer.

Eileen Tierney, Curly's love interest, is played by Maria Jordan who is performing in her 3rd production with the Group having previously appeared in The Two Loves of Gabriel Foley and the much acclaimed Drinking Habits. Eileen is the girl next door who has won Curly's heart but at the same time does not want to stand in his way and be the only reason for him to stay.
Seamus Beirne plays Eddie Maher, the brother who emmigrated to the USA 15 years ago. In his family's eyes he is the one who has made it 'big', the one who has managed to better himself and get a 'cushy' job in the States. In his father's eyes he is "a steady lad". But as we find out not all is as it appears and the grass is not always greener on the other side. Seamus Beirne both with Parke Drama and other appearances is an actor with many years of stage experience.

Eddie's loud and brash wife Julia is portrayed superbly by the ever versatile Fiona Campbell. At first we see Julia as the typical Yank, colourful, loud and at times annoying. However, as the play progresses we see another side to her and we also get an idea of the stresses and strains she has had to deal with having a husband like Eddie. This is Fiona's fourth foray onto the stage with Parke Drama Group.
Tickets €10 and more information available through 087 4106496. Or visit Parke Drama Group at http://www.parkedrama.com/ or through Parke Drama Group on Facebook.