From Castlebar - County Mayo -


April 1st
Castlebar to Benefit from NAMA
1, Apr 2010 - 08:55



In a unique twist on the NAMA story it emerged late last night that Castlebar, Co. Mayo, stands to benefit significantly from the National Assets Management Agency. Local politicians of all hues welcomed the announcement by Minister Brian Lenin when he outlined the special purpose role that Castlebar was to play. The online document - "A Brief Guide to NAMA" on the NAMA website - outlines the 'What is NAMA?' story succinctly. It explains where your money went and where it is going to go in the future. It's already a best seller in the download charts.

The brief guide explains how your 85 billion in extra taxes, pay cuts increased levies and taxes is going to support the entrepreneurs and business men that created the Celtic Tiger and brought such fantastical benefits to Ireland. The silver lining is that the Brief Guide to NAMA emphasises over and over that these entrepreneurs, who are of course temporarily embarrassed financially speaking, will have to pay back ALL of their outstanding debts. The Irish taxpayer will make a profit at the end of it all says Minister Lenin.


In an annexe to the guide from www.nama.ie it is clear that the health and well-being of these entrepreneurs is going to be crucial over the next 7 to 10 years over which the assets are to be repaid. If any of these businessmen and entrepreneurs were to suffer from ill-health or stress it would not augur well for a successful outcome of the grand venture that is NAMA. And indeed we have already seen cases of ill-health during some particularly stressful court cases taken by unsympathetic foreign banks - banks not covered by the munificence of the Irish taxpayer. Liam Carroll was taken ill during his case - just an early sign of potential adverse health effects on those who headed up the flagship enterprises that gave us the Celtic Tiger. It is also apparent from reports over just the past week that the stress of it all can even have detrimental effects on the memory of entrepreneurs - for example inability to remember major meetings in which deals worth billions were discussed arose last week. This inability to remember financial deals is an affliction that has hit many of our politicians too - Fianna Fail seems particularly prone and the names of a few forgetful ones may trip off your tongue very easily. It is not just business entrepreneurs who get stressed and forgetful.

NAMA emphasises over and over in the course of its brief explanatory guide that the entrepreneurs will be paying back their debts. Therefore it is important therefore to keep them healthy and fit and ensure that they do not come under stress that may affect their memory or their ability to repay the loans. Ill health, anxiety due to separation from their tiger-lifestyle are not wanted. This is where Castlebar is to play its role in soothing the brows of these entrepreneurs while they gear up to pay back their loans. While they may have been used to bed-and-breakfasting overnight loans from bank to bank bed and breakfast in Castlebar will now be the norm. Bed and Breakfasting in style will bring some more restful sleep - rest and recuperation - to these stress-prone entrepreneurs.

Brian Cowman announced the special role that the citizenry of Castlebar will be expected to play in ensuring that their every need is looked after well. "We need our entrepreneurs," he said. "Ireland needs entrepreneurs. Without entrepreneurship we would be back in the 1950s. The current situation is just a temporary hiccup. The taxpayer will reap great benefits from it though once the loans are paid back by the current entrepreneurs. All that is required is to have the loans repaid in full."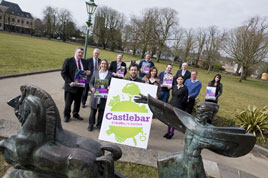 The unexpected silver lining is that "Castlebar of the Welcomes" is to become a special resort for the NAMA entrepreneurs. A bit of mollycoddling is all that's needed to keep them healthy and stress free. Time in the gym, time on the running track and time in Johnny McHales and other hostelries around the town will be a priority to ensure that they are kept in good form and fettle. This is a boon for the new 'Castlebar, Everyone's Invited' tourism initiative which aims to increase both the financial spend and the number of bed nights spent in the town. Already there has been a welcome committee on the Mall. The NAMA entrepreneurs will be spending a lot of time in Castlebar as guests of the taxpayer but the money spent will go into Castlebar businesses so there is a boom ahead for the county town.
It is widely believed that the passports of some if not all of the entrepreneur gentlemen have already been put on ice. They will not be travelling to their usual haunts in the Caymans, Seychelles, Costa del Champagne, Cape Verde or wherever there is a runway long enough to land their Gulfstreams. This could be stressful and thus, it might jeopardise the chances of these entrepreneurs paying back their loans. This of course means that Castlebar will have to put in that extra bit of effort to make them feel at home.
Already council workers and a new public private partnership (PPP) are installing three or four private sandy beaches on the shores of Lough Lannagh. The beaches will have 'under-floor' heating to simulate Carribean sand temperature conditions. In addition the lake water will be gently heated up so that they can swim comfortably when the sand gets too hot to bear. Heating of the sand and lake water will be thanks to a super-charged immersion heater that will take the combined output of some 20 wind turbines at Burren up towards the Windy Gap. Large mirrors will divert the sun to the new beaches to make them feel at home and a chain of pena calada suppliers will be on hand. Additional phone masts will be constructed to provide sufficient mobile phone signal for all the trading and wheeling and dealing that will be undertaken from the sandy warm shores of Lough Lannagh. The new beaches will be open to the public for a small fee on Mondays and Tuesdays between 10am and 11:30am - just one of the benefits of the whole NAMA venture for the citizens of Castlebar.
Obviously they can't spend their whole day on the beach as they carve out deals to pay off their NAMA debts. So the long-mooted visionary plan to cover over Main Street and protect it from the elements will go ahead (finally). The plans suggest that it will stretch from the bridge right up as far as Ellison Street to Christ Church. The plans show a tasteful Milanese-like Galleria style arcade of glass, tropical timber and brass. Very elegant it looks on the architects' elevation - it even has Doric columns along the footpaths giving it an extra bit of class. The NAMA architects think that this will give the entrepreneurs a feeling of being at home and help to maintain their business acumen and mental equilibrium. The shopping along Main Street will be improved of course too. Councillors are looking at the shops on bridge over the Arno in Florence as a benchmark for the kind of exclusive goods to be sold on Main Street aka Flynn Galleria.
To put our guest entrepreneurs at their ease a lot of Castlebar's townlands and housing estates will be renamed officially by Oifig Logainm na hEireann (recently decentralised to Claremorris). A few examples:

Breaffy village and its large hotel will be renamed to Anglo Downs.

Moneen will be known as Gulfstream Way.

Knockaphunta will from now on be known as Knockdown Hedge (fund)

Market Square will be Fair Market Value, and

Fighting Fitzgerald Way will become Adjusted Gross Estate Bypass.
Other streets will remember some famous entrepreneurs and their political supporters.

Mountain View - Charles Haughey Slope,

New Antrim Street - Ray Burke Alley,

Main Street under glass will become Flynn Galleria,

The library will be renamed the Liam Lawlor Library,

McHale Park will simply be called the Bertie Bowl in honour of the inventor of the Celtic Tiger.

The Court House will be renamed as the Flood-Dunlop Court House.
A special competition will be held to suggest further name changes to make the entrepreneur guests feel at ease.
From our special roving reporter on the N5 somewhere between the Moneen Roundabout and Turlough Park:
A number of other apparent coincidences over the past few weeks all point to a new look Castlebar ready and able to welcome the NAMA entrepreneurs. Obviously they would normally be more at home at the K Club or on 5th Avenue.
It's no coincidence that the priceless Cross of Cong has already been returned to Castlebar. Then of course the vote to have a new Skate Park is relevant. These entrepreneurs probably have families and may even have youngsters who like to skate in the park. It's important that their families are happy too of course.
The council have also recently vote to erect signs that rise up into the air as opposed to ones that are painted onto the ground. It's obvious councillors believe that such exhalted visitors could not be expected to be looking down at the ground while driving and may not spot the large white arrows painted on the ground as you approach roundabouts. Some of those roundabouts are pretty small and not very Lexus- or Maserati-friendly so the signs will help to make them feel comfortable.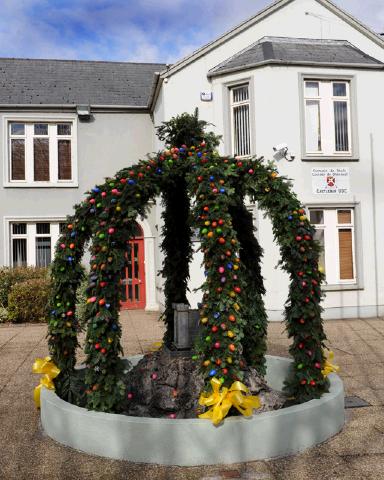 The introduction of an 'Easter Tree' at Marsh House in 2010 for the first time will house the easter bunny and there will also be a golden goose to lay eggs to assist the entrepreneurs with their mammoth task of repaying the money they now owe to the Irish taxpayer.

 



© Copyright 2010 by Castlebar - County Mayo -