About
Isabela is a visual artist, musician, educator and Tibetan Singing bowl practitioner.
Her visual art, mixed-media installation and sculpture, explores internal states, life cycles and the pursuit of meaning. In particular meaning with multiple readings. Isabela exhibits in Ireland and worldwide as a solo artist and is also currently part of an international artists collective. Isabela is interested in the connection between the arts and medicine and has been involved in various projects related to that topic.
Isabela works in sound therapy with Tibetan Singing Bowls. She works at Cloona Health Retreat and Kachina Alternative Health and Beauty Centre.
Isabela has developed innovative programs in art museums, including a Community Service Project at the Detroit Institute of Arts which involved intensive work with psychiatric patients, local hospital staff, hospice, women's shelters and refugee groups. Further, she also created exhibitions and programs around tattoo, puppetry, graffiti and public art from different cultures. She has taught widely, organized conferences, created programs for special exhibitions and researched contemporary art and museum practice. She currently teaches original crafts courses to educators, students and community groups.
Isabela was a recipient of the Smithsonian award for museum leadership and conducted internships at The Museum of Fine Arts, Houston, The Wichita Center for the Arts, Kansas and Museum of Modern Art, New York. She received a Bachelor of Arts degree in Journalism and Environmental Design from Texas A&M University and a Master's degree in Arts and Museum Education from Wichita State University. Isabela was a fellow with the "Next Generation Leadership Project" of the Rockefeller Foundation and with New York University. Isabela was born and spent her childhood in Lima, Peru. She then immigrated to Texas and lived in various USA states before immigrating to Ireland.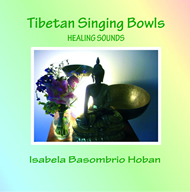 A CD of deeply Musical Healing Vibrations
Excellent for:
-Relaxation
-Meditation
-Sleeping
-Studying and Concentration based tasks
-Listening
-Purifying environments- inner and outer
-Centering and Balancing energy: emotions and mind
-Inducing calm, peaceful consciousness
-Enjoying
Buy From JohnHoban.net