BALLYHEANE HURLING CLUB
By Veronica Rowe
There is a Hurling tradition in Ballyheane going back to the start of the century. This is as a direct result of the Garda Barracks which was situated in the village. Famous names such as Fadden, Kilcourse, McGreevy and Basquille arise wherever stories of this period are told.

Ballyheane Hurling Club was reformed at a meeting in Ballyheane Community Centre in September 1998. Con Ryan was elected chairman, Veronica Rowe secretary and Gerry Feehan treasurer.

The re-formation of the club sprang from the Community Games when Ballyheane toyed with the idea of entering a hurling team. The hurleys and helmets were supplied by Jackie Clarke, principal of Ballyheane N.S. Croke Parke and the Mayo Hurling Board were contacted and also helped with equipment such as hurleys, sliothars and helmets. Hurleys were in short supply due to a shortage of ash but the Club managed to source their own. Breaffy GAA Club were very supportive and put their facilities and structures at our disposal.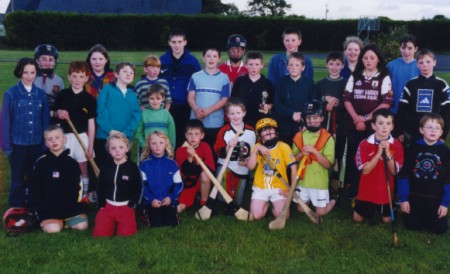 Some of the players
The Club members took part in a Coaching Foundation Course organised by the Mayo Hurling Board in February 1999. Coaching Certificates were presented to the participants. The following events were organised for players:

1. Indoor Hurling League winter 98/99.
2. Entered U-14 Championship.
3. Entered U-12 County league.
4. A Blitz was held in August 1999


In the U-14 Championship we played Tooreen, Ballina and Castlebar. We also played a friendly match against Islandeady which we won. In the U-12 competition we played Ballyhaunis but the competition was unfortunately abandoned. We trained twice weekly during the summer but this has now been reduced to once for the winter.

Trophies were presented to the best players in the various age groups, U-10, U12, U14. The best improver U-10 went to Paul Madden, U-12 to Colm Monaghan,U-14 to Thomas Staunton and the overall best improver went to Vincent Flannery. (See Photo)

We approached Castlebar Credit Union for sponsorship and they kindly donated a full set of jerseys and bag. We are very grateful for this kind gesture. Funds were also raised through a number of Irish Nights in the local pubs, a flag day and an event in Cox's Restaurant in Castlebar. Because of the generosity of so many the club is now in a healthy state financially.

Our first year has been very successful. We have a current membership of 39 children. We have an adequate supply of hurls, helmets, sliothars and a fine set of Ballyheane Jerseys to cater for both our indoor and outdoor activities. We are making good progress with skills training. We are looking forward to playing on the new pitch currently under construction at Cornaveigh.

All members of our Club have worked very hard to achieve our goals and we look forward to the future with optimism. We would like to thank all our sponsors throughout the year and everyone who gave so generously of their time during the year.

NEW OFFICERS 1999/2000

Chairman :- Michael Monaghan 094-30683
Secretary :- Veronica Rowe 094-30625
Treasurer :- Gerry Feehan 094-30922
County Board Delegate :- Michael Flynn 094-30625