Youth Information Centres (YICs) provide a free, confidential information service to young people and those who work with them on a wide range of subjects including ...
Employment Matters
Organisations & Clubs
Coping with Unemployment
Accommodation
Entertainment/Recreation
Consumer Affairs
Legal Matters
Health & Social Services
Travel at Home & Abroad
Education & Training
Rights & Entitlements
Voluntary Work
Sport & Leisure
Migration
Youth Work
Financial Matters
Family/Personal Problems
Local Community Services & Facilities
Careers
The centres operate a 'One Stop Shop' approach - rather like a supermarket of facts - where all the information is available under the one roof.
Located around the country, they are the first point of contact for a young person seeking information on any subject of interest or concern. They also cater for youth leaders, teachers, parents and other adults who work with young people.
The information is provided in specially designed premises where the atmosphere is warm and informal.
Trained and friendly staff are always available to help find or interpret the information required.

These staff work in close co-operation with other relevant voluntary and statutory agencies and will refer young people to them when further information or specialist help is required.



Young people are growing up in a fast changing and complex world where they are confronted with many choices, conflicts, challenges and pressures. Often they have to make decisions, some of which will shape the rest of their lives. To do this effectively, they need reliable information on the options available.



Make the most of your spare time
Travel and see the world
Check out third level and other vocational training courses
Find a job
Become involved in youth work
Know more about your rights and entitlements
Find a flat
or just have someone to talk to in a difficult situation
... your local Youth Information Centre is a good place to start.
Enquiries can vary from a young person seeking information on a local youth club or evening class to a person interested in stating a business or participating in a European exchange.
By providing fast and easy access to information, YICs aim to enable young people to make realistic and responsible decisions about their lives. They can help them to avail of opportunities open to them, to develop their skills and abilities and to actively participate in society at local, national and international level.




Those who did not have a specific enquiry are also encouraged to drop in and browse ... look at the noticeboards .... read a newspaper or magazine ... watch a video ... or pick up a application form or free brochure.
A chance visit may result in a new interest or hobby ... a useful contact ... an unexpected opportunity ... a problem solved.
The range of information material on offer includes files on various subjects ... guides & handbooks .... magazines & newspapers ... brochures & factsheets ... noticeboards & special displays ... videos ... computer databases.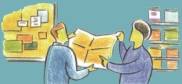 Many YICs also offer additional services such as a low cost CV preparation service ... European Youth Cards ... hostelling cards. People who wish to have their enquires dealt with in private are also catered for.




A variety of outreach activities is also provided bringing information to young people through ... information points publications workshops exhibitions school & youth club work seminars local radio and press




At present there are more than 20 Youth Information Centres nationwide. They are managed by a variety of youth organisations, as an integrated part of locally based youth services. Some are joint projects run by youth organisations in conjunction with Vocational Education Committees (VECs). The national network of YICs is mainly funded by the Department of Education from the National Lottery proceeds.
The National Youth Information Monitoring Committee (NYIMC), which is composed of representatives of the organisations involved in the delivery of youth information services and local VECs, advises the Department of Education on the development of the youth information network.
The NYIMC also oversees the provision of a range of support services to local YICs through the Youth Information Resource Unit. These include co-ordination ... training ... a documentation supply service ... consultancy ... promotion ... representation ... computer support.





The NYIMC is the Irish member of ERYICA (European Youth Information & Counselling Agency). Through this network, Youth Information workers in Ireland can share experience and develop joint initiatives with their counterparts in other European countries.




Youth Information Centres are generally open five days a week, with some offering weekend and late night opening. Telephone callers are also welcome.

At one time or another all young people need information to help make decisions or resolve difficulties. So when next time you have a query or problem ... Check it out at your local Youth Information Centre.



Youth Information Resource Unit
Hawkins House (11th floor)
Hawkins Street
Dublin 2
Tel: (01) 873 4700 ext. 2514
Fax: (01) 671 5270