Castlebar Rotary Club
Some of the 40 Aquaboxes that were filled by the people of Castlebar for shipping to the Turkish Earthquake Disaster Zone following a collection on 21 August 1999.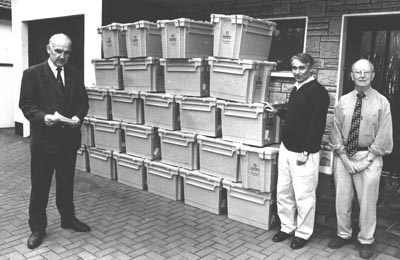 From left to right the photo shows Kevin Barret (President Castlebar Rotary Club), Paul Murphy and Tommy Moylett (Treasurer)
Aquaboxes for Turkey
Following the major earthquake that devastated large parts of Turkey last August, Castlebar Rotary Club organised a one-day collection at the major supermarkets and on main street, Castlebar. This took place on Saturday 21 August 1999. Our initial target was to fill 10 boxes. In the event, however, some 40 'Aquaboxes' were filled with materials useful to those suffering in the aftermath of such a disaster. A range of items such as utensils, hardware, clothing, shelter, items for babies, toiletries, etc. were collected for shipping to Turkey.
The Aquabox has added value in that each one comes with a filter and sterilisation tablets which can purify 1000 litres of water. Thus, when emptied of their contents they provide ongoing benefits by providing sterile drinking water for a family or community.
The total value of the donations of equipment and cash was estimated to of the order of £8000. (It's not possible to put a precise value on the goods received). Thanks to everyone who contributed goods or cash. Every penny finds its way to Turkey as no overhead costs are involved. Thanks to CRCFM and MWR radio for their extensive coverage and this contributed significantly to the success of the effort. Thanks to Dunnes Stores and Supervalu for allowing us to collect outside their premises. A particular thank you also to Castlebar Cultural and Heritage Society who donated their spot to Rotary at both Dunnes and Supervalu for the day.