News
New Faces This Season:
| | |
| --- | --- |
| Brian Morris, player-coach, comes from the U.S., but his parents are from Galway and Cavan. | Janas Grots lives and works in Castlebar, far from his home country of Latvia. |
| Judd Winton sometimes yearns for sunny Californian weather he'd enjoy in his home of San Francisco. | Pawel Sablik played underage basketball in his homeland of Poland. He has been in Ireland for one year, and now lives and works in Westport. |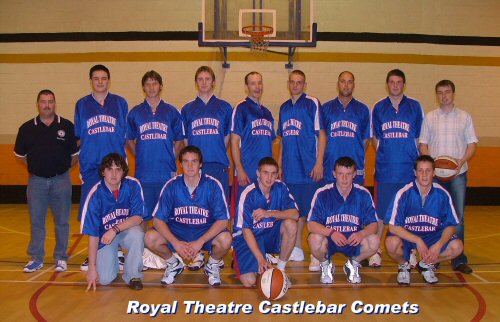 Here's the line-up for Season 2005-2006

Oct. 15: The new Royal Theatre gear was unveiled before the match against NUIG on Oct 15
We won a tight match 79-75. Congratulations to Judd who had the game high of 26 points.
Here's a picture of Pawel saying hello to the basket: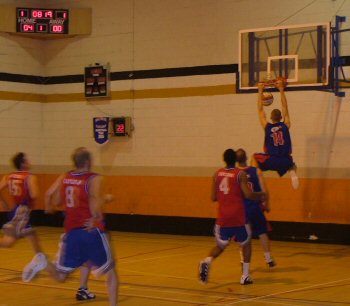 Oct. 22: A great display ensured a convincing victory in Belfast over strong opponents Queens. This was our best result away from home for a long time. We counted a total of five dunks from Pawel during the match.
| | |
| --- | --- |
| Thea Byrne, on behalf of her father Mick, presented the sponsorship cheque to Treasurer, Nigel Quinn, before the match | |
Oct. 29: A huge effort comes just short against Sligo All Stars. This two-point defeat leaves Sligo clear at the top.
Major controversy regarding a disallowed Castlebar basket at the end which led to an overtime Sligo win.
Action from the match


The odds were stacked in our favour after a good start
Nov. 19: A good 12-point win over Queens after a brave comeback in the third quarter by the visitors to cancel out an early commanding lead by the Comets. Pawel injured a knee during the match. We hope he'll recover soon.
Nov. 26: A magnificent away win against Neptune in the First Round of the Senior Cup. Despite the absences of Pawel and Janis, Judd managed 29 points which helped us carve out a great win.
Unfortunately, we learned that Pawel's knee injury is serious enough to rule him out for the rest of the season. He is going to return to his native Poland. Hard luck, Pawel, and thanks very much.
Dec. 03: A good home win over UUJ. What was notable was the significant contribution from the home-bred players Hermann, Tommy, Finín, Daire, Mark and Joe. Hermann nailed 22 pts.
Jan. 07: This was a great performance by what was, literally, the home side. Apart from Judd, the team had a St. Gerald's look to it as they shook off early lethargy to record a 10-point win.
Jan. 08: The second win of the weekend, this time away to NUIG. The seventeen-point victory gets Comets up to second place in the Northern Conference.
Rafal Wronski from Poland has been registered to strengthen the side after the loss of some significant players from the squad.
The date for this year's Race Night has been set for Friday, February 24th in Byrne's Bar.
Jan. 21: Defeated once again in another close encounter against Sligo All Stars. This five-point away defeat was disappointing after an encouraging display.
Feb. 04: A second successive defeat, this time away to PV Falcons. High scoring by Judd, Janis and Tommy kept The Comets in close contention until a couple of last-minute baskets opened up an 86-79 winning lead for the Longford team.
Feb. 11: Top-scorer Hermann Heyl with 24 points helped Comets to a well-fought victory against NUIG. Judd (19 points) and Mark (18 points) were the other significant scorers for the home side.
Feb. 12: A cracking match ended in controversy as the court was deemed unsafe to continue with only eight minutes remaining. The scores were tied at 71-71, but the points were awarded to the away side, PV Falcons. This result leaves Comets with very little chance of achieving an automatic play-off placing. Judd was on fire with 28 points, but the real heat was coming from the sideline.
Feb. 24: Race Night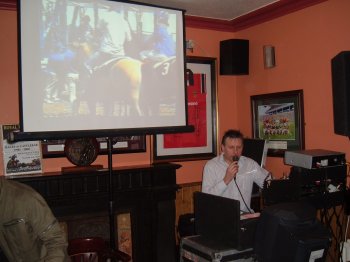 Well done to Martin O'Malley of Alltime Entertainment for running the show on the night
| | |
| --- | --- |
| Edwin kept an eye on the proceedings | Steve and Pierce kept an eye on the form |
| Martin kept an eye on Sheila doing the tote | ...and the (most of) the crowd kept an eye on the races |
Thanks to Mick Byrne's pub, all our sponsors, those who bought horses, and all the committee members for working so hard to make sure our Race Night Fundraiser was a success
Feb. 25: Hermann's 23 points, with another 20 from Judd, helped bring Castlebar home against Sligo All Stars at the home of the Conference leaders. A morale boosting 70-56 victory.