SPORTS REPORT 2003
For Hurling Report - Click here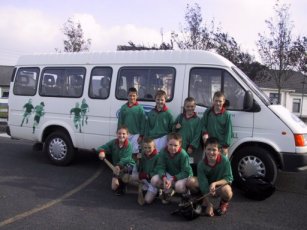 Mini-Sevens Hurling-McHale Park on Friday 17th October. Back Row: L to R: Alan Gavin, David Gibbons, Cathal Walsh, Mark Durkan. Front Row: L to R: John Welby, Alan Quinn, Rory Walsh and Rory Byrne
Mini Seven's in Ballintubber by Paul Regan
Every year our school takes part in the Mini sevens league. The team trials took place in the middle of September and both managers; Mr Devaney and Mr. Waldron picked a panel of fourteen talented lads. Team training took place mostly on Tuesdays all in the build up to our main event, which was to be held in Ballintubber. Training included basic drills and a practice match afterwards.
We had our first match against Errew in the first round of the Championship which was held in our own back yard. We started with a very strong team and ran out comfortable winners. Our next preparation match was against the best lads in the school that were over age for the Mini-Sevens. The match was very close and some excellent football was played.
After that match the focus was clearly set on the Blitz
in Ballintubber that we had all been waiting for. The selection of lads picked to go to the blitz consisted of Rory Byrne, David Stenson, Paul Regan, Danny Kirby, Liam Martin, Mark Durcan, Jack Maughan, Jake Gibbons, Kenneth Guthrie, Nigel Naughton, Alan Quinn, Shane Reilly, Ciarán Gavin and Alan Gavin.
We left for Ballintubber at 10 o'clock on Friday morning on the 10th of October. The other teams competing included Ballintubber, Breaffy, Crimlin, Ballavary, Ballyheane and Scoil Raifteiri. Our first match was against Ballavary. We won the match with an excellent first half performance in which goalkeeper Rory Byrne had an outstanding game. We had to wait a long time for our next match, which was against our neighbours Breaffy in the semi-final. Against a strong Breaffy side we ended up fairly comfortable winners in the end.
In the final we met the team we had expected and had planned to meet at this stage, Ballintubber. From the first whistle it was a fiery game with passions running high as Ballintubber lashed in an early goal. We responded as well as we could have kicking a few well worked points. Ballintubber had a five point lead with about 5 minutes left. We piled on the pressure but were unlucky not to get the scores we needed. We lost the game but left the field with our heads held high in a match we really didn't deserve to lose. The whole team would like to thank the managers Mr. Devaney and Mr. Waldron for their help and support during the eventful campaign.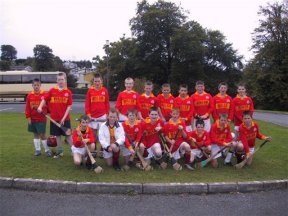 Castlebar Mitchels Hurling Team (Under 12)
Report: Vincent O'Brien
In our school hurling is a popular and fast-growing sports. Each class from 4th to 6th play at different times and days during the school week with coaches Gavin Keary and Gerry White. In these sessions we work on improving our skills and have some very enjoyable practice matches.
Further training is held after school on Thursdays with coaches Gerry Lane and Mr. Devaney. These boys train for the chance to travel to other schools to play and impress for future matches. Our next game is against a Galway school who are sure to be tough opposition as Galway is a noted county for hurling. This match will be coming up very soon. With the schools quality players and high standard we are quietly confident of success this year. Who knows maybe we might win the football !and hurling double!