Images of Mayo
Photographs by Hugh McGinley

Ballintubber Abbey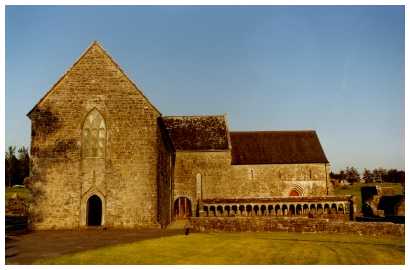 Ballintubber Abbey (located 6 miles south of Castlebar) is an Augustinian Friary, founded by Cathal O' Conor, king of Connacht in 1216. The Abbey is built on the site of a Church started by Saint Patrick in 441. Ballintubber has derived its name from a well where, according to tradition, Saint Patrick baptised many converts.

Ballintubber Abbey is Ireland's only royal Abbey which has been in continuous use since its foundation. The Abbey suffered much vandalism down through the years. It was suppressed in 1542 when the Church was de-roofed , it was later attacked and practically destroyed by Cromwellian forces in 1653. The lower tower over the crossing collapsed shortly afterwards. For 250 years the Abbey remained roofless, but despite its violent history and against all natural elements (with the possible exception of five weeks during the Famine years), the local population of Ballintubber attended mass in the Abbey.

The Abbey has since been sensitively restored. In 1846 the famous John Mc Hale, Archbishop of Tuam, began its restoration. In 1889 the chancel, crossing and transept were re-roofed. In addition, more recent, restoration has been carried out by the Office of Public Works. Much credit must also be given to the present Father Fahey, for his absolute dedication to the Abbey and the region.

The interior of the Abbey is simple with white-washed walls. The grounds are landscaped, well maintained and portray spiritual themes.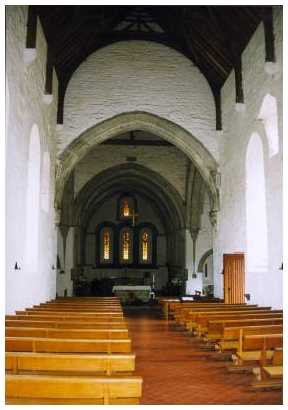 Interior shot of Ballintubber Abbey
The people of Ballintubber are justly very proud of their Abbey and will welcome you to visit this important spiritual and historical centre. There is a video display, interpretative centre and guides at the Abbey, which will make your visit more rewarding.

Note: The Abbey is open all year. No cover charge applies. Visitors are requested to respect the dignity of the Church.