Images of Mayo
Photographs by Hugh McGinley

Moore Hall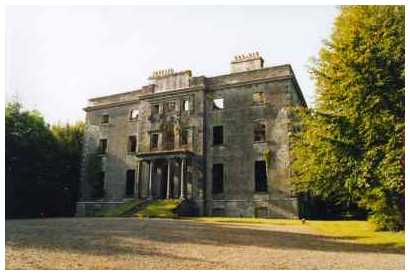 'A little bit of history'.
Moore Hall estate runs by the eastern shore of beautiful Lough Carra, about 10 miles south-east of Castlebar. The following is a brief but interesting history of the house and some past members of the Moore family.

The house was built in 1795 by George Moore (1729-1799) who amassed a fortune in the wine and brandy trade in Spain. He also manufactured iodine, a very valuable commodity at the time. He owned a fleet of ships and shipped seaweed from Galway for the manufacture of the iodine. Having taken an oath of allegiance to King George 111, entitled him to lease land. His estate amounted to a massive 12,330 acres of land.
The house comprised of three stories and a basement.
Unfortunately, in January 1923 this stately house was torched (like many others at this time) for political reasons.

The Moore's were unusual in that they were Catholic landlord gentry. Prior to George the family were Protestant. Unlike most other landlords of their time, they were considered to be 'decent'.

George Moore's son, John Moore (1767-1799) was made President of the short-lived 'Republic of Connaught' in 1798 by General Humbert, following an attempted rebellion against the English forces. It was an honour he held for one week, before he was arrested by the English forces and sentenced to transportation. However, he died in Waterford en-route to New Geneva on the 6th of December 1799. In 1961 his body was exhumed and brought back to Mayo, with all honours of Church and State to his final resting place, at the Mall in Castlebar. John Moore is recognised as Ireland's first president.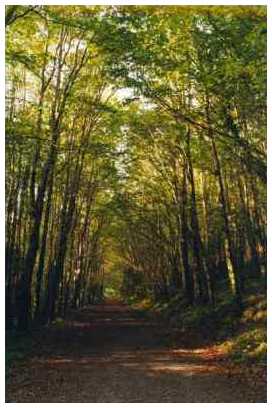 Tree-lined walk in the grounds of Moore Hall
George Henry Moore (1810-1870) was also a kindly landlord, still fondly spoken of in the area. It was during the black famine in 1846, that he ran a horse called Coranna in the Chester Gold Cup in England. When Coranna won the cup he used much of his winnings to alleviate the suffering of the poor in the area. It is said that no one died on the Moore estate during the famine and no evictions were ever recorded.
In 1847, following his help to the poor of the area, he was elected M.P. for Mayo, heading the poll.
At the funeral of George Henry, his coffin was carried by sixteen tenants and was attended by a large number of the poor of Mayo (with few gentry attending) - a fitting tribute.

The following is an excerpt from a letter to his mother from Chester, 6 May 1846.



My dearest Mother,

Coranna won the Chester Cup this day. We win the whole £17,000. This is in fact a little fortune. It will give me the means of being very useful to the poor this season. No tenant of mine shall want for plenty of everything this year, and though I shall expect work in return for hire, I shall take care that whatever work is done shall be for the exclusive benefit of the people themselves. I also wish to give a couple of hundred in mere charity to the poorest people about me or being on my estate, so as to make them more comfortable than they are; for instance, a cow to those who want one most, or something else to those who may have a cow, but want some other article of necessary comfort; indeed I will give £500 in this way. I am sure it will be well expended, and the horses will gallop all the faster with the blessing of the poor…..


A portrait of Coranna hangs in the church in Carnacon.
Note: £17,000 would equal more than £1,000,000 in today's currency.

Perhaps the most famous member of the Moore family was George Augustus Moore (1852 -1933).
George, together with W.B.Yeats and J. M. Synge played a key role in the foundation of the Abbey Theatre.
He was for much of his lifetime one of the most widely read authors in the English speaking world. For many years he was top of the best seller lists.
A bit of a character was George!
He was considered at the time to be a shocking and scandalous writer - a reputation of which he was very proud. His first novel, A Modern Lover (1883) was banned as immoral by the British 'circulating libraries' as were many of his subsequent works.
George Moore's ashes are buried on Castle Island (Moore's Island) on Lough Carra. The poet George Russell (AE), wrote his funeral oration and included these lines: If his ashes have any sentience, they will feel at home here, for the colours of Lough Carra remained in his memory, when many of his other affections had passed.

Note: The grounds of Moore Hall are open to the public - no cover charge applies.