Ballyheane Hurling Team 1929 (The letter underneath explains the background to this photo)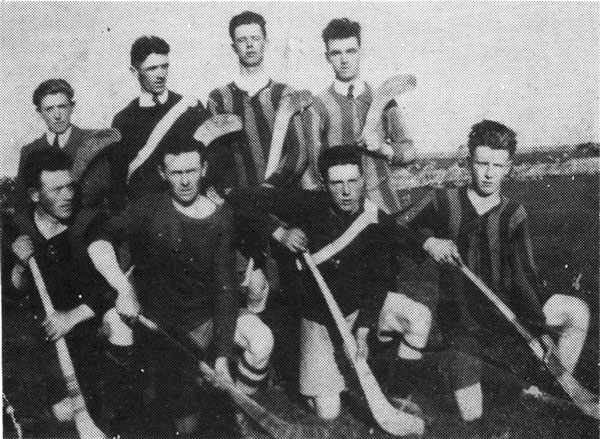 Copyright © Castlebar Parish Magazine 1979 and © Paddy Cahill 1929 - With Thanks to Johnny Mee for permission to reproduce.

(Castlebar Parish Magazine 1979!)
(We were delighted to get this photograph from Paddy Cahill, formerly of Ballyheane. These extracts from his letter explains the circumstances.)
Dear Editor,

I left Ballyheane in June 1932, and had very little contact with the place since then. But on November 12th 1979 I received a copy of the Castlebar Parish Magazine, 1978 issue, from a friend that I had not heard from in twenty years. On page twenty-one is a photo of the Ballyheane Hurling Team 1925 -1940. I nearly had a heart attack.

I played in every match up to 1932. We won the Mayo Championship in 1929. And I still have got that medal - a bit worn like myself.
But to see myself and all my pals in print after 50 years - incredible! It brought back happy memories of my youth, and of a great team who started off with ash-plants.

It was a great shock to read of the deaths of Jack O'Connor, Mike Higgins, T. Walsh, Jim McGovern, "Perkie" Heverin, Paddy Rainsforth, "Pakie" Kilcourse. All great pals of mine, may they rest in peace. I must have a trip over there in 1980 and see who is left of the old timers around Ballyheane . I enclose a photo of the original Ballyheane seven-a­side Hurling team who were Mayo County Champions in 1929.

The people in it are:
Front Row (L. to R.): Jack O'Connor, Mike Higgins, Jim McGovern, Perkie Heverin.

Back Row (L to R): Tom Walsh, Michael Kilcourse, Paddy Cahill, Jack Kilcourse.
This old photo has kept me in touch with Ballyheane and Castlebar all those years. It's been in Egypt, India, Burma, Spain and the U.S.A.. And now it's going home, for a short time I hope – please return it. It may be too faded to get in. So I will leave it at that and see what turns up.
Yours,
P. Cahill
(We have great pleasure in printing this photograph and we hope it will bring memories back to other people. Perhaps it might even spark-off a re-union in 1980 of the remaining members of the Ballyheane Hurling team)"