Scoil Naomh Aingeal Feile Scoildramaíochta - Craobh na hÉireann – All Ireland Winners
Pictured below are the pupils from 5th Class in Scoil Naomh Aingeal, Castlebar who won 1st place in their category in the All Ireland Feile Scoildrámaíiochta recently held in Mullingar. The Drama – An Hata Draíochta was written by Tomás Mac Sheáin and produced by class teacher Róisín Bn. Mhic Chógáin.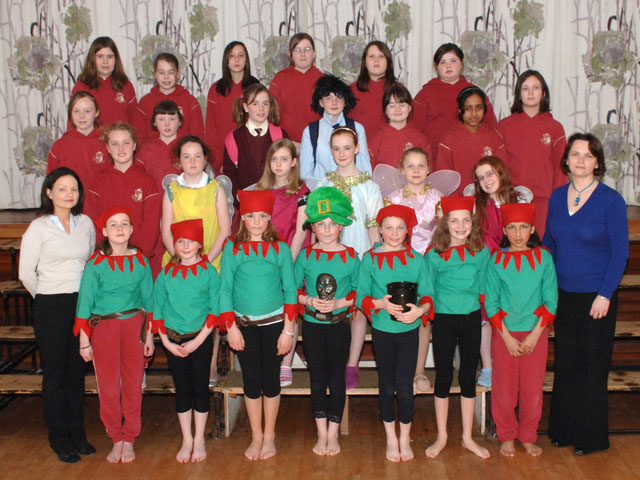 PHOTO TOM CAMPBELL
Back Row: Aoife Doyle, Jordan Lynch, Sarina Singh, Louise Callaghan, Serica Weiss, Nicole Walsh.
3rd Row: Petrina Faulkner, Riannon Vahey, Melanie O'Malley, Aisling Gallagher, Emer Tolan, Ripa Jahan, Julia Lozinska.
2nd Row: Sarah Dawson, Maeve Flynn, Zoe Walsh, Bethany Duffy, Belinda Patterson, Lauren Conlon.
Front Row: Róisín Bn. Mhic Chógáin (Class Teacher), Lauren Mc Nicholas, Aofe King, Anna Tuohy, Ruth Moran, Melissa Patterson, Lucy Nyland, Snayela Rauf and Ms. Veina Brett (SNA).
Photo: TOM CAMPBELL