Geraldine Mitchell from Louisburgh wins the Patrick Kavanagh Poetry Award for 2008.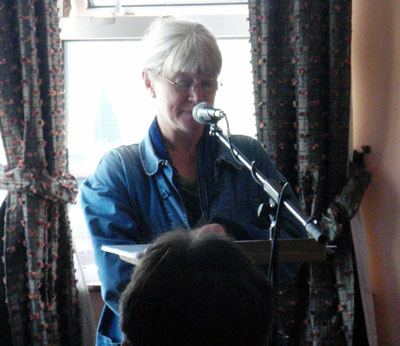 Geraldine Mitchell reading her poetry at the Mayo County Council sponsored Belmullet Writers' Workshop during summer 2008.
Geraldine Mitchell from Killadoon, Louisburgh, was awarded the prestigious Patrick Kavanagh Poetry Award in November 2008. This important award was previously won by now established poets such as Paul Durcan, Pat Boran, Eíleain Ní Chuilleanain and Joseph Woods. It is a highly reputable award as it honours a poet at the start of his/her career. The judges, Theo Dorgan and Moya Cannon said in their appraisal of Geraldine's work "These are the poems of a considered and considering intelligence, surefooted, meditative, and clear. One is in the presence of a clear-eyed sensibility that considers, but does not judge human fragility".
Geraldine is the author of a biography on Muriel Gahan and two novels for children. She has had poems published in The Stinging Fly, Crannog 08, Poetry Ireland Review and is featured in the Oxfam calendar for 08. She won first prize for poetry in the Amergin 2007 Creative Writing Awards. She is a participant in the "Writing on Tuesdays" writing group facilitated by Jean Tuomey in Castlebar. "We knew that Geraldine is a gifted poet; now we are delighted that her talent is recognised publicly. Her sensitive reflections on world and personal issues are important. We wish to congratulate Geraldine and are looking forward to seeing her work published in her own collection. It is a privilege for Mayo that this award has come to the County " said Jean.