The following is extracted from the report of the 2013 Boundary Commission for the Mayo local electoral areas:
The full Report is available at: http://www.boundarycommittee.ie/reports/2013-Report.pdf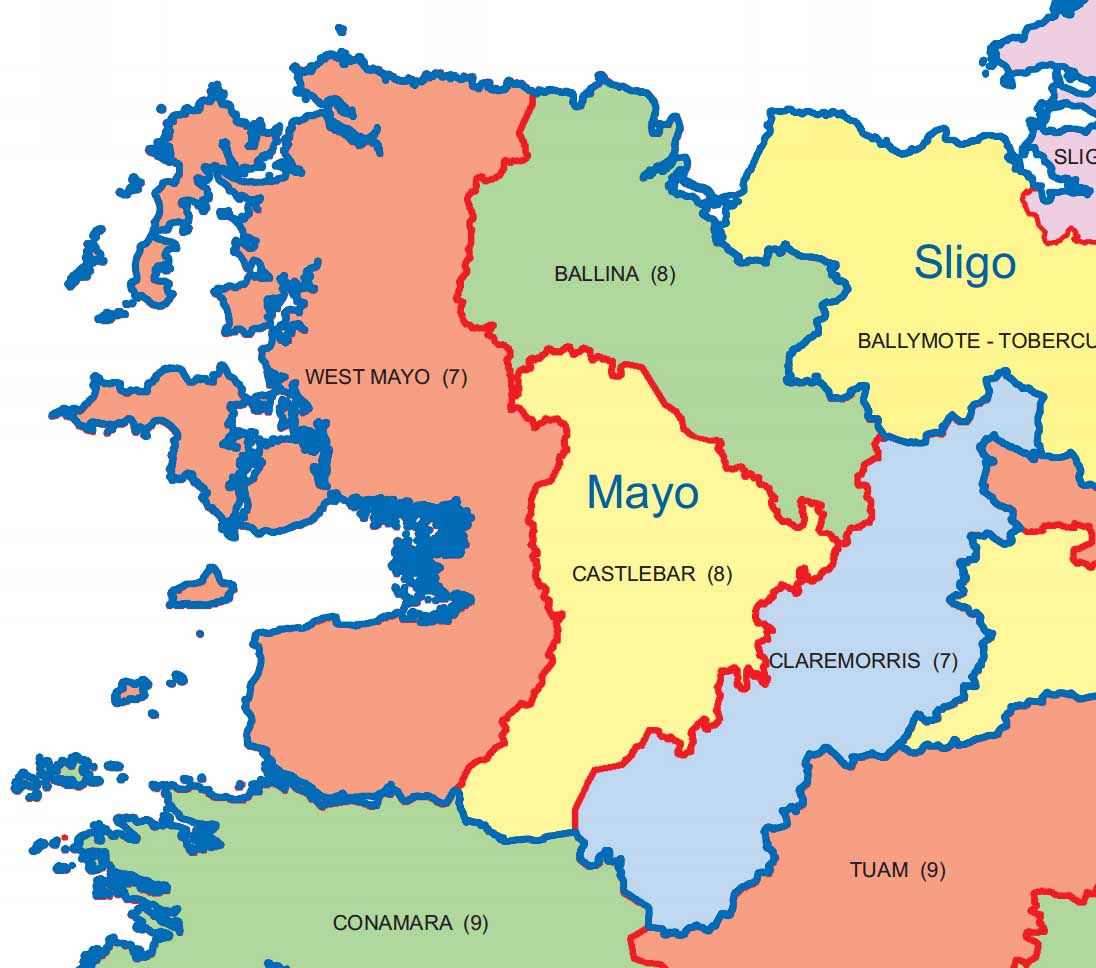 The Mayo Electoral Areas

Overview of present position
The position at present is as follows:
| | | |
| --- | --- | --- |
| Local Electoral Areas | Number of members | Town Council in Local Electoral Area |
| Ballina | 6 | Ballina T.C |
| Belmullet | 4 | |
| Castlebar | 7 | Castlebar T.C |
| Claremorris | 6 | |
| Swinford | 4 | |
| Westport | 4 | Westport T.C |
| Total | 31 | |
Number of members and population variance
Based on the formula at paragraph 9 of the terms of reference of the Committee the new number of elected members to be assigned to Mayo County Council is set out in the table below.
2011 Population

130,638

1 member for every 4,830 of the population 130,638 / 4,830 = 27.05

27

Additional members: 1 per town council, subject to a maximum of 4 (except in merging councils)

3

New number of councillors (subject to a minimum of 18 and maximum of 40)

30
Having regard to the requirement that the number of councillors representing a local electoral area should be not more than 10 or less than 6, the 30 members have to be divided amongst 3, 4 or 5 local electoral areas.
Based on the new number of councillors, the population per member in Mayo is 4,355. The terms of reference provide that "within any city or county the variance in representation of each local electoral area from the average for the city or county should, as far as practicable, be within a range of +/- 10%". For Mayo, this represents a range of 3,919 to 4,790.
Recommendations
The Committee is recommending a configuration of four local electoral areas based on its terms of reference which provide for local electoral areas to be based around existing town councils and large urban centres, and for account to be taken of existing electoral boundaries and local and community identities.The proposed local electoral area for Castlebar is formed by combining the existing local electoral area of Castlebar with electoral divisions to the east that are currently in the Claremorris and Swinford local electoral areas.
It is proposed that there would be a local electoral area covering the western side of the county along the Atlantic seaboard, to be titled West Mayo. This would include Westport, which currently has a town council, and Belmullet.
The Committee, having regard to submissions received, is recommending the movement of the electoral divisions of Lackan North, Ballycastle and Kilfian West from the current Belmullet local electoral area to the new Ballina local electoral area. The new Ballina local electoral area would include the town of Swinford and electoral divisions to the north of the current Swinford local electoral area.
A fourth local electoral area is proposed for the eastern side of the county, to be titled Claremorris. This new local electoral area would also include the towns of Ballinrobe, Ballyhaunis and Charlestown.
The Committee had regard to submissions which recommended that the electoral divisions from Mayo that are included in the new Galway West Dáil Constituency remain together in the same local electoral area. Each of these electoral divisions is included in the recommended new Claremorris local electoral area.
A summary of recommendations is contained in the table below:
| | | | | |
| --- | --- | --- | --- | --- |
| Local Electoral Areas | Number of members | Population 2011 | Population per member | Percentage variance from county average + / - % |
| Ballina | 8 | 32,979 | 4,122 | -5.3 |
| Castlebar | 8 | 34,000 | 4,250 | -2.4 |
| Claremorris | 7 | 32,469 | 4,638 | +6.5 |
| West Mayo | 7 | 31,190 | 4,456 | +2.3 |
| Total | 30 | 130,638 | | |
The following is a detailed description setting out the electoral divisions that comprise each
recommended local electoral area:

Ballina
Ardagh, Ardnaree North, Ardnaree South Rural, Ardnaree South Urban, Attymass East, Attymass West, Ballina Rural, Ballina Urban, Ballycastle, Ballysakeery, Brackloon, Callow,
Carrowmore, Crossmolina North, Crossmolina South, Cuildoo, Deel, Derry, Fortland, Kilfian East, Kilfian South, Kilfian West, Kilgarvan, Killala, Lackan North, Lackan South, Meelick, Mount Falcon, Rathoma, Sallymount, Sraheen, Swineford, Toomore and Tumgesh.
Castlebar
Abhainn Bhrain, Addergoole, An Cheapaigh Dhuibh, Baile an Chalaidh, Baile Óbha, Balla, Ballinafad, Ballinamore, Ballyhean, Ballynagoraher, Bellavary, Bohola, Breaghwy, Burren, Burriscarra, Castlebar Rural (part), Castlebar Urban, Clogher, Cloonkeen, Croaghmoyle, Islandeady, Killavally, Killedan, Kiltamagh, Letterbrick, Manulla, Mayo, Newbrook, Partraí, Pontoon, Roslee, Strade, Tamhnaigh na Graí, Toocananagh and Turlough.
Claremorris
Aghamore, Ballindine, Ballinrobe, Ballyhaunis, Ballyhowly, Bekan, Caraun, Claremorris, Cloghermore, Cloonmore, Cong, Coolnaha, Coonard, Course, Crossboyne, Culnacleha, Dalgan, Doocastle, Garrymore, Hollymount, Houndswood, Kilbeagh, Kilcolman, Kilcommon, Kilkelly, Kilmaine, Kilmovee, Kilvine, Knock North, Knock South, Loughanboy, Murneen, Neale, Shrule, Sonnagh, Tagheen and Urlaur.
West Mayo
Acaill, Aghagower North, Aghagower South, Aillemore, An Corrán, An Geata Mór Theas, An Geata Mór Thuaidh, Ballycroy North, Ballycroy South, Bangor, Barr Rúscaí, Béal an Mhuirthead, Béal Deirg Mór, Bunaveela, Bundorragha, Clare Island, Clogher, Cnoc an Daimh, Cnoc na Lobhar, Cnoc na Ráithe, Croaghpatrick, Derryloughan, Drummin, Dumha Éige, Emlagh, Erriff, Gleann Chaisil, Gleann na Muaidhe, Glenco, Glenhest, Guala Mhór, Kilgeever, Kilmaclasser, Kilmeena, Kilsallagh, Knappagh, Louisburgh, Moing na Bó, Na Monga, Newport East, Newport West, Owennadornaun, Sheskin, Slievemahanagh, Slievemore, Srahmore, Westport Rural and Westport Urban.