Presentation of €20,142 to Mayo Roscommon Hospice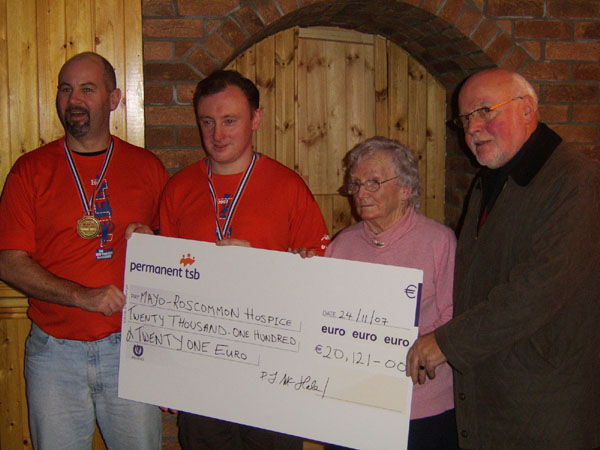 L-R: Peter Jordan, P.J.McHale, Dympna O'Reilly (Secretary Ballyvary Branch Mayo Roscommon Hospice), Michael Downes (Mayo Roscommon Hospice Committee)
P.J. McHale and Peter Jordan presented the proceeds of their fundraising efforts to the Mayo Roscommon Hospice on Saturday night last 24th November in the Village Inn, Ballyvary.
The lads completed the New York City Marathon on November 4th and managed to raise €20,142 for the Mayo Roscommon Hospice in the process. This was twice their original target of €10,000.
The lads would like to thank everyone who contributted to the fund in any way big or small. At the Presentation Night P.J. McHale said "the tremendous financial and moral support we received made it well worth it". Michael Downes from Mayo Roscommon Hospice was on hand to accept the cheque and thanked the lads for their great work. "It was a great achievement; running the Marathon is bad enough but occupying yourself with Fundraising while preparing adds to the difficulty, well done lads"