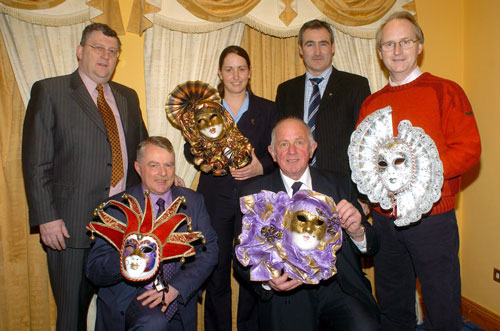 Back LtoR – Pat Jennings (TF Royal Theatre), Bryana Hindle (TF Royal Theatre), Gerry Moane (Lions Club), Michael O'Neill (Lions Club). Front LtoR – Danny Moran (Lions Club), Eamonn Horkan (Lions Club)
Photo by Ken Wright Photography.
Saturday 25th March 2006
Premium package tickets €50
The Castlebar Lions Club is delighted to announce a fundraising event with a difference in aid of a much-needed MRI Scanner for Mayo General Hospital. In association with the TF Royal Hotel & Theatre and Opus 1 Music, they proudly present Puccini's romantic opera "La Boheme".
Gerry Moane, chairman of the Castlebar Lions Club, said "It's not only an opportunity to support a worthy cause; it's an opportunity to enjoy a night out with a difference".
The Lions Club have arranged for a pre-show wine reception, premium tiered seats for the performance, private interval bar facilities, post-show buffet and live entertainment after the show – all for just €50 per ticket. For further details and purchasing of these tickets for corporate groups or individuals, please contact Gerry on 0949021445 / gmoane@eircom.net or any of the Lions Club committee members.
This sparkling new production features astonishing young singers, a full principal cast, orchestra and chorus – bringing to life Christmas Eve in Paris in the 1840's, and the immortal story of young lovers Mimi and Rodolfo, whose brief happiness is soon turned to tragedy. Wrapped in the most glorious of melodies and ravishingly beautiful music, this is truly one of the greatest operas ever written and is justly loved by everyone who sees it.
Don't miss the opportunity to see Puccini's dramatic opera La Boheme brought to life at the TF Royal Theatre on Saturday 25th March. Regular tickets may also be purchased by calling the TF Box Office on 0818 300000, online www.royaltheatre.ie or from any of the usual outlets.