Breaffy House Resort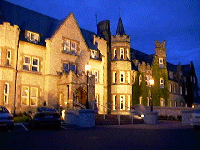 Breaffy House Resort located in the heart of County Mayo is the perfect destination if you are looking for a well deserved relaxing break! Set on 90 acres the Resort consists of Breaffy House Hotel and Breaffy Woods Hotel.

Breaffy House Hotel offers traditional old world Irish charm and hospitality with excellent spa and leisure facilities and magnificent grounds for strolling. Retaining some of its original Country House atmosphere, the house dates back to 1890 and is an excellent base from which to explore the Mayo and Connemara regions.

Also within the grounds of Breaffy Resort is Breaffy Woods Hotel, more modern in design but with all of the facilities you would expect within a Resort. Breaffy Woods Hotel in Castlebar is the perfect place for family hotel breaks in Mayo! Formerly known as the Breaffy International Hotel, this exciting Mayo hotels offers quality accommodation in Castlebar, including 127 guest rooms, fabulous interconnecting family suites not to mention state of the art sports and leisure facilities there is something to suit everyone who stays in this Mayo Hotel.

The Resort offers a range of dining and entertainment options for couples, families, over 55's, large conference groups and weddings. Relax with a drink in the Resorts lively bars or enjoy the fantastic leisure facilities available within the resort. While you relax, the kids will enjoy hours of fully supervised entertainment and activities in our Kids programmes including a playground and playroom within this all encompassing resort.

Their team would be delighted to give you full details of all of the facilities you can avail of whilst staying at Breaffy House Resort, with something to suit everyone all you need to do is check in, unpack and our friendly front office team will help you plan your day, a pampering session in the spa, a stroll through the magnificent grounds, a swim and then relax over a drink in the bar before dinner.

Have a look at their web site for more details.
Easter 2011 - Easter Family Fun Day at Breaffy House Resort. Lots of fun and games on the day with bouncy castles, face painting, live bunny rabbits and other pets. Plenty of music and games…. Come along and join in the fun on Sunday from 3pm-5pm.....